Jenay Elder, Painting Mt. Hood from Draper Girl Farm


Jenay Elder, Painting Lilies at Trillium Lake
From tidepools to snow-capped mountains the Pacific Northwest is known for its diverse beauty and accessibility to nature. Roughly an hour outside of the city of Portland, the Maryhill Museum hosts the annual Pacific Northwest Plein Air painting event. This event challenges regional artists to tackle the serious terrain of the Columbia River Gorge en plein air.
Suggested subjects for artists to paint while participating include mountains, water, and sky. Mt. Hood is nearby and accessible from many different angles and access points. The Timberline Ski Lodge provides a great space to paint up close to Mt. Hood. Just around the corner among lily pads is the clear water of Lake Trillium which offers a spectacular view of the mountain and its reflection. There are many farms, harbors, city parks and riverfronts to paint and enjoy the scenery closer to the city of Hood River. The Columbia River Gorge National Scenic Area has many spectacular waterfalls and there are also numerous hikes with vistas for those who can hike with painting gear.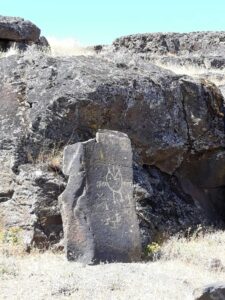 Into the Washington side of the Columbia Gorge is the history-rich Maryhill Museum. The Museum was dedicated in 1926 by Queen Marie of Romania who was notably the second royal to ever visit America. Maryhill boasts a unique collection of 70 Rodin sculptures, 300 chess sets from around the world and a life-size replica of Stonehenge. Today the museum offers an education center, a collections suite, and a cafe and hosts an annual, invitational plein air paint out.
Overall, the Columbia River Gorge is a remarkable area to explore and to paint. The artwork produced by the Pacific Northwest Plein air artists is hands-down stunning. Many artists return annually and after experiencing the beauty of the place I understand why.