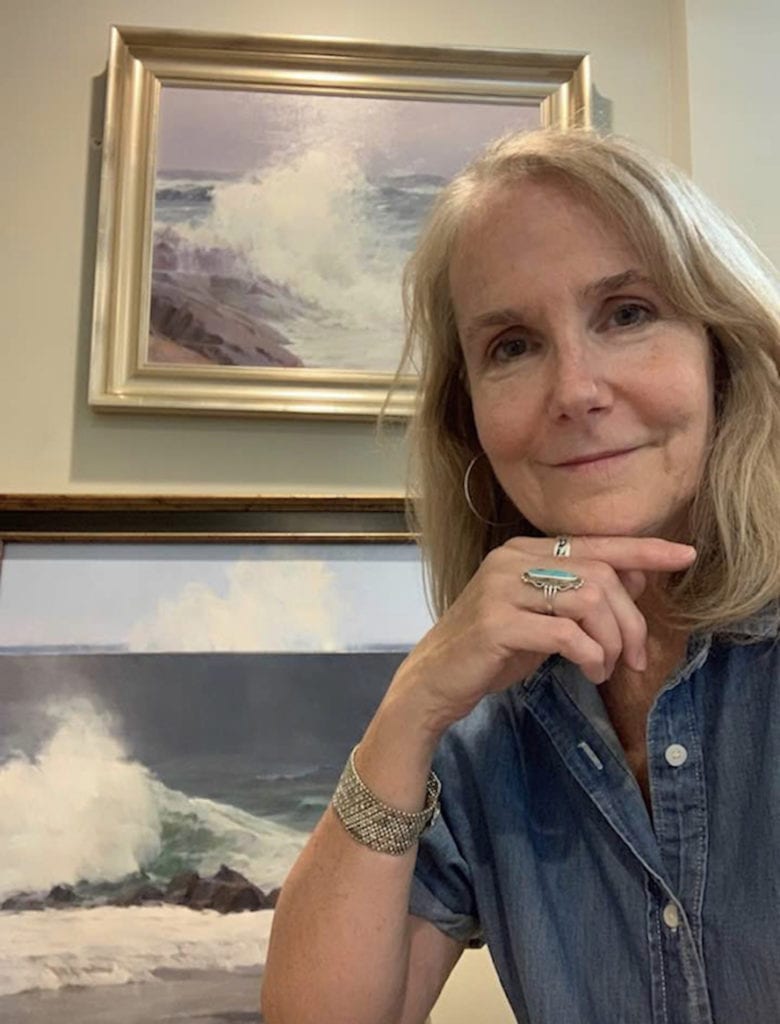 Karen Blackwood was born in N.H. and received her BA in the Studio Art program at the University of N.H. After spending the early part of her professional life as an Art Director for a major New York City Ad Agency, she moved to California, picked up her brushes and dedicated herself to painting professionally.
Trained in the classical tradition, Karen painted portraits and figurative work before focusing on landscapes. Karen feels light is a defining factor, and it is the atmospheric quality of the light that she captures in her paintings. Her work is a desire to paint what inspires her and to capture the very essence of the scene. Now living in Newburyport, MA, the coastal scenery is providing her with endless inspiration for her marine work, garnering her a multitude of awards including an Award of Excellence at the Oil Painters of America Eastern Exhibition, First Place in the Spring Oil Painters of America online Showcase, The Seascape Award of Excellence in the 28th National Juried Oil Painters of America Exhibition, Best Water in the Monthly Plein Air Salon and The Second Place Award in the Bold Brush Online Competition. She has won multiple Finalist Awards in Bold Brush and Finalist in The International Artists Magazine.
Karen's paintings have been included in exhibitions organized by the Marine Art Society where she is a Signature Member touring museums nation wide, the Cultural Center of Cape Cod's Special Exhibit showcasing the regions Finest Marine Artists, the Huntington Museum in Pasadena, CA, the Pasadena Historical Society and the California Art Club, solo shows at the Todd Bonita Gallery in Portsmouth.
Memberships include Oil Painters of America and Signature Member of the American Society of Marine Artists. Her paintings and articles about her work can be found in numerous publications including International Artists Magazine, Fine Art Connoisseur, American Art Collector and Southwest Art Magazine as well as the NY Times and the Los Angeles Times. She teaches workshops across the country. 
View OPA Blog articles by Mrs. Karen Blackwood