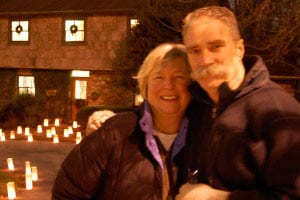 Kathie was born, raised and educated in Tennessee. She rode bikes and rode the school bus as a suburban kid in the 1960's. And in the 1970's, Kathie's high school art teacher offered her a vision that still lives on today.
After graduating from The University of Tennessee in Art Education and Fine Arts, Kathie received early recognition for pastel works in the 1982 Dogwood Arts Festival. But it was 2009 when her artistic endeavors seem to soar, setting her on course for a career as an oil painter.
Kathie resides with her husband in north Knoxville where she also maintains a studio. She proudly paints weekly with an enthusiastic plein air community and travels extensively participating in plein-air events. Her original works can be seen by some of the finest galleries in the south. Kathie has sold internationally and has received several awards and honors.
Artist's Statement: "There is something magical about creating beauty! Maybe it's because the magic originates from some place deep within me, or maybe I was simply shaped to be this way. No matter what, it feels like a new-found love, or an old love, rediscovered."

2015 Selections:
– Attained Signature Membership in Women Painters of the Southeast
– Women Painters of the Southeast 4th Annual Members Show – Juror's Award – 9th Annual Plein Air Festival, Wayne, PA – Plein Air Magazine Award
– Cambridge Paint Out, Plein Air Easton, MD – People's Choice Runner-Up
– Plein Air Easton, MD – Life on the Farm Award
– Feature Profile Article in Plein Air Magazine, August/September 2015 Issue – Solo Show, Lagerquist Gallery, Atlanta, GA, November 17-December 5
2014 Selections:
– Bath County Plein Air Festival, VA – Honorable Mention, Quick Draw
– Solo Show, Lagerquist Gallery, Atlanta, GA, November 6-22
– Solo Show, Chasing Light, The District Gallery, Knoxville, TN, December 5-30
– Arts on the Green Plein Air Invitational, Cashiers, NC – Honorable Mention
– Finger Lakes Plein Air Festival & Competition – Second Place
– Plein Air Festival, Wayne PA – Artists' Choice Award, and Plein Air Magazine Award – 2014 Emerging Artist of the Year – Art Galleries & Artists of the South
– Dogwoods Art Festival, Knoxville, TN, 2014 Limited Edition Artis
– Solo Exhibition, Vision of Home, The District Gallery, Knoxville, TN
– NOAPS International Exhibition – Award of Excellence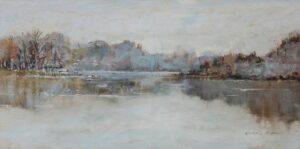 – Callaway Gardens, Georgia, Plein Air Festival – First Place and Honorable Mention – Knoxville Museum of Arts Plein Air Event – Honorable Mention
– The Stoughton Award for Oil Painting, 45th Open Show, Oak Ridge, Tennessee
– Art Galleries & Artists of the South – Emerging Artist Award
– Brandywine Valley Plein Air Event, Delaware – Artist's Choice Award – NOAPS International Exhibition – Award of Merit
Memberships:
– Women Painters of the Southeast, Signature Member – Oil Painters of America
– American Impressionist Society
– Tuesday Painters
Current Representation:
– The District Gallery, Knoxville, Tennessee
– Lagerquist Gallery, Atlanta, Georgia
– Mountain Mist Gallery, Cashiers, North Carolina – Red Bird Gallery, Seaside, Florida
If you would like to learn more about Kathie Odom, please visit KathieOdom.com
View OPA Blog articles by Kathie Odom