Written by Buddy Odom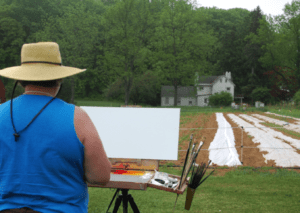 Dear Mrs. Browning,
It has been some forty-plus years since high school graduation, and I think of you. What a love you had for Latin! Your petite and brittle frame would slowly shuffle past our desks as we recited our conjugations… bo, bis bit, bimus, bitis, bunt. I wonder how many biologists and doctors cut their teeth under your guidance!
But, sorry, I am not one of them. I didn't make it to med school. Nor did I complete Botany 101, a field that fascinates me to this day. But one claim I can make – I married a woman who daily practices Tabula Rasa. As an artist, an oil painter in particular, Kathie begins with a blank canvas. A clean slate. A Tabula Rasa. No boundaries. No rules. Just a fresh start.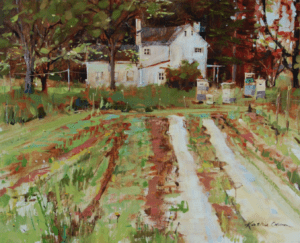 And why, Mrs. Browning, is a fresh start so frightening? How is it that a new beginning can seem so daunting? Not long ago, inspired by Kathie's creative courage, I walked into the local art store to purchase a pencil and sketchbook of my own. I knew what a pencil was, but had to ask both where to find them and how to use them. I left with four. Four… like one was different than the other! Come to find out, they are. There are pencils for fine lines, smooth textures, shading, cross- hatching, sharp detailing, smudging and so on. (As if I was not frightened enough).
I still hold my breath when I watch my wife load a brush and lay a paint stroke with seemingly calculated ease. She explains that some of her art is painstaking and laborious while others seem to paint themselves. So, starting with a clean slate
and a truck full of courage Kathie jumps in.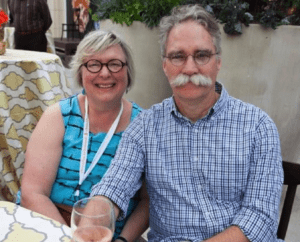 It has taken several up-close and personal years with Kathie for me to discover that I want that. No, not to be an oil painter, but to be me… that way. Brave, risky and free! And so my Tabula Rasa begins. For two months now I have been practicing the discipline called sketching. It is absolutely terrifying, yet simultaneously, there is a strange exhilaration of possibilities. While my instincts are resistant to the idea of drawing a tree, something much deeper in my soul is awakened.
Sometimes fear and freedom seem like cousins. Thanks for the B minus.
Buddy Odom, Class of 1975