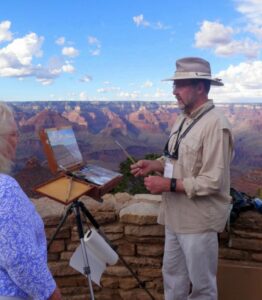 An award-winning plein air landscape painter noted for his expressive use of color, Michael works in both oil and pastel. He paints primarily outdoors, choosing locations from the American Southwest, Downeast Maine and the Canadian Maritimes. He has been an Invited Artist at many plein air festivals over the years, including the Sedona Plein Air Festival (8 times) and the Grand Canyon Celebration of Art (3 times.) In 2012, he was also an invited artist in PleinAir Magazine's First Annual Plein Air Convention & Expo.
Michael was awarded Master Pastellist status by Pastel Artists Canada in 2008, and he is a Signature Member of the American Impressionist Society, the Pastel Society of America and the Pastel Society of New Mexico as well as a juried member of Oil Painters of America. His paintings have appeared in The Artist's Magazine, Pastel Journal, American Artist and Fine Art Connoisseur (PleinAir Magazine) and are in both corporate and private collections. He was featured in The Artist's Magazine in September 2013.
Michael's ability to talk about the act of painting in easy-to-understand terms has made him a popular teacher and writer. A Gamblin Dedicated Workshop Instructor, he gives workshops across the U.S. and in Canada to all levels of students, from beginner to professional. He is also a Contributing Editor for The Artist's Magazine and writes regularly for The Pastel Journal. He is the author of several books, including Through a Painter's Brush: The American Southwest, and Backpacker Painting: Outdoors with Oil & Pastel. (All available through Amazon.) He has five art instruction videos available through ArtistsNetwork.tv and NorthlightShop.com as well as an online video course, Plein Air Essentials, at www.pleinairessentials.com. A new book is in the works.
Michael maintains a summer studio on Campobello Island, New Brunswick, and a winter studio near Sedona, Arizona. Visit www.MichaelChesleyJohnson.com for more details.
Artist's Statement
"I am easily inspired to go outside and paint. Sometimes it's a momentary, alchemical mixture of light, color and shade that does it. A stream running through a meadow whispers in quiet contemplation; thunderclouds over a mountain crackle with urgency. At these times, it's all about capturing the moment. At other times, though, it's my need to go out often and seek my roots in nature. This isn't so much about 'capturing the moment' as it is about nurturing my relationship with the landscape, a relationship that has been ongoing for more than half a century now. Rather than working quickly to get the moment down, I spend more time not just looking but also using all my senses to discover, trace and reinforce the patterns that connect me to the land. This type of painting is very spiritual and extremely fulfilling."
View OPA Blog articles by