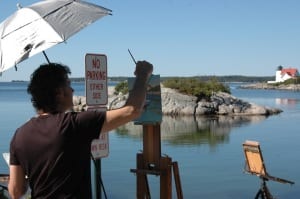 Portrait and gallery artist Richard Christian Nelson lives with his wife Kim and their three children in the mountains of North Carolina. They own Skyuka Fine Art Gallery in Tryon, NC which represents about 35 artists. Nelson also has a studio in Asheville's River Arts District.
Though portraiture is a major part of Nelson's career, he also loves painting landscape, still life, and figurative gallery pieces. He is endlessly fascinated by people, places, and things and considers it a privilege and a challenge to capture some aspect of their essence on canvas.
He says: "I work toward 'painterly realism'; good drawing and composition, rendered with strong natural color, in such a way that you can still 'sense' or 'feel' the paint. The effect of this process is that the subject begins to artfully reveal itself to me and hopefully, the viewer."
Nelson grew up in Detroit, Michigan, where he earned his BFA from the College of Creative Studies in 1988. It was at CCS that he developed his love of painting, drawing, figurative art, and art history. He has been working as a portrait and gallery artist, and occasional instructor since graduating.
In over 20 years as a professional artist he has completed over 1000 portraits, sold many gallery paintings, had a number of one-person shows, and won a number of awards.
View OPA Blog articles by