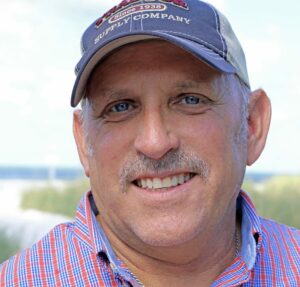 Award winning artist Robert J. Simone was born and raised in Cleveland, Oh and currently resides in St. Petersburg, Fl. His work focuses on coastal marine and maritime subjects. Although Robert enjoys the privacy and seclusion of his studio, he also loves painting outdoors on location. He says, "For me, painting is a prolonged meditation on the beauty of nature. Such beauty invites us to participate in its splendor and to reach for higher heights. It beacons us to consider the mysteries of life."
Simone briefly studied painting on the University level but considers himself to be largely self-taught. He also credits his development to workshops he attended with such renowned artists as Scott L. Christensen, Stapleton Kearns, Anthony Ryder, Clayton Beck III and Mary Erickson. He also credits his experiences painting alongside the many great artists and colleagues competing at national level plein air competitions with filling in any gaps in his education.
Recent accomplishments and recognition include:
Best of Show, Plein Air Southwest 2019, Galveston, TX
Juried entry into American Impressionist Society Small Works 2019
Juried entry in NOAPS International Spring Online Show 2019
Juried entry into NOAPS Best of America Small Painting Exhibition 2019
Elevated to Signature Member Status in Outdoor Painters Society, October 2018
Accepted as Member of Salmagundi Art Club NYC 2018
Invited to serve as Florida's Finest Plein Air Ambassador, Forgotten Coast 2018
Best Vanishing Landscape Award at Cape Ann Plein Air 2017
1st Prize at Lighthouse Plein Air Festival, Jupiter, Fl 2017
Honorable Mention at Plein Air Richmond 2017]
Honorable Mention at Solomon's Plein Air Festival, Solomon's Island, Md 2017
Election to Signature Member Status with the American Society of Marine Artists (ASMA) 2017
Juried entry in OPA Eastern Regional 2017
Artists' Choice Award, Plein Air Easton, Tilghman Island Competition, 2016
Currently, Robert's paintings can be viewed at galleries in cities throughout the United States including Charleston, SC, Gloucester, MA, St. Simon's, GA, Islamorada, Fl and St. Petersburg, Fl.
View OPA Blog articles by Robert J Simone