Design, noun, 2) the purpose, planning or intention that exists or is thought to exist behind an action, fact or material object.
In this post, I want to say a few things about intelligent design.  Intelligent design requires creativity.  It means using our imagination. It involves planning and purpose.  In painting, it's a process of sorting through a myriad of details selecting only those which support intents.  Which implies a clear intent exists in the first place.  Intent may take various forms, but it usually flows from an emotional response to subject matter.   It could be the desire to convey a simple mood, to extol the beauty of nature or tell a story.  Whatever its form, intent looks beyond the mere transcription of facts.  Art is not in the facts.  That's not to say the ability to represent nature is dispensable.  That's still important.  But art is in the selection process aimed at setting emphasis.  It involves seeing nature in simplified, paintable terms.  Simplification is, therefore, the root of design.  Design differs from composition in that you can crop to a good composition, but design requires thoughtful arrangement of elements. 
In May of 2018, I participated in the Forgotten Coast En Plein Air event in Florida's Panhandle.  My official capacity was as a Plein Air Ambassador.  Tons of great subject matter there including an abundance of shrimp boats.  Indeed, the fleet of commercial shrimpers is one of the regions enduring legacies. Early in the week, at the Florida's Finest Plein Air exhibition (which included a few of my works), I overheard one patron say to another "The last thing I want to see is another painting of a shrimp boat".  I understood the comment completely.  Shrimp boats are part of the prevailing culture.  They're as plentiful as bikinis on South Beach.  Surely some of the thrill is gone.  No doubt shrimp boats are the most painted subjects in the area.  But I don't see them every day.  So, to me, a marina full of shrimpers is an amusement park for artists.  I was drawn to the marina at Mill Pond as if pulled by a giant magnet.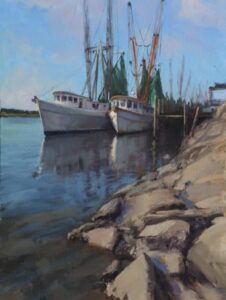 Amidst the retorts of laughing gulls, breathing in the aroma of salt air and diesel fumes, I walked the perimeter dock of the "U" shaped cove, admiring vessel after vessel.  I was captivated by the weathered charm of the gritty watercraft as the words "Who wants another painting of a shrimp boat" reverberated in my head.  Inhaling once more, the pungent admixture of salt air and low droning engines fueled my inspiration. I vowed to do something more than a mere "painting of a shrimp boat".  With that clear intention in mind, I looked for something a shrimp boat could do besides sit for a portrait.  That's when the crusty visage of a rod and reel fisherman appeared.  Light bulbs went off as I saw the possibility of using the shadow side of a shrimp boat as a foil for the play of light and shadow across his figure.  That decision clearly shifted the emphasis away from shrimp boats, without avoiding the boats altogether.  So, the painting became more than just "another painting of a shrimp boat".  The overall design plan was the stacking of values from foreground to background, dark in front of light in front of dark in front of light and so on.   Emphasis on the figure was further supported by using very saturated colors for his shirt, chair, and hat.  The warm shadowy sides of his face and arms further separate him from the cool shadow behind.  At the same time, virtually every value on the figure is either lighter or darker than the shadow side of the vessel.  Simply put, contrasts in value, temperature and saturation differentiate the figure from its foil.  I could further dissect the design of the painting but the decision to use the boat as a foil for the figure is enough to illustrate some salient points about design.  It's also enough to say, "Mission accomplished".