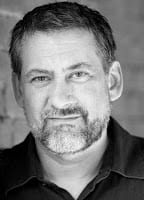 Originally from Nashville, Tennessee Roger is avid about traveling studying, teaching, and competing in national painting competitions. These experiences expand his knowledge of history, nature, and architecture, which inspire his oil paintings.
Roger believes, as the historical master artists, such as John Carlson and Edgar Payne, that "plein air" painting is an essential element in being a great artist. He spends countless hours studying and painting on location, to continue to perfect seeing important nuances of a scene, a day, or an object, which are necessary in creating a great painting. Roger works hard to balance the emotion of a scene, with the knowledge of painting, in every painting he paints.
Roger's oil paintings have been displayed in galleries throughout the United States and have won many awards which include: First Place in the Barnes and Farms National Juried Art Show, Museum Purchase Award and third place at the Easton Plein Air Competition, Best of Show at the Central South National Juried Show, as well as the Gold Medal Award from the Hudson Valley Art Association. His work has also been accepted in the Oil Painters of America National Juried Exhibition, and Salon International. Roger has been published by: International Artist Magazine, American Artist Magazine, American Art Collector Magazine, and the Artist Magazine. His works are owned by private collectors across the country and include many well-known celebrities and major corporations.
Roger shares his knowledge teaching workshops throughout the country. He believes in capturing the essence of his subjects and instills this in his students whether teaching plein air, figurative, studio or still life.
Select Honors and Exhibits include:

2011 – Oil Painters of America national Juried Exhibition
Salon International, Greenhouse Gallery
Laguna Beach Plein Air Invitational
Plein Air Easton
Callaway Gardens Plein Air Festival – Third Place Award
Let There Be Art, Columbus Museum
2010 – Laguna Beach Plein Air Invitational
Telluride Plein Air Competition
Plein Air Easton
Callaway Gardens Plein Air Festival
2009 – Plein Air Easton, Honorable Mention
Laguna Beach Plein Air Invitational
Oil Painters of America, National Show
2008 – Purchase Award, Avalon Museum, Easton Maryland
Third Place Plein Air Easton
First Place Barnes and Farms Competition, Barnsite Gallery
One man Show, Lyons View Gallery
2007 – Featured Artist Huntsville Museum of Art Gala
One man show, Richland Fine Art
Third Place Quick Draw Estes Park Plein Air Festival
Artist Choice Award Estes Park Plein Air Festival
2006 – Gold Medal Winner Hudson Valley Art Association
OPA Signature member
Two man show Shain Gallery
2005 – Honorable Mention Easton Plein air competition
One man show Hanson gallery
National Arts Club
2004 – Best of Show 39th Annual Central South Juried Art Show
2003 – Honorable Mention 38th Annual Central South Juried Art Show
2003, 2004, 2006 – Oil Painters of America National Juried Exhibition
2005-2010 – Two man show Shain Gallery
Visit Rager Dale Brown's Website
View OPA Blog articles by