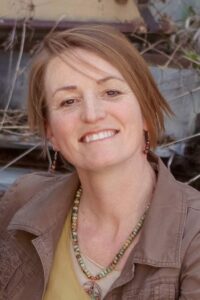 As a small girl in the saddle, Sonja (Smith) Caywood would "frame" the landscape & livestock with her hands -many years before she learned it was a composition technique.  Caywood's ranch-raised upbringing in Montana and Wyoming holds her heart, drives her work ethic and inspires her oil paintings.
Artist Statement:
 Growing up ranching in MT and WY, livestock inspires much of my imagery.  I render animals in portrait situations, personifying them in a manner sometimes confrontational, sometimes as a casual conversation or a glimpse into a candid moment.  Creating personality is vital in pulling these beasts from the less personal, "en masse" settings we're familiar with, allowing viewers to experience a certain "humanity" and connection through the animal's expression.  I find it magical when a viewer truly engages with a piece, and experiences traits, feeling and attitude I didn't intend to express as the creator. It's as if the painting leaving my studio is only a starting place, as it was meant to grow and become something different to each person, which is as art should be.  I'm blessed to make a living on my art, but I'd still paint even if I never made another dime on it.
   I constantly back up as I paint, assuring that painterly strokes of amplified oil colors read realistically from across a room.  Viewed up-close, the abstract components separate, revealing a creative assemblage of shapes and colors which surprise the viewer.  I've learned that "interesting is better than exact," and I strive to engage the viewer with expressive brushstrokes rather than tight realism. Working in intense sessions, I create within the timeframe of paint malleability, as once the paint dries, I'm ready to move on to my next idea.
Caywood has taken workshops and classes, and learns from her artist friends.  Her paintings hang in private and corporate collections across most of the U.S. and in 11 foreign countries on six continents.  Caywood's work has been featured in Western Art Collector, Southwest Art, Fine Art Collector, WSGA's Cow Country (cover), and Wyoming Lifestyle Magazine.  She and her husband Terry live in Dayton, WY; they have two grown children and a small posse of pets.
View OPA Blog articles by Sonja Caywood