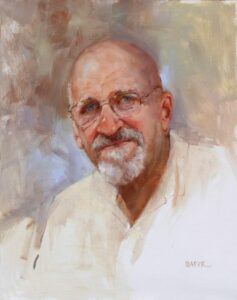 Scott Jones serves as the General Manager of Legacy Galleries (Scottsdale, AZ, Jackson, WY and Bozeman MT), among the foremost of representational fine art galleries in the country, shares with OPA members some of his insights into the gallery- artist relationship. Scott spoke on this topic at the Portrait Society of America's annual conference in Atlanta last April.
CS: Scott, would you talk about how an aspiring artist might be seen by in interested gallery?
SJ: While I can't speak for other gallery managers or owners, I can tell you a quite a bit about how I find artists and begin to follow them.
The professional, juried shows and competitions held by organizations such as the OPA, American Impressionist Society, California Art Club, Portrait Society of America and others make it very easy for me to see the work of both established and emerging artists, since their members are already focused on high quality representational art. The artwork is fresh and current from a wide variety of artists and usually reflects their better pieces.
I spend a great deal of time reading art magazines and conducting online research in addition to watching museum venues and auctions. I find contests like the Bold Brush, Raymar Art, and the Plein Air Salon, attract scores of solid, top-quality painters in each round of their ongoing competitions. I often think I should send them thank you cards for making so much of my research so easy to come by! I saw the first painting by one of our highly successful artists on a Ducks Unlimited Art Contest webpage
Because the Scottsdale Legacy Gallery is only a few blocks from the Scottsdale Artists School, I like to take regular opportunities to visit the classrooms of instructors, some of whom are represented already by Legacy, or whose work I admire, and on occasion to meet an artist for the first time. Hosting demos in the gallery by workshop instructors has been a favorite activity of mine along with recommending artists to be invited to teach workshops. Visiting the classroom setting gives me a sense of being in the artists' studios (which I always additionally enjoy!), and a comfortable chance to chat with participants as well. Plein Air events are another rich source for me to see current landscape artists' work, and to do so in what tend to be lively, informal settings, with lots of spontaneous, engaging interactions.
Our own Scottsdale Salon of Fine Art was intended to create a venue for us and other galleries to discover and establish connections with new artists. I know that we have extended invitations to 2 or 3 artists from each Salon to show their work with the gallery. I was pleased that first year we held the Salon to see over a dozen other Scottsdale galleries come to preview the work and that six of the artists received invitations to show with other Scottsdale galleries. That's a win/win for everyone. I've read a lot of blogs and articles about "juried events" and whether they are worth the expense and time to participate. In my opinion, artists should realistically assess the potential of who will see their artwork in that particular venue if successfully juried in – prospective collectors, other galleries, and other artists.
When I find/see artists who interest me, I'll put them on my "artist to watch list" which is my own private tickler file of artists including shows, websites and specific pieces. I started this file over 25 years ago and frequently refer back to it and add to and delete from it. And no. I don't publish it so you may not know if you are anartist I like to follow.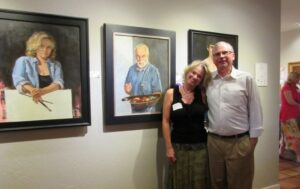 CS: Of course we all think it would be fabulous to actually be sought out by a gallery, but as a practical consideration in running our own businesses, how do we, as artists, most successfully get our work in front of you?
SJ: First, spend the time to investigate whether a particular gallery is a good fit for the type of work you do. And inquire as to what format a particular gallery wants to see – digital images, forms, hard copy, etc.
Never submit your work the same week as a big gallery show – instead maximize the likelihood that the gallery manager is not distracted putting out the multiple fires that can sometimes surround a big opening, attending to last minute details that need attention, that sort of thing. I personally find it difficult when an artist walks into the gallery without an appointment and asks me to look at their paintings. There is some groundwork that can be done first with that gallery.
We can receive more than fifty artist submissions in a month. So an artist really needs to get my attention with about 3-4 images, to entice me to look further – and sometimes even one powerful image can be the key. It all comes down to the art itself. Have your website regularly updated with your most recent artwork because I will look it up. I always find it puzzling that artists will submit images for consideration but not have them updated on their website. Too often the website is outdated and doesn't reflect what the artist is currently doing.
If I am following you, I will check in often and want to see new pieces and updates on your work. If I check in a couple of times and don't see anything new, the likelihood that I will do so again drops. If you have a gallery, it helps them if you have your site updated with new works. One other comment about websites that I see debated in blogs. I like to see pricing on websites – both artist websites and gallery websites. As a collector, I like the instantaneous feedback of having pricing available. If I see a piece that interests me, I don't like to have to email or call for a price and wait for an answer. I also like to follow pricing trends over time. I can't do that if the information is not readily available. Putting prices on your website reinforces your pricing structure within your galleries.
Let me add a couple of other personal thoughts on websites. I like to see tabs that take me to "current or recent" work and to keep that separate from archived work. An artist's portfolio will always be judged by its weakest piece, so get rid of any work that doesn't show you well. I often sign-up for an artist's newsletter on their website. I will say that I am surprised how many artists rarely or never send out newsletters. I feel that if you are going to offer a newsletter (or promote a blog) that you should send one out every month – at least a photo and quick write-up on a recent piece. If someone takes the time to sign up, they should get regular updates. One of the artists in my personal collection puts out a newsletter on the 1st day of every month. I look forward to it. She never misses. It sets my calendar for me.
CS: We artists are constantly bombarded with social media, our inboxes flooded daily with (often expensive) opportunities for some company or another to "manage our brands" – how important is our individual social media content to you, and do you see this as a growing resource for galleries overall?
SJ: Well, I can promise you I spend a lot of time looking all over the web for information, artists, and work, and social media has become a wonderful venue for me. I follow many artists on Facebook, for example, and you can make my "surfing" easier if you regularly share your news and freshly completed work on your social media platforms. I like to see your studies, your processes and your completed work as well. Have a professional page and invite me to "like" it!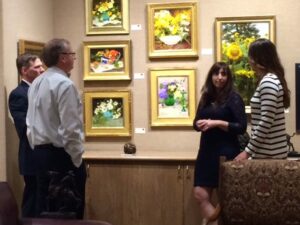 Personally, I have purchased art I saw on Facebook, Etsy and eBay – I saw a drawing last evening on Instagram that I would like to own. One thing I don't forget is that artists also buy art! Much of our success in selling on social media has been to artists.
Well-considered social media will continue to grow as an important part of the gallery business, the artist business and the collectors' inquiries. You don't need to hire a team of PR experts to do a great job of setting up a website, publishing a newsletter, or writing a blog. But, however these things get done, keep in mind that spelling and grammar make a powerful first impression – especially when done poorly. Only put out high quality images – poorly photographed artwork can be worse than none at all. And remember the demographics of the collectors who are buying your work. We continue to mail out catalogs because a large share of our best collectors like to receive them. Gradually they have become more comfortable with email. And now we get them onto our website on a regular basis. It has been a transition. I had one of our best collectors tell me recently that Facebook is only used for keeping up with her grandchildren. They showed her how to use it. She had not thought of the idea of using it to look at art. That will come with time and a little prompting.
CS: There is a long history, if not actual, certainly anecdotal, about galleries going to great lengths to stop artists from competing directly with them. Can you comment on that?
SJ: I 'm sure there are many such tales out there, quite a few of them true. It is not by accident that I have chosen to work with Legacy Gallery for so many years, because we have a have a deep mutual respect, treating artists well and fairly, and frankly, I like the ethics on both our parts. Our demands are few, and no different from conducting any reputable business: refer viewers to your galleries, and let them know specifically which pieces are consigned to which gallery. Don't undercut your retail prices. Period. I can relate a story about an artist who decided to sell directly from his website at "wholesale' prices – that is, the amount that he might typically get after paying a gallery commission. His gallery owner promptly notified the artist (yes, galleries do find out about stuff like this – collectors love to talk about "deals") that the posted sales prices for all of his work in the gallery would have to be reduced to reflect the new "baseline" retail price he himself created.
Our philosophy is pretty straightforward: we want artist- gallery relationships that work successfully for both parties. We have been established for many years and have worked tirelessly to build our reputation, just as you have. And we plan to be around from many, many years to come. And we don't need a threatening, ironclad legalese-deluged contract to make that happen; if we aren't happy, or if you aren't happy, it's best to just part ways.
CS: Given the many opportunities for artists to do their own marketing, do you see this as a signal that bricks and mortar galleries will become a thing of the past?
SJ: No. Successful galleries have active marketing functions and strategies. The best galleries add a "retail" presence that goes miles beyond hanging art on a hook and holding an opening reception. You will gain credibility by who you're "hanging with" – other top quality artists. Galleries can create a sales momentum focused on particular collector demographics, which will already reflect the kind of work that you do. Galleries have access to feature articles and editorials that individual artists may not have. I believe that brick and mortar galleries play an important role in getting people started collecting art. A lot of art is purchased today "sight unseen", but much of that is from more seasoned collectors who have seen a particular artists work in a gallery setting. Our artists benefit from our galleries being located at the best locations in some great art destinations. We added a third gallery location in Montana because we felt that Montana presented a growing opportunity for our artists and genre of artwork to be seen by potential new collectors. So far, so good!
Our position is that a rising tide floats all boats. When we have a regular advertising presence in national, high quality publications, the artist whose show is highlighted in a given month will add credibility to the gallery, which will be built upon to ultimately showcase the show that features you.
Scott Jones describes himself as passionate "art fanatic", having purchased his first painting at the age of sixteen, and never really stopping. The former president of Saddleman, Inc. – an automotive accessories company based in Logan, UT, with manufacturing plants in SC, OH, AZ, UT, CA, Mexico, China, and Indonesia, Scott traveled extensively and tied many of his business trips to gallery shows and museum exhibitions.
Scott Jones describes himself as passionate "art fanatic", having purchased his first painting at the age of sixteen, and never really stopping. The former president of Saddleman, Inc. – an automotive accessories company based in Logan, UT, with manufacturing plants in SC, OH, AZ, UT, CA, Mexico, China, and Indonesia, Scott traveled extensively and tied many of his business trips to gallery shows and museum exhibitions.
"Years ago I told my daughters that they would know I was retired when I was in Jackson Hole selling artwork. That opportunity came much earlier than I expected when my favorite gallery became my employer eight years ago following the sale of our manufacturing companies. How great is that!"
Contact Legacy Gallery here or at any of its three locations:
Scottsdale, AZ
480.945.1113

Jackson, WY
307.733.2353

Bozeman, MT
406.577.2810
Or better yet, stop in see for yourself what we do.