August 5, 1926 – May 26, 2019
How can it be possible, that one of the greatest painters of our time, dropped out of high school at age 15 to take a job as a comic book inker? Within a year he was drawing stories and illustrating pulp magazines. Soon after that, he was routinely painting commissioned portraits of powerful and glamorous people. Everett Raymond Kinstler would continue to make his living as an artist for more than 75 years. I never have known anyone who worked harder at his craft or loved painting more.
A few years ago he stated that he had painted more than 2,500 commissioned portraits. Seven of the subjects that posed for him, were U.S. Presidents. Kinstler painted more U.S. Presidents by commission than any other artist. No less than 100 of his paintings and drawings are in the Smithsonian National Portrait Gallery. He was finishing up one of his commissioned portraits at age 92, just two days before he went into the hospital. His death a few weeks later was a shock and a devastating loss.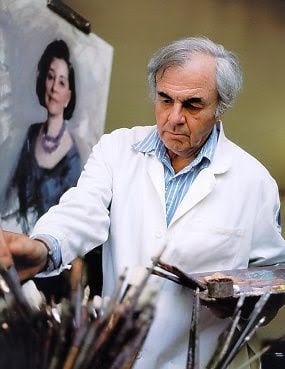 A full listing of Kinstler's honors, awards, and notable portraits is covered in his OPA guest author page. More biographical details can be found in this article by The Washington Post.
I am writing about some of the many other attributes of this remarkable man. I met Ray in the mid-eighties, at his workshop in Maine. I was just starting to paint portraits seriously and was constantly reading his book, "Painting Portraits". He was the teacher I needed to become a portrait painter. Since the time of that first workshop, he has been a major part of my journey as a painter. I cannot put into words what I owe this man as a painter, teacher and mentor, and a person. Because of him, I paint plein air landscapes, teach and mentor, as well as paint portraits. The best I can do to honor him is to teach and mentor others as he did for me.
It was only this past October, that Sandra Murzyn and I were at the Kinstlers' Connecticut home, plein air painting, listening to stories and getting critiques of our work. The highlight of these trips was the privilege of seeing what he was working on in his studio. He would show the studies, the process, and describe the character of his subject in great detail. He was so passionate about each painting that he was working on.
In his Connecticut studio, there is an older drafting table loaded with sketchbooks, notes and open books related to the commission on the easel. Kinstler said, that he always did his homework, and he most certainly did.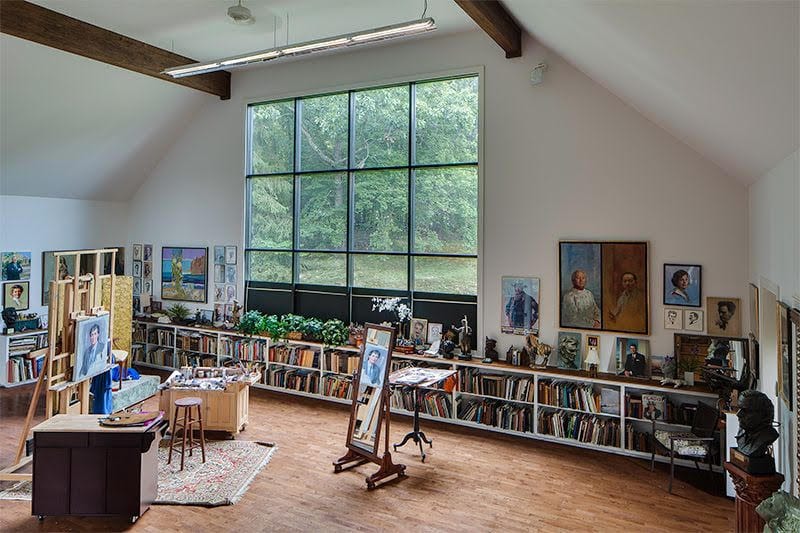 Over the years, I have been amazed with Ray's vast knowledge. He was one of the best-read, best-educated and curious people I have ever known. Ray could converse intelligently with anyone, from the president of a university to the man who came to repair something at his studio. The author, Tom Wolfe, once said that, if Ray couldn't talk, he wouldn't be able to paint.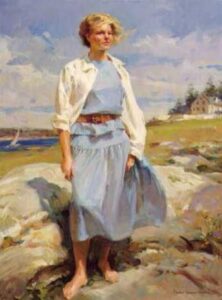 He often joked that he might not remember what he had for dinner last night but could remember everything about all the people he had ever painted. He explained this recall due to the fact that; "The people I have painted have meant more in my life than I have in theirs. I spend maybe 80 hours on their portrait, much of it by myself." Case in point, I ran across an older Kinstler painting here in Nashville. When I asked him about it, he told me the man's name, when he painted it and many other details. In talking to him about one of his workshops in Maine from 20 years ago, he remembered the model's name and several of the students in that class. He could also remember critiques he had given you in the past. At times, this was embarrassing.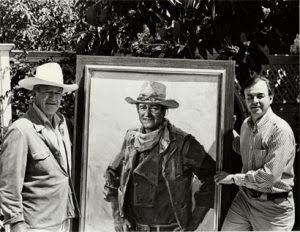 You simply cannot write about Everett Raymond Kinstler without telling one of his many stories. If you want to hear a good sampling of these iconic stories, watch the 2018 YouTube interview with Michael Shane Neal, "A Conversation with Everett Raymond Kinstler". A favorite story concerns one of his most famous paintings. He received a commission to paint the actor John Wayne for the Cowboy Hall of Fame in Oklahoma City. Wayne posed for sketches and studies and photographs. John Wayne was truly a hero of Kinstler, who was an avid movie fan. When Kinstler finished the painting, he checked it against his photographs and was in a bit of a panic. He said "The eyes were too small and nose was too big, but someone was watching over me and told me not to touch the painting. After I delivered it, Wayne's son Michael told me that I had captured the quintessential image of his father."
His portraits went beyond the photographic image. He often said that the camera may record a moment, but the painter makes a statement. His acute powers of observation worked in partnership with his technical skills to create paintings filled with light, energy, and imagination. He worked primarily in oil but was also proficient in watercolor, pastel, acrylic, casein and pen and ink.
plein air acrylic

plein air painting
It is important to keep in mind that Ray Kinstler was our most direct link to the teachings of both Sargent and Sorolla. Kinstler studied under Frank DuMond, who knew Sargent personally. As a young man, Ray was also mentored by Gordon Stevenson, who had studied with Sargent in London and Sorolla in Spain. Sculptor, Paul Manship was one of Sargent's closest friends. In Manship's later years he became a good friend of Kinstler. Kinstler's commitment to teaching can be summed up in this quote from Michael Shane Neal's book. "He (Kinstler) has remained devoted to passing on the things he learned from his teachers. In fact, Ray often said that the only thing he asks in return from those of us who have studied from him is to pass the information along just as his teachers did before him"
Kinstler, having been a great admirer of the actor James Cagney, liked to repeat the advice that Cagney once gave him. "Kid, learn your lines, be honest, plant your feet on the ground, and when you say something, mean it". Kinstler followed that advice his whole career. I think it is good advice to all of us as well.
To see more of Everett Raymond Kinstler's artwork please visit his website