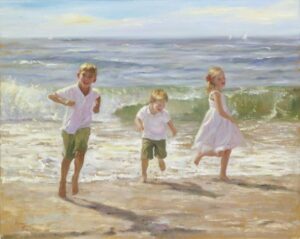 A moment in time means a couple of things to me. I think each of our lives is defined by moments in time. Decisions we make along the way in our journey through life that define our lives. Some favorable and others maybe not so much.
It can also mean to me, capturing that moment in time which is the premise behind every portrait I paint. For each portrait represents the time in that person(s) life depicted forever on canvas.

I've always had an affinity for the Victorian Era. Specifically between the mid 19th century and turn of the 20th century. Whether it be the gorgeous outfits the women wore or the beautiful decor and craftsmanship of the homes. What seems to resonate with me most are the works of Art created at that time. Frank Benson, Edmund Tarbell, Cecilia Beaux, and William McGregor Paxton are just a few artists whose paintings strike a chord within. Of course, John Singer Sargent is my favorite portrait painter, but the aforementioned artists gave us a glimpse of their family life and surroundings. The oil paintings of Frank Benson, one of the pioneers of Impressionism in our country, are still considered among the most beautiful paintings ever created by an American artist, and for good reason.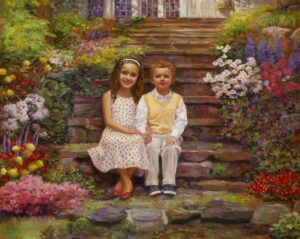 His portraits of family and friends have stood the test of time because Benson captured, in loving detail, both the splendors of nature and the fleeting innocence of childhood. I've tried to continue that tradition through my Portraiture and Fine Art. Many of my commissions are what I call Informal Portraits. My clients want to hold onto those precious years of childhood which seem to fly by in a flash. I endeavor to create a likeness that captures my subjects' spirit and essence. In selecting the settings for the Informal Portraits, my clients might opt for a location that rekindles special memories of their own childhood. Maybe growing up going to one of the many beautiful beaches Long Island has to offer or perhaps they were married at one of the magnificent parks with its lush gardens. Sometimes their backyard serves as the backdrop for the painting.
If a beach scene is desired, the children, mother and I set off for the photo shoot. I bring bags of props which the children are so excited to start playing with in the sand. These photo shoots are so much fun. Once the children get going, they forget I'm there and before you know it, I've taken around 250 pictures. I try to do at least 4 different poses with the children. Observing what props they respond to is exciting for me as well.
These photographs, which I take either in the early morning light or the late afternoon, capture the ambiance of a fun-filled, sunny day while allowing me to create an endearing likeness. Most of the time the painting is a result of a composite of the best picture of each child. I never put pressure on myself to get that one "perfect" shot so this way I have the freedom to pick and choose what pictures will be my reference for the final painting. To ensure complete satisfaction for my client, I paint a very detailed color study to show the client a "visual" before I start the final painting. This study will show color arrangement, composition and expression. Once the study is approved, I can proceed with the final painting. Even though these studies take a while to do, they give me the assurance that my client and I are on the same page. They also serve as my guide while working on the final painting.
Color Study – 8″ x 10″

"Staniar Grandsons" by Denise Franzino
24″ x 30″
This painting was given as a gift this past Christmas to the grandmother from her children.

In terms of my Formal Portrait commissions, which are sometimes painted from life, similar care is taken to explore every detail. I meet with the client to discuss the pose, clothing and lighting. After the photo shoot, I like to do several color studies before starting the painting to figure out my composition, value and color arrangement.
I truly enjoy painting these types of portraits as well. I can really delve into the personality and essence of the sitter. A portrait to me is not just capturing a good likeness, it's also about speaking to the viewer and conveying who this person is and what they are like. Those are the portraits I am drawn towards the most. When they stop me in my tracks and make me wonder, who is this person?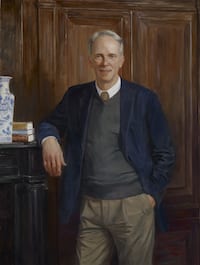 I've always been interested in art. From the time I was a little girl, I can remember always having a crayon or pencil in my hand. Mickey Mouse and his friends were my constant companions. I practiced drawing them so much I eventually could create them from memory. I continued with my love for art through junior high and high school. I graduated with honors from The Rhode Island School of Design with a BFA in Illustration. After graduating from RISD, I was an illustrator for the NY Times, Doubleday Books, Harlequin Books, Avon Books and many other publishing companies. It was a very unfulfilling time in my life. I didn't enjoy illustrating, plus I didn't get the necessary background at school in painting and color theory so I was limited to black and white work. I tried reading books and copying artists I admired but frustration with my lack of skill set was a huge roadblock.
Around 3 years after graduating from college, I had 1 of those defining moments in time. I saw an ad a teacher was running in the paper and decided to give him a call. I remember walking into his studio and felt as though I was transported back in time to the Renaissance Era. The drawings and paintings that lined the walls of his studio were magnificent. Only in museums had I seen such work. At that moment I said to myself, I don't care how long it takes, this is what I aspire to create.
I took classes with John Frederick Murray for several years. I can honestly say, Mr. Murray changed the course of my life. Under Mr. Murray's tutelage, I had extensive training in the classical and traditional style of drawing and painting from the model. We also painted and drew from casts and focused on how clothing drapes over the human form. Design and Composition were also diligently studied. I owe the success I've achieved in my career to the love and support of my parents and to Mr. Murray's unsurpassed knowledge, patience and guidance.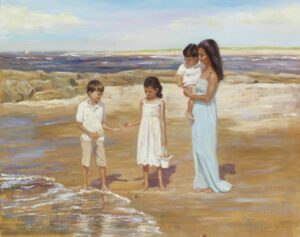 When I was studying with Mr. Murray for a few years and felt more confident with my painting skills I tried illustrating once again. I was able to acquire some freelance work painting book jackets for different publishing companies. Once again, that unfulfilled cloud hung over my head. At a crossroads, my teacher suggested I try my hand at portraiture. After redirecting my focus from Illustrating, I spent several months building up a portfolio of different portrait samples.
Marketing became my biggest obstacle. How do I get my name out there? Social media was non-existent then so it was quite a challenge. I knew I had a high-end item and needed to market my portraits to a certain clientele. I thought of calling private schools on Long Island and in the city to see if they had fundraisers where I could display my work. Also, the country clubs around Long Island had Christmas Luncheons and other events where I was able to get exposure. Certain charity events would allow me to set up a table with my portraits to display at their fundraisers as well. At these events, I would pay a table fee and in some cases, as in the charity events, donate a portion back. Commissions were trickling in but not with consistency.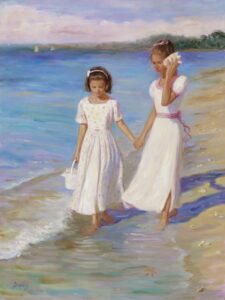 One summer day, around 20 years ago, was another pivotal moment in my career and life. I thought, well, perhaps not everyone wants a formal, traditional type portrait. Inspired by Frank Benson's sunlit paintings of his daughters by the shore, I decided to take my girlfriend's daughters to the beach and take pictures of them in pretty dresses walking along the shore and playing in the sand. They were great little models and I completed a painting as soon as I could. I couldn't wait to take the painting to my next show. The response was overwhelming. So many people came up to my table and asked if I could paint a portrait of their children in this more relaxed and endearing way. Since that time the two girls in the painting are all grown up. One is married and one just got engaged. My friend has this painting hanging in her home of that magical moment in time to cherish forever. I have since painted over 200 paintings in this timeless genre.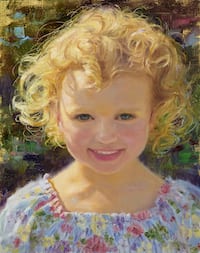 I'm not going to say the road has been an easy one but I don't know many artists whose careers have been smooth sailing form the start. Being the sole representative for my career has been challenging and daunting at times. Participating in the shows, ( I try to book around 15 shows a year), getting potential clients' names, follow up phone calls, securing photo shoots and doing the work can be overwhelming but the rewards have been 10 fold. I wake up each day and do what I love to do for a living. When I deliver a painting and see the happiness I have brought to my clients through my work, it fills my heart with joy. How blessed am I! 
It was often said that Benson's paintings radiated with the warmth that existed between the artist and his subject. I work closely with each client to ensure that the completed portrait is one that speaks to their heart. An heirloom that captures a moment in time to treasure forever.
"The Young Children"
by Denise Franzino
30″ x 24″ – Oil on linen

"The Knowles Children"
by Denise Franzino
34″ x 24″