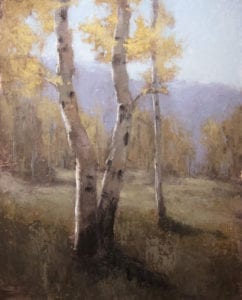 A lot of people ask me how I gained tens of thousands of fans on my Facebook art page in such a short period of time. There are many different opinions about how to do this, and I spent time studying different people's approaches, experimenting, and reading articles. I use my Facebook page, along with my galleries, website, magazines, and other traditional means, as part of a broad based approach to marketing my work.
Here, I will share many of the tips and tricks I've learned along the way.
Is a Facebook Profile the same as a Page?
No! When you sign up for Facebook you are given an account and a personal profile. This profile is meant to be used for non-business related reasons; in fact Facebook has been known to suspend accounts of people using personal profiles to promote their business! Anyone with a personal profile can set up a business page (or multiple business pages).
Pros
There are many benefits to creating a business page – first of all, it's free, which is hard to beat! I think the biggest advantage is that there is no limit to how many fans you can have, unlike a personal profile which limits you to only 5000 friends! You can connect with a limitless number of art lovers, potential students, buyers, editors, and galleries. The sheer number of people seeing your work is incredible – the average painting I post reaches about 40,000 people! Unlike profiles, pages are designed to promote businesses – there are built in analytic, and administrative tools, and tons of apps to use – the sky, and your imagination, is the limit!
Cons
There are a few cons I've found, many of which probably come with any large level of exposure. People will post to your page with scams or try to gain traffic for their pages. I receive hundreds of messages asking for feedback or advice, and I simply don't have time to respond to most of them! Another con is possible image theft (which also happens on websites etc.) If this is a real concern for you, size your image accordingly, so it can't be reproduced easily.
Considerations when setting up your page
You basically have two options: start your page from scratch, or choose to convert your personal profile to a business page. There are pros and cons to both, and I would suggest reading up on this to decide which option is right for you. You can read the basics here (update: there is now the 3rd option of 'merging' the two).
Most people start their page from scratch. If you do, choose the name carefully, you're only allowed to change it once! Setting up a page is easy, and Facebook leads you through it step by step. You can read more here. Consider search engine optimization is the name you're choosing easy to find and does it work with your other marketing (website etc.)? Along those lines, don't use your middle initials or similar, unless you're consistently listed that way all over the web. Use artist as your category. Pick your thumbnail image and cover photo carefully, do they represent you well? Once your page is set up and you've added some awesome content, you can start inviting friends. If you have a lot of friends I'd recommend doing this alphabetically and in batches. Why? Several reasons, first, it allows you to track which days/time of day you get more favorable responses. Secondly, when a friend 'ignores' your request, the 'invite' button immediately shows again, making it easy to accidentally invite the same people over and over again. I've found that people don't tend to appreciate that!
What to post?
First, decide what your goal is for your page: is it to showcase your process, connect with other artists, grow your sales, fill workshops, boost your confidence, get gallery attention, or get feedback on your work? Determining your goals will help guide you in what to post and how to proceed. The best advice I can give is to be yourself, engage your viewers, and like and reply to your comments. Obviously, it's not always possible to reply to hundreds of comments but I still read and appreciate every single one!
Go easy on the links!
Most people are using Facebook to drive business to elsewhere on the internet, and so they add links or share from various websites. Watch your insights carefully and see what happens if you do this less. My advice: use minimal links until your page numbers grow and even then use them sparingly. Use original posts (not shared from other sources) whenever possible. It may seem counter-intuitive, but once your page numbers are huge you'll get plenty of traffic to your website without always depending on links.
How often to post?
This is a hotly debated topic that opinions vary wildly on. Through trial and error I've discovered that posting about 2 days a week seems to work best for me. When I post more often than that I've noticed not only are less people reached, but I receive more 'unlikes' on my page. Use the 'insights' tools that come with your page to determine what times of day, days of the week, and frequency people respond best to. You can also use these tools to figure out which kinds of posts your fans enjoy.
Other tips
Read articles on setting up and growing your page, there are hundreds out there, but Facebook's 'Help' pages are a great place to start
Shorten your Facebook URL to make it easier to find. Find out more here.
I can't say enough about how useful your insights tab is. Study this information to understand what is working and what isn't and your page should grow fairly steadily. Add other artist's pages to 'pages to watch' and you'll soon see which approaches work the best.
Pre-schedule your posts so they reach people at optimal times.
Use images most of the time – people respond best to shorter posts with images.
Brand yourself by choosing great thumbnail and cover photos (use the correct sizes and check them on various devices – phone, tablet, laptop)
Learn about Facebook's rules and newsfeed algorithm.
Experiment with some of the optional apps for your page, like events, videos, or newsletter.
Have fun, be yourself, and your page will grow rapidly!!
My Facebook art page: facebook.com/Jane.Hunt.Art/