OPA thanks Artwork Archives for being one of its 2019 sponsors. We appreciate your support!
Eight questions to ask yourself before making the leap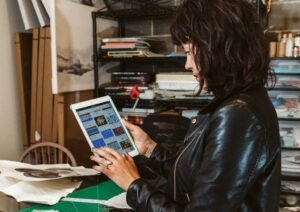 You already love painting. Other people love your paintings. You can see it now—your art provides both enjoyment and an income stream. But, how do you intend to get started as a business?
First, there is no one specific way to go about doing this.
However, there are some essentials to getting started and creating a solid foundation. We live in a time and culture where an artist actually can build a financially stable career. It just takes a little bit of legwork (and resilience) to get there.
Answer these 8 questions for yourself when starting an art business to set yourself up for success:
What will your life be like once you're running a business?
When many people decide to become professional artists, they don't often realize that they are actually starting their own small business. But it's true! You're selling a product (artwork) to people (collectors) who find value in it.
And, like any business starting out, a business plan can help you map out all the basics.
Before you get started, decide on what your ideal workday or life looks like as a professional artist and business owner. Be honest with yourself about what you love doing, what you don't mind doing, and what you refuse to do at all. Answering this for yourself will help guide you to more concrete plans. It will help you decide if you will enjoy and be good at fulfilling retail orders, doing commissions, or attending art fairs.
Grab your laptop or a notepad and start jotting down the plans you have for this new creative career. You can even use this handy outline we made just for artists.
What will be the key idea or offering of your business?
Answer this: What is your mission? How will you define success? What short-term and long-term goals will help you get there?
Be specific, and stay true to what you want out of an art career. Every artist will have a different answer, and that's okay!
Defining and visualizing your art career in this way will help you see the natural progression of steps to take to grow your art business, not to mention alleviate the "deer in headlights" feeling that comes with taking on a big endeavor.
These answers will also help you craft an artist statement later down the line, which you'll need for everything from show applications to the About section on your website.
Next, identify your target customer. When you figure out what your ideal client is like (the one most likely to buy your artwork), you'll start to understand how you can promote your work more effectively.
Who is your target audience? (Who will support your business?)
Ask yourself these nine questions to narrow down who your buyers are and how to win them over, like what income levels can afford your work and where do these clients tend to shop for art?
Take your time on this! Your entire marketing strategy will piggyback off these answers—from how you reach buyers to the tone of voice you use to communicate.
There are a ton of different ways to market your art—newsletters, art fairs, social media, galleries—but not all of them might be where your customers are looking. Based on the profile of your ideal buyer, settle on a strategy that complements your art business and audience.
Do you have the right tools in place?
As a professional artist, you have to manage a full-fledged business. That means inventory details, which locations are showing or selling your work, exhibition dates, client contact info, sales records, invoices, expenses, call-for-entry application deadlines, your schedule—the works!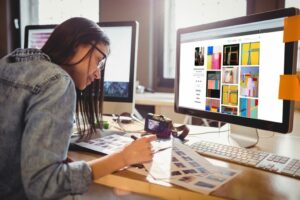 That's why artists are notoriously labeled as disorganized. It's hard to keep track of all these moving parts!
But a good artrepreneur will look for business tools to help keep them organized. And a tool like Artwork Archive, an art inventory software developed specifically for artists, makes all the difference.
Not only can you manage your art, locations, contacts, shows, sales, and everything else mentioned above, but you are able to generate professional reports like invoices and portfolio pages with the click of a button. Plus, get important insights into your sales strategy and display a professional portfolio that's up-to-date with your latest work!
Do you have a handle on your finances?
Ignorance is bliss … except when it comes to your finances. Talking about finances can put anyone on edge, but it's an unavoidable step in a viable business plan.
You can only spend so long ignoring the money side of your art career before you find yourself unfulfilled personally, professionally, and financially. The sooner you take the guesswork out of your financial situation, the sooner you can plan ahead for how you are going to sustain your livelihood. Plus, you'll be able to set concrete goals for exactly how much you need to earn and save to cover your expenses.
In this section of your plan, write down all the potential costs associated with your new business venture, from supplies to renting studio space. Then make a separate list for your personal expenses—everything from house payments and groceries to date nights.
Once you've created your itemized list, you will need to formulate a plan for how you are going to pay for everything while your business is still taking off. It could be savings, joint income, grants, crowdfunding, selling a certain number of pieces, a part-time job, etc.
Remember, planning for financial success is the best way to make it happen.
Can you make a profit from your artwork?
Pricing can be one of the hardest things for artists to figure out. Figuring out how to make a profit can be even harder. But that's the goal, right?
Here's what you need to know:
First, know your costs and make sure they are covered in the price of your artwork. Costs you should remember to include (or you will have to pay for it yourself later) are your time, materials, shipping, and even framing when necessary.
Think of it like this: you have a unique skill set that people value and are willing to give you compensation in exchange for your services. Remember, you are providing a service along with a final product. Decide on a reasonable hourly wage that you would feel comfortable with and work backward. The US Department of Labor lists the average hourly wage for a fine artist as $24.58—you can use this number to help you estimate.
Second, try one of these art pricing formulas. Some justify a dollar amount for the size of the work, while others simply go off of labor time and costs. Your skill level and education may play a factor, as well. But no matter what formula you choose, always make sure there's still a profit left for you at the end by factoring in your costs.
Third, price consistently. This will help you maintain a more positive relationship with galleries and collectors, as well as set wholesale and retail prices if you choose to go that route.
Have you dealt with all the legal stuff?
You've made the work and you're ready to start selling. The only thing holding you back from building your art business empire is making it legal. Not everything about being an artist is all passion, creativity and freedom. The hard truth is, you have to deal with a lot of boring things in order to do the things that you love. One of those things is obtaining a business license.
Do a little research and decide what type of business structure you want to become. Many artists choose to classify their business as a sole proprietorship because it's easy to set up and meets the needs of a basic studio practice.
The process varies from state to state, so head over to your local Clerk of Courts website, your state's Department of Revenue site, and the IRS site to see what steps are required next.
TIP: Start a separate business checking account with your bank. That way, your business and personal expenses aren't all mixed in together when it comes time to do taxes. And, don't forget to save your business receipts and keep track of your expenses year-round!
And for whatever business structure you choose, be sure to double check that your business name is not already taken! We're sure you don't want to deal with any legal battles. Plus, you are going to need a website and social media accounts with a consistent art business name so customers can find you.
Do you have a way to promote yourself online?
You can't have a business these days without an online presence. It's the easiest place to find you and get answers, so people can take the next step and buy your art.
That means your website needs to be on point! We're talking about high-quality images of your work, easily findable contact info, working links, and a clear and personable About section. All of these things work together to build your image, A.K.A. what people assume about you and your artwork based on what they see, often immediately, whenever they come into contact with your business.
If you aren't a web designer, no problem! There are tons of sites these days that let you build your own website using beautifully designed, drag-and-drop style templates. Artwork Archive's professional-looking Public Page feature links straight to your current art inventory, and you can even implement this gallery into your own artist website!
Having a successful art career is possible. Set yourself up for success and try Artwork Archive for free.
---