There are so many aspects to being an artist.
In the Beginning we start Exploring Mediums.…
At first, it's how to hold the pencil or how to use an eraser (really! I remember my 2nd grade teacher showing us how to get the most out of using an eraser!)
Then comes color….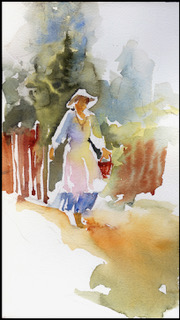 and the artist's world explodes with joy and questions. When I was still in junior high, Magic Markers burst into the market and my world of pencils, pen & ink and crayons got even more exciting.
By College, My first love for color quickly became the challenge of taming the wild and unpredictable, translucent watercolors. It was not the passive medium of crayons and markers or tempera paint. With those mediums, I could put down a stroke with great confidence and it would stay put, but watercolors?!?!?!

Watercolors talked to me. Instead of sitting still on the paper, it wiggled and blurred and crashed into the other colors, creating all kinds of interesting chaos. It became a language I really wanted to learn. Sometimes we (watercolors and me) "laughed" together and sometimes we got into "arguments" frustrated with my impatience and lack of control. However, watercolors captured my heart and became my passion for more than 3 decades.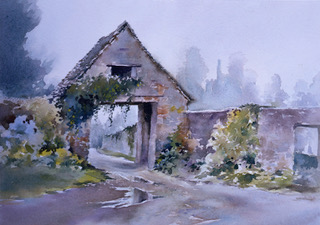 Watercolors became my career, I won my first honors, awards and recognition with this feisty medium. Along the way, I explored the art language of sculpture, too.
Then, in my timeline, when I married Howard Friedland OPAM in 1998, the thick and gooey world of oils entered my life. For the first 5 years, I watched his magic brushes push and slide this curious oil medium and before I knew it…, I had to dip my brushes
Into this language of three dimensional strokes. So in 2003, I discovered my art language had expanded to included oils.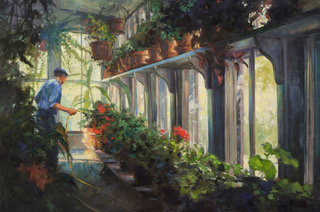 Why am I telling you all this? Because each step of the way, I needed to be curious, be experimental, and be willing to struggle and not give up. But I was not alone. I had good Teachers and most important, good Mentors.
Teachers and Mentors: First for me were my mom, dad and even my grandpa… they were my teachers and my mentors. They were artists. Mom was a wonderful experimental hobbyist and explored lots of art mediums. Dad was a professional graphic designer by day. In the evening and on weekends he painted in watercolors and sculpted. Grandpa used pastels and created "Chalk Talks" for churches groups, (an evening of him painting with pastels to wonderful music and then mixing into the painting, invisible chalk that became alive when the lights went down and the black light was turned on.) At 6 years old I witnessed firsthand the power of art when the audience would gasp!
They were my first teachers and most importantly my first mentors.
My Teachers showed me "how". My Mentors were and still are the "coaches" of my art world. Those words of my mentors have stayed with me and guided me for decades.
Sure Mentors, like Teachers, show you how to do and use and get better at whatever art medium you are using. That is what a good coach does. But most importantly, Mentors see your strengths and help you build on your own unique art abilities. Mentors also are aware of your individual personal art weaknesses and help you turn those weaknesses from hurting your paintings to strength in your paintings, from negatives to positives.
I give a lot of credit to my teachers that took the time to also be my mentors. It started in kindergarten and has never stopped. They are all around us.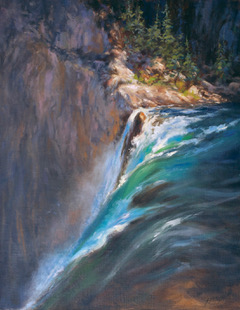 AND I will always be grateful to all of my mentors especially:
My greatest mentors:
Betty Swartwout – my mom
David Swartwout – my dad
Rudy Swartwout – my grandpa
Don Strel – "Believe you can do anything" (College Professor)
Irving Shapiro – "Plan your paintings" – "Paint with big brushes" (incredible watercolorist and instructor -American Academy of Art in Chicago)
Phil Austin – "Embrace Plein Air Painting" (awesome watercolorist and my grandpa's friend)
Richard Schmid – "Tell only what is necessary" (spectacular watercolorist and oil painter, fellow staff member at Loveland Art Academy)
Howard Friedland OPAM – "Paint as if you've never seen the subject before. See it as a child would see it for the first time." (Amazing oil painter and wonderful husband)
Warning #1: Don't think that mentors are there just to pat you on your back and love everything you create. You and I both know that feels good but doesn't help us grow. A mentor needs to point out your weaknesses, in such a way that you are, at the same time, encouraged. A good mentor has the magic ability to critique your work and leave you excited to get right back to painting. A good mentor will point out what is glorious and also what needs to be fixed and in the process your art growth happens quickly.
Warning #2: Don't expect your immediate family to be mentors. They will love everything no matter what you do.
Warning #3: Don't expect your teacher to be a good mentor. Sometimes a good teacher and a good mentor just don't come packaged in one person.
How to Find a Mentor: You want to discover a person that gives you both sides of the coin…. Will they tell you what they love and what needs to be changed? Or, find two persons, one person that tells you the areas they love in your painting and another person that you know will honestly tell you what doesn't work. That was my world of mentors when I was growing up. As a young child, I quickly learned how to use my "mom + dad" mentor for my best success.
How I learned to be a Mentor: My mom loved everything I created and I cherished her for that. She graciously skipped over the stuff in my drawing or painting that needed to be fixed. But my dad didn't do that, he went right to the elephant in the room to be fixed…
So as a little girl, I quickly learned to go to mom first and show her my artwork. She would oooh and ahhh and pump me up with joy….. Then I would go to my dad. My dad owned a graphic design studio and had a staff of artists he critiqued daily. So when critiquing his adult artists, he needed to go right to the spot that needed to be fixed and he would tell them how to fix it . . . without worrying about hurting their feelings.
That is how I formed my method of mentoring. After getting pumped up with confidence from my mom, I would show my dad and sure enough, he would go right to the heart of the matter and tell me what was wrong. As a child, that could be harsh to hear, but insulated with praise from my mom, I glided right past the hurt feelings and loved to hear what he had to say. What did I learn? Always wrap my critiques with support and encouragement in the beginning and again at the end.
(This critique method really worked because my sisters, Karen Vance – Oil Painter and Lindy Schneider – illustrator grew up and have become outstanding artists.)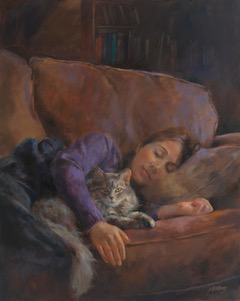 I have a passion for teaching and being a mentor throughout my 50-year painting career. My joy is to pass on the knowledge given to me by encouraging the artist's strengths and finding ways to reinforce his/her weaknesses. Each artist has a unique approach to their paintings. My job is to find those unique strengths and help the artist bring them out stronger and stronger. Through the years I have mentored many, many artists. Currently I mentor about a dozen artists from all over the world, one-on-one and also in group sessions.
I am also honored to be a critiquer for Oil Painters of America.