I'm relatively new as a studio and plein air painter, but I have over 40 years experience as a graphic designer and illustrator. I was a graphic designer for five years before attending the Illustrators Workshop in 1979. It was there I made the decision to become an illustrator. During the next 40 years my clients included Fortune 500 corporations, major magazines and newspapers, several international clients and over 30 children's books for prominent publishers.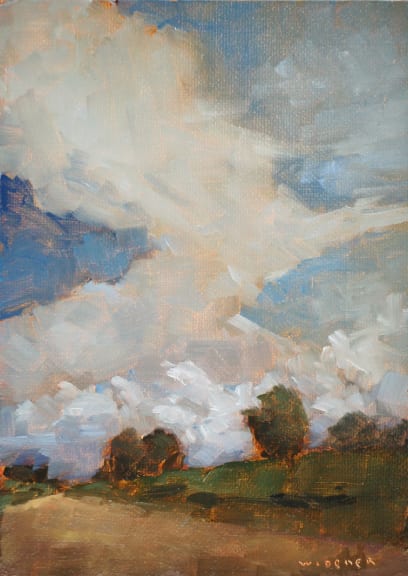 Growing up in Oklahoma I have an appreciation of Native American culture and the outdoors. My grandfather, a house painter, was also an artist. Using house paint as his medium he painted landscapes. I attended the University of Tulsa on a golf scholarship, majored in graphic design and earned a BFA.
Although I was an art major, I am largely self-taught. After talking with others who were art students in the late 60's to the mid 70's, we realized we were given the same kind of instruction; "Paint how you feel!" I've collected quite a few books over the years to make up for the lack of formal instruction. There are a couple of books I think every realist painter should have in their collection. ​Color and Light A Guide for the Realist Painter by James Gurney ​and ​Creative Illustration by Andrew Loomis.
In 2018, I retired from illustration to become a full time painter. After 38 years painting with acrylics, it took about a year to familiarize myself with oils. My biggest influences have been Howard Pyle and primarily N.C. Wyeth. I've studied Pyle's theories on composition and values and how Wyeth applied those theories to his work. I realized my weakness as a landscape painter, so one of the first things I did was to attend a plein air workshop with Bill Cramer at the Grand Canyon. I'd studied landscape painters for a while and I liked what I saw in Bill's work. His work with values was similar to what I had been doing for years in my illustrations.
I made the mistake that most beginning landscapes painters make, especially at Grand Canyon. I tried to include everything I saw in a small painting. I'd always created simple compositions for my illustration work, but painting outdoors for the first time, and at the Grand Canyon, was overwhelming. My head was spinning. Bill told me I needed to choose a specific subject to paint. By keeping the composition simple, I ended up with a decent painting by the end of the workshop.
In late 2019, my work began to improve. In 2020 I was honored to have one of my​ paintings, ​FadeOut,​ accepted into the OPA's 29​ National Juried Exhibition of Traditional Oils.
Some background on how this painting came to be. My wife's grandparents had a farm in south central Oklahoma. We go up there quite often to relax and get away. I paint and fish while my wife writes and works in the yard. We go on long walks around the property. In July 2019, we walked to the back of the property to one of the ponds. I had my camera with me and was taking some shots of the pond and the lily pads and suddenly there was the perfect shot of the setting sun peeking through the trees. I got about 5 quick shots before the light was gone. I happened to be at the right place, at the right time and after looking at the camera screen, I knew I had to paint the scene.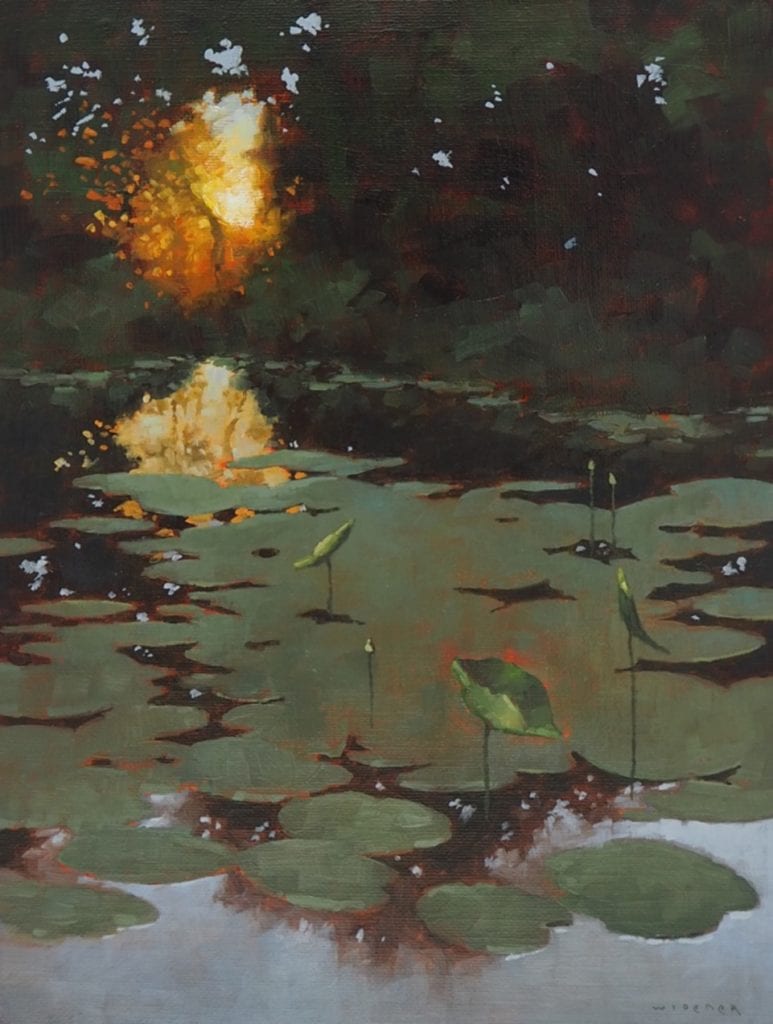 To make the painting work I needed to be aware of the light, values and especially the color temperatures. There are multiple areas in the image where warm colors are touching cool ones. I wanted to handle this with almost no blending.
Trees blocked the direct sunlight from the lily pads and formed a large abstract shape on top of the water. Their green color had warm and cool areas. I kept my paint thin to allow the warm under painting to be visible in the warm areas and a slightly thicker blue-green mixture in the cool areas. I simplified the background undergrowth so the focus remains on the lily pads and the setting sun.
I made plans to travel and do more plein air painting this year, but like most everyone, my plans changed. Instead of thinking about what could have been, I've been experimenting. Going solvent free appealed to me and now I use Daniel Smith Water-Soluble Oils and a limited palette, seven or eight colors plus white. I continue to paint a variety of subjects, probably left over from my illustrator days. Sometimes they work and sometimes I wipe it off and start again. That's part of the fun. I'm always learning.