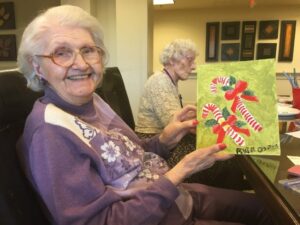 For the past ten years, I have been working with a most interesting population of individuals. They have offered me a wealth of wisdom, from their stories to their habits, from their aches and pains to their memory loss. That group of people has been the elderly.
This past decade I have been studying how visual expression through painting has benefited senior citizens.
Research confirms the positive benefits creating has on the brain, whether it is painting or music, dance or theatre, the brain responds to visual stimuli. But I don't need to cite any research to tell you my findings.
From a blank canvas to a finished product and all of the color in between, I have noticed the gratification that comes when a student begins and ends a painting session.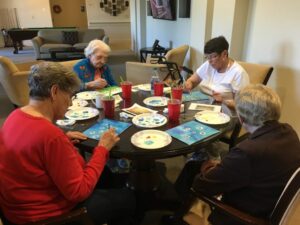 I have witnessed how art-making reduces stress, fear, and anxiety. It decreases agitation and possible emotional outbursts on students with Alzheimer's and Dementia. It increases cognitive functioning and has the ability to positively alter the mind. It increases communication, enhances memory, reduces feelings of loneliness and awakens curiosity.
Art alone is very powerful, but I have also found the connection that students have with their instructor is just as valuable. This age group responds well to bonding with others and benefit from the class structure and routine. Patience and attention go a long way with students who not only need instruction for proper painting technique but also need love and compassion.
Loving instruction that never rushes or criticizes and always offers genuine feedback is all part of the job of an art therapist. In my experience, enthusiasm and positive energy given by the instructor is a necessary component for a successful art therapy session.
I have seen so many people find a new talent, leaving with the desire to draw and paint every day. People left behind lots of beautiful memories to their loved ones with the art that they created.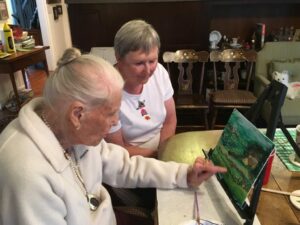 I read before that the fountain of youth is always learning something new and the amount of excitement that I have seen among my students is the best payment.
This is a quick brush stroke to what teaching art looks like. Exchanging the spreading of love for meaningful connection.
Life is beautiful and using art to enhance it is amazing.
I continue teaching but I am a full-time Custom Pet Portrait artist now.
Thank you for letting me share my story.

This post was co-written and edited by Bianca Lago.