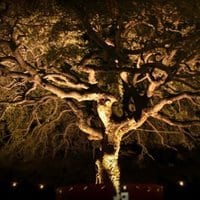 Friday night at the OPA national exhibition, American Art Collector (AAC) magazine will throw a party to be remembered. This year's will take up Texas flavor and go all out—great food and music under the stars at Pat's Hall, a historic Texas dancehall, surrounded by some of the most talented artists in the country. What more could you ask for?
As is always the case, the staff of AAC puts a lot of thought into producing their signature event, and this year is no exception. Editor Joshua Rose gives us the inside scoop:
On an earlier visit to Fredericksburg, we discovered a local BBQ joint called Cranky Franks. We immediately fell in love with their pulled pork and BBQ'd chicken and have eaten there on every subsequent trip. When we found out that this year's party would be in Fred, there was no question who we'd have cater it.
And on a trip to Santa Fe, we met The Lonesome Heroes, an Austin-based country-western duo. They are wonderful singers, songwriters, and performers, and we all became friends quickly. We are very excited that they've agreed to come down from Austin to play for our party!
Imagine this—sitting on picnic benches under a giant, historic oak, drinking lemonade, eating some of the best BBQ you'll ever taste and listening to the beautiful songs of one of Texas's best country-western duos. We can't think of a better way to spend a night in Fredericksburg, Texas.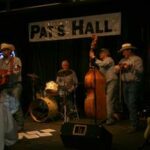 Amy Elliott Gause, AAC's sales and marketing director, is equally excited about this year's event: "We couldn't have found a better place to host our annual party at the OPA National Exhibition. This just might be our best yet—and we are currently arranging for the group of elk who showed up last year to make a special appearance this year as well!"
All I can say is YUM—great BBQ and music under that vast Texas sky, good-looking cowboys, sexy cowgirls, terrific sponsors, and hundreds of creative friends who love to talk about art. My kind of fun—
As the song goes, "The stars at night are big and bright, deep in the heart of Texas—" See you under the oak tree!
View some photos from last year's American Art Collector's party