Twelve professional artists talk about being "in the zone", what it means, what it's like, and how to get there.
There are lots of words for it…"in the grove", "singularly focused", "in tune", "wired in", "centered", "on a roll", and "in the moment". Some have described it as "going with the flow".
It is said of Michelangelo, that while he worked on the painting for the Sistine Chapel, he became so focused on the job at hand that he went for days without eating or sleeping until he almost passed out.
That does seem to express the sentiments of some of our twelve artists as they discuss painting "in the zone"…not that any of them have actually passed out…but you get the idea.
I am pleased once again to bring you six more very accomplished artists who will continue our discussion of painting "in the zone"…is it real, what's it like, how do you get there, and what's the result? When it happens, it's like "dancing with the angels".
Thanks to this week's participants, as we present Part 2.
We've all heard the phrase "in the zone", what does that mean to you?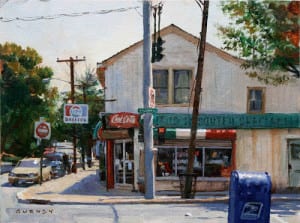 Blackwood:"The object, which is back of every true work of art, is the attainment of a state of being, a state of high functioning, a more than ordinary moment of existence." –
Robert Henri. "In the zone" is that perfect state of being I strive to be in while painting, It's a state of letting the spirit within lead, working from the subconscious mind. Every movement and thought flows effortlessly.
Brown:Being in the "zone" to me means being in a more visceral region of my mind. Being made in God's image, humans are inherently creative in one thing or another. When an artist creates, we go to a place in our subconscious that taps into the knowledge intuitively, and our emotions instinctively.
Cook:Things are "clicking" when I'm painting productively. Not that it is an easy process, but I know somehow what looks "right", when the preceding brush stroke, or knife application is placed. I "explain" to myself often audibly, what temperature the next color should be, and what pigment, or mixture is wanted, or what correction is needed in drawing, and so on…Of course the drawing must be correct, and the composition must be worth continuing. Color, whether intense or muted, or purposefully unbalanced, should remain harmonious. The balance of simple patterns vs the complicated textures are becoming obvious to me, due to many paths down that road for the design to be "on". Must mention correct values. I could go on…I shall…Then the treatment of edges seems to fall in place. I can seem to understand which need to be "lost", and those that need to show straightness and obvious clarity. I do have much more fun watching an oil sketch fall in place without thinking much, something with a real flair happening quickly…within 45 minutes to an hour and a half.
Dunphy:Being in the zone means being able to paint without tremendous effort, much like hitting my stride when I'm running or nordic skiing. All extraneous thoughts from other parts of my life turn off and I'm solely focused on the task at hand. It's finding that rhythm when my mind, body, and creative energy are all in sync.
Gerhartz:When the conditions are right and I am accurately translating what my eyes see in terms of the abstract nature of light, shadow, shape, edge and color.
Gurney:Having my conscious mind take the back seat, and letting intuition take over.
If you believe in such a phenomenon, what techniques do you use to get there?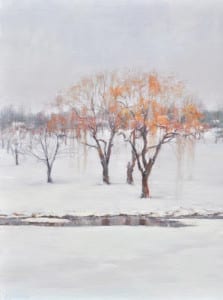 Blackwood:To help me get "in the zone" or at the least, a higher level of focus, I try to approach my subject with great feeling. Taking the time to contemplate before brush touches canvas helps me to let go and paint from a more intuitive place, allowing the information to "flow" through me. In the studio, listening to music and looking through books of a master artist's work can stir my soul and subconscious, which allows flow to happen. I have been known to listen to the same CD to an insanely repetitive degree. If it works for a particular piece I'm working on, I tend to want to keep that mood throughout.
Brown:It is important that I have an atmosphere that is conducive to painting. In my studio I have surrounded myself with inspirational things and music. This comfortable space helps me remove the "world" from my mind, so I can be more sensitive to the scene I am painting. Also, I problem solve; I imagine being in the scene, or on location again; I assign words to describe the scene; and finally I visualize the finished painting. By approaching a painting this way, it helps me bridge the two elements of painting, the science of painting and the intuitive aspect of painting. When I have a solid image in my mind, I can start painting. All of this helps de-clutter and prepare my mind to paint so it's easier to sink into that nice warm comfortable place…and create…
Cook:Don't know how to "get there". I can't force anything to get there. In fact last year, because of some very stressful conditions, I was definitely out of the zone for a least six months. I struggled with drawing especially, and consequently painting anything worth showing anyone for that period…well, I won't linger on this. Tough year.
Dunphy:  It's easiest for me to get in the zone when I'm outside plein air painting. It seems like that direct communion with my subject matter helps me to more easily ignore that background chatter of non-art-related thoughts. I still can get in the zone in the studio but it happens with more effort. I've found that certain music helps set the tone – classical baroque music, Italian opera arias, and most especially Gregorian chants.
Gerhartz:Putting myself in the position to be successful, (working from life, distractions minimized, enough rest, approach the subject humbly, and squint!)
Gurney:Ironically, I've got to think consciously to get to the intuitive state, and just practice a lot.
When in the "zone", are you more conscious and aware of what you're doing…or less so?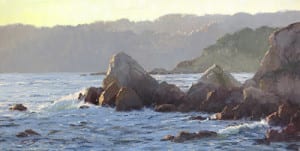 Blackwood:When I'm in the "zone", I am more highly in tune to what I'm painting but less self-conscious of my process. It's a more intuitive state where the painting seems to paint itself. I lose all sense of time, at least until my husband or daughter calls out for food!
Brown:Even though my space is important at the beginning of a painting, once I am in the "zone" I am less conscious of my surrounding, or of time, and more in tune with my creative process. I would say I am less conscious when in the "zone". Since I worked through the foundational decisions and possible problems with my painting early on, the decisions and process of painting are easier. This doesn't mean it's a "walk in the park" for there can still be struggles, and sometimes I still have to wrestle that thing down, but I am less likely to get frustrated and angry. I stay calm and the painting proceeds at a nice pace and rhythm.
Cook:Definitely aware of what I'm doing, as described in the first answer, but not laboring mentally or emotionally.
Dunphy:Both – I'm more aware of the idea and feeling that I'm painting and less aware of the technical aspect of it.
Gerhartz:Not necessarily aware of it. More aware when I am not in it.
Gurney:I'm inside the painting, not thinking of my immediate surroundings.
Are your best ideas and work a result of being "zoned in" or does it make any difference?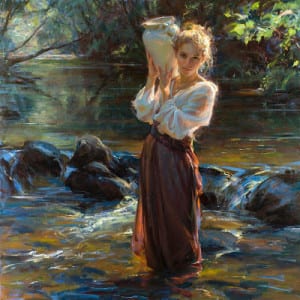 Blackwood:I am personally more fulfilled when I am "zoned in". It is invigorating, joyous and feels like a state of being more fully awake. Because the subconscious is flowing more freely, I think there is a deeper level revealed in the work for those able to read it, making it more successful for me.
Brown:All of my planned ideas and crucial decisions about a painting come prior to the "zone". Once the decisions are made, and I have a clear image of my painting, I am free to de-clutter my mind, and go into the "zone". The advantage of this process for me, is when I am in the "zone", my right brain is in control. This opens up the opportunity for some fantastic ideas to arise during the painting. I can realize them and take advantage of these opportunities.
Cook:Can't answer that my best ideas come "in the zone", but my best canvases definitely do.
Dunphy:Yes, by far my best work comes when I'm in the zone. It causes a conflict for me because I can only be in the zone when I don't have the distraction of other people around, even other artist friends. I enjoy the camaraderie of painting with others and need that human interaction, but I end up having to view those paintings days more as "mental health" days instead of times when I get serious work done.
Gerhartz:I believe all artist work is best when focus is concentrated and precise. I believe my best works have almost painted themselves.
Gurney:The two modes switch back and forth for best results, like two different creative characters: The idea man and the refiner.
Is it possible for a "zoned in" person to produce work beyond their normal ability or level of understanding?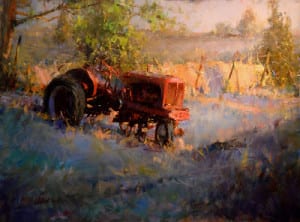 Blackwood:Being "in the zone" is an active, high state of functioning that can propel me to another level. Provided I have acquired the necessary skills, the excitement brought on by a challenge above my current level of understanding awakens my spirit and allows me to reach the higher state within that my conscious self sometimes blocks.
Brown:For me, the only way this whole process works is to study and build my understanding of the fundamentals of painting, understanding what I see and my ability to see as an artist. I have to train myself to see the subtleties of a scene and to understand perspective, atmosphere, quality of light, shade, value and edge. You can't paint what you don't know. We are given talent, but passion is the driving force that will develop it. Without putting in the work the emotional part of art has nothing to draw from. Since being in the zone is being more visceral, I don't think I can paint beyond my ability, but it does make it easier to work from the knowledge that I have collected over the years and it makes me more intuitive with my decisions and not over think and second guess myself.
Cook:Any piece that exceeds my normal ability is a gift from God. Should that happen, I believe I would continue doing even greater things, with a dedicated work ethic. Love this! There are some pieces in the past that stand out as hard to "match the magic". I wouldn't continue if I thought it might not happen again.
Dunphy:Without a doubt. I call those works gifts that are given to me in order to let me know I'm on the right track and encourage me to keep going.
Gerhartz:Yes
Gurney:To me, intuition is conscious understanding made automatic. Rarely do I get major leaps of intuition that take me beyond my conscious awareness of solutions.
When "in the zone", are you aware of it?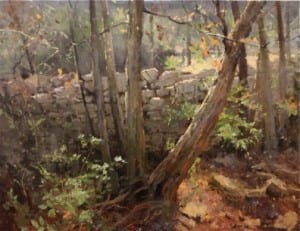 Blackwood:I think on some level I am aware that I am "in the zone". Everything feels so right. When I'm out of it, I still have that lingering "high" that makes me look forward to painting again. It is an addiction, isn't it?
Brown:I am aware I can go to the "zone", but I don't always know that I am there, until someone or something interrupts me.
Cook:Definitely aware when I'm "in it", however, being in it one day doesn't necessarily carry over to the next session. Hate this!
Dunphy:Not right away. Usually some time will have passed where I realize I'm in a great rhythm and not struggling so much. Then I try not to think about it to much in order not to jinx myself out of it!
Gerhartz:Not always, the more I think about being "in the zone" the more I can be assured I am not in it.
Gurney:Yes, and I try to abet the mood by means of music or sound effects.
Special thanks to each of the distinguished artists participating in this enlightening discussion. Your comments have been greatly appreciated.
For those that have not read Part 1, I invite you to do so. It also features six elite artists: Kenn Backhaus, Joni Falk, David Gray, Marc Hanson, C.W. Mundy, and Romona Youngquist. It's also very good. Just click here and continue reading. Thanks.