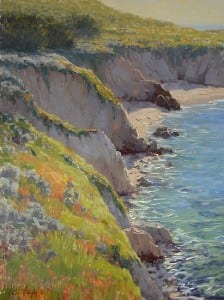 When I first started painting, I'd walk into art supply stores and spend hours looking at all the different pigments and brands of oil paints available, and drool over all those luscious colors: aureolin yellow, cinnabar green, quinocradone rose (just the names alone made me buy them).  I'd load up my basket with dozens of tubes of paint and head home thinking that at last I had found the color that would make me a better painter. Age and experience are wonderful teachers, and I finally came to the conclusion that no special pigment would be the key to my success. In fact, the more choices I had on my palette, the gaudier and less-realistic my paintings looked.
In 2003, I had the good fortune to study with Scott Christensen, who at the time was using a very limited palette that he had his students use in his workshops. At first, I was baffled: how could I get a true yellow ochre using only 3 primaries and a couple of grays? How could I get a wide variety of greens when there were no green tube pigments on my palette? But after sticking with this limited palette for a while and experimenting with these colors, I came to see that I could mix just about every color in nature using only 6 tubes of paint. Using this palette also helped me to see and understand color temperature better by simplifying my choices: if the color needed to be warmer, I added yellow; for cooler, I added blue. And I found that the colors I was mixing were so much closer to the reality I was seeing than when I used a broader palette. When there are 20 choices on the palette, I find it's much easier to just say "oh, that's close enough" and dip into a color straight out of the tube , but when I have to mix my colors from the primaries, I get a more accurate representation of my subject matter. Of course, there are certain local colors that I can't duplicate exactly with this palette, especially if I'm painting man-made objects. But I can always get the correct value and the correct temperature, and when those are right, the color reads correctly.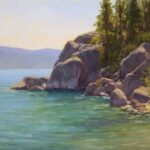 For example, the color of the water at Lake Tahoe is an incredibly intense blue-green. I may not be able to get that exact local color, but I can mix the right temperature and value, then surround that color with more muted grays and the color of the water will feel more intense and believable.
Over time, I experimented with adding and subtracting pigments from my palette and settled on the selection of paints that I've been using since about 2005. This is the palette that I use for all of my paintings, both plein air and in the studio:
Titanium White (any brand)
Cadmium Yellow Lemon (Utrecht)
Permanent Red Medium (Rembrandt)
Ultramarine Blue (any brand)
Naples Yellow Deep (Rembrandt)
Cold Gray (Rembrandt)
(Please note that the brands of the paints are very important as colors vary widely between manufacturers)

Although I use a limited palette for my paintings, I always start out by mixing puddles of several colors before I start the actual painting. Doing this accomplishes two things: it helps me to slow down and analyze the color before I dive headlong into painting, and it allows me to have an expanded choice of colors when I begin to paint.  I always mix the secondary colors (orange, green, and violet) regardless of what I'm painting, and the rest of the puddles of color are close approximations to what I'm seeing in the subject matter. Pre-mixing takes some time at the beginning of the painting, but it really saves time once I start to paint: I already have so many colors figured out and can concentrate on the subtle shifts in temperature and value that I'm seeing. Also, I don't break the rhythm of painting to drop my brush, get out my palette knife and mix new color.
Here's a shot of my palette before I start a painting: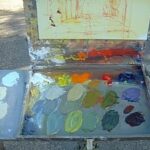 And here's the finished painting from that palette: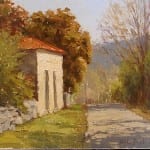 There are certainly countless artists out there who use extensive palettes and get beautiful results, and my selection of pigments is just one way to approach painting. But if you have never used a limited palette, give this a try- you might be surprised with the results and be able to bypass all those rows of paint next time you're in the art store.