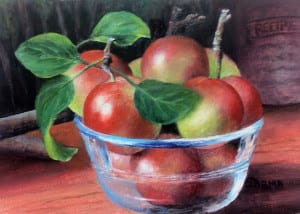 Here's a few ideas to think about whenever you get a creative block and find you 'just can't paint right now.' There's no guarantees, but they just might work, so it could be worth a try…
1. Paint your favorite drink – whether it's a cup of tea, a pina colada, a steaming latte with lots of foam, or an ice cold beer – paint it in such a way that would show the viewer why it's your favorite and how much you love it.
2. Go through the newspaper and find a photo – the first one that catches your eye – and paint your version of it – it could be abstract, realistic, finger-painted, or painted any way that might get your creative juices flowing for the next project.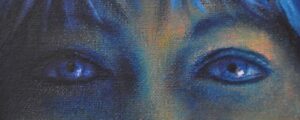 3. Look in the mirror at yourself in this painter's block mood and paint just your eyes, so that it shows how you feel and why you can't paint right now. In doing so, you're already on your way to stifling the creative block.
4. Paint yourself as a person with the occupation you wanted as a child – did you want to be a fireman, a hairdresser, a bungee jumper, a police officer, a dancer? Give yourself a day as the person of your childhood dreams.
5. Do you love spaghetti? Eggs benedict? Chocolate Mousse? Strawberries? Your secret recipe? Paint it so everyone can taste it with you.
6. Repaint the first thing you ever painted. Just knowing that you now have a greater technical knowledge will help you paint that image with confidence.
7. Paint your worst habit – do you smoke, drink, eat too much chocolate? Paint in a way that will show how bad this habit is. Perhaps your painting, over time, will actually even help you quit your habit – if you even want to.
8. Paint about conformity – peas in a pod, ducks in a row, bananas in a bunch, etc. Make sure that part of your group doesn't conform – for instance, leave one of the peas out of the pod.
9. Paint yours or your child's favorite toy. Show some of the worn areas that clearly display how much it has been loved.
10. If you're really hoping for some particular thing in life – paint it – maybe a cottage at the lake? A diamond ring? A new tool box? A particular make and model of vehicle? A child? Live your dreams through your painting.
Remember that at one time you only dreamed you could paint – now you truly can paint your dreams. Just make those first strokes that will put you back on your way – you can do it – you just need a little motivation. Hopefully you'll find it here.
© Copyright · Susan Abma