Bill Farnsworth OPA is the winner of the 2013 Juried Salon Show's Bronze Medal Award. He obliges us by sharing some thoughts about entering national shows.
An Emotional Roller Coaster for Oil Painters.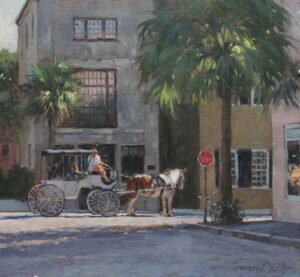 All artists want their art to be accepted. Whether it is showing in a gallery, invited to an event, or juried into a National Show. Some of us will show in local art organizations and while they help support local art in the community, it's the national shows that help the artist's career. They also put your art in an area with potential new collectors and a possibility for gallery representation.
But the draw backs for some artists is that if they are not accepted they may stop entering all together. I have had the same frustration when entering what I thought was my very best work and then being fed a huge slice of "Humble Pie" in the form of a rejection. As an illustrator I learned quickly that you can't wear your heart on your sleeve. You feel bummed out for a day, then you get back up and enter another show. Your best revenge is getting better, not getting ticked off at the judge or the show. This business is a roller coaster with big dips and big highs. One big success can erase a 100 failures. Failure is an opportunity to raise the level of your art, but if you get ticked off and blame it on politics, you will set yourself back.
Presenting your best work.
Throughout the course of a year I try to plan ahead and give myself enough time to do a painting for a show. You wait till the last minute it may not be your very best effort.
When we create a great painting there is a difficult decision whether to hold back the piece for an upcoming show or get it out to your gallery, because you know it will sell.
If you are trying to make a living in this business you have to sell paintings and when bills come with relentless regularity, it is very hard to hold back your best work. However some paintings are very salable in a gallery, but may not be show paintings. Figures can be a tough sell in a gallery depending on the artist, but they can make quite a statement in a national show. The level of expertise in all the principals of painting has to be very high. Whatever you enter it has to be your very best.
Showtime.
Ok, so you get in the show. Your happy and now you have to ship your painting to the gallery on the due date. The expense is starting to mount with entry fee and shipping both ways.
Not to mention travel expense to the show if you want to attend the opening. Attending openings is very important and I don't do it enough.  As an artist, you have the opportunity to meet new collectors and fellow artists. Our occupations are sort of hermit-like, so to get out and talk with people is good for the soul and the career.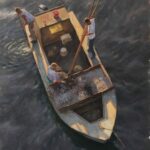 Some National shows have some big awards, like OPA, AIS, NOAPS, Scottsdale Salon, ect. If you are fortunate enough to win an award, enjoy it for a few days, maybe a week, but then put you ribbon away and realize that a lot painters deserve the honor as well. If it helps your confidence to become a better artist, great, but if it feeds the unlimited ego, the fall can be hard. Many artists fall into the "post-award ego abyss" and it damages their careers.
Getting exposure online.
There are more and more online shows now, like Raymar and of course the OPA. These are great because you can enter a piece that has sold and you don't have the shipping expense.
Your work can be seen by thousands who may visit your website. If you don't have a website today it is like going to a party and hiding under the table. I use Fine Art Studio Online and it has been great. Everybody today has a smart device that they can view art anywhere without physically being in the gallery.
National shows give the artist exposure, and the more you are visible, the more people can appreciate all the work that you have put into your paintings. Good Luck.