The OPA Summer 2014 Online Showcase was held from June 1 – August 15, 2014, open to Associate members only and awarding $5,000 in cash awards. The Online Showcase runs three times each year and is completely digital competition held at www.opaonlineshowcase.com for only $14 per entry, with no limit to the number of entries allowed.
These award comments are thanks to our Summer Online Showcase judge, OPA Signature member Bryce Liston OPA.
The Winter 2014 Online Showcase runs from October 1 – December 15, 2014 and is open to OPA Associate and Signature members. Enter Today!
This was a particularly difficult show to judge because there were so many strong pieces. There were a lot more paintings that deserved awards among the entries, but as is always the case, I had to narrow it down to fewer pieces than I would have liked to.  I like judging art shows. I really enjoy seeing all the different styles, approaches and subject matter. But when you have to start narrowing it down to the award winners it gets very difficult very quickly.
Bryce Liston OPA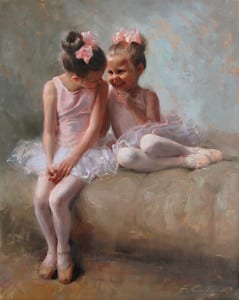 First Place
Anna Bain
"Sharing Secrets"
I knew this was an award winner the first time I saw it. What a beautiful painting! It has a straightforward, simple and well balanced composition along with two impeccably well-drawn figures. I love those two faces, and the hands, structurally correct yet not at all distracting from the faces. The artist has employed great restraint and control over edges, subduing and letting them go where they're not needed. This painting also has a strong use of value massing which really helps draw your eye to the center of interest. I love the subdued color palette and controlled color.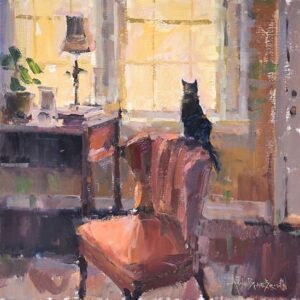 Second Place
Anne Blair Brown
"Wishing"
Again, this painting has a clear center of interest. My eye was completely controlled by the artist here. Every object was painted to a subordinate degree to support the composition. Also I love the paint application; I love the brushwork; loose but smartly applied. The artist is clearly seeing what's going on under the loose brushwork without compromising the drawing and the perspective. The values are well massed and controlled and that, along with a great sense of warm sunlight, helps to tie the painting together.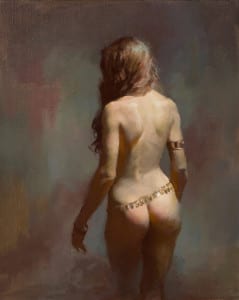 Third Place
Charles Young Walls
"La Vespertina"
Beyond the wonderfully straightforward and strong composition and edge control, this painting has great color harmony. I love the way the artist kept all those flesh colors tied to the background and then brought in just a little warmth to really make the figure pop off the canvas. I judge figures on a higher level than most everything else. They have to be "In Drawing". The draftsmanship has to be strong. This figure has such a superb sense of draftsmanship. The anatomy is solid and the figure has a great gesture. Even beyond that, the figure has a feeling of movement. It's not stiff and posed and seems as if might move at any moment.
Honorable Mention
Jason Jackson
"Taking Flight"
This painting read very well when I viewed it as a thumbnail and it continued to hold up as I looked at it in a larger format. It has a strong sense of light and dark and they're well grouped together. The feathers on the wings could have easily gotten out of control, but I love how the artist subdued detail in the shadow. It makes the feathers read perfectly.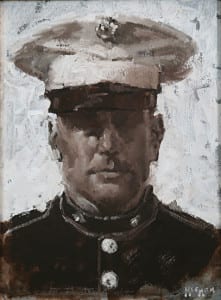 Honorable Mention
Patrick Meehan
"Semper Fi"
I kept coming back to this painting. The artist has created a very interesting piece by subduing the color with a monochromatic approach. On top of that, I can easily break this piece down into three values. So the artist has reined in both color and value, making the overall shapes and brushwork stand out. A great example of controlling some of your elements to make others shine. Well done.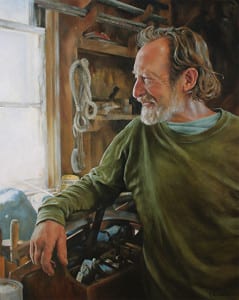 Honorable Mention
Elizabeth Whelan
"Portrait of Nat Benjamin, boat builder & designer"
There's a lot going on here but it's all kept in a good sense of order. It's well designed and technically very well done. I believe it tells a lot about this individual and his life. The light coming in through the window really unites all of the elements in the painting. The harmonious colors and strong value massing makes this one a winner.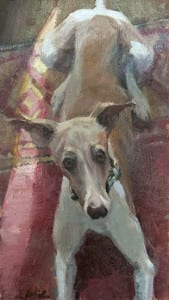 Honorable Mention
E Melinda Morrison
"Wanna go for a walk?"
This is a great example of thinking outside the box. It's very original and I love that perspective. I also enjoy the use of that one streak of light balancing out all of the soft blue tones in the rest of the painting. Another example of a superb use of edges. See how the dog just blends right into the carpet? Fantastic! Oh and what a great dog face, don't you just love those eyes?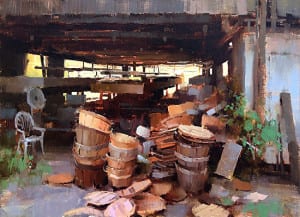 Honorable Mention
Mark Boedges
"Maryland Crab Shed"
Strong design and intriguing paint handling. I enjoy the open dry strokes allowing the underpainting to come through. That warm yellow light coming from behind really sets off the soft blues and violets that unite all of the foreground elements.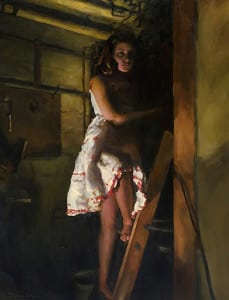 Honorable Mention
Stephanie Deshpande
"Exploring the Basement"
Mood, mood and more mood.  I love it! Such a great use of lighting. A wonderful sense of atmosphere and great value massing. I love the use of thick impasto on the dress. It contrasts great with all of the simple subdued shadow colors.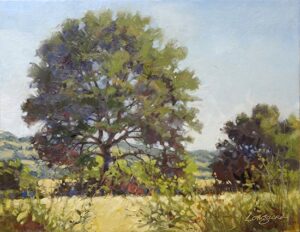 Honorable Mention
Jimmy Longacre
"Hill Country Celebrity"
I love the warm and cool colors in this painting. I can feel the warmth on my face. I feel like I'm right there where it was painted. The beautiful cool violets in the shadows really make the warm light bathe and harmonize the entire painting. I also appreciate the way the artist used thick impasto to paint into the brush in the foreground. Very well done!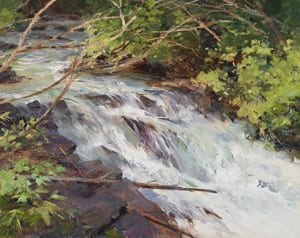 Honorable Mention
Deborah Tilby
"Hidden in the Woods"
This painting has great design and a strong sense of light. The color palette is very controlled and limited, giving the painting harmony. Rushing water can be so hard to paint and so easy to over paint, but this artist has done a superb job in keeping it simple and not over worked. I love all the subtle color in the water. I could look at this one all day long.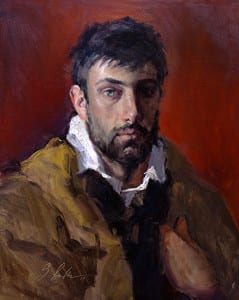 Honorable Mention
Suzie Baker
"Valentino"
Again, another portrait that is solid and well-drawn. This painting has a lot of energy, it's bold and strong along with fresh and energetic brushwork. Everything is set up to take you right into the center of interest, which is that wonderfully painted eye. Notice how subdued the hand is, it fits right into its value range without jumping out. Great job!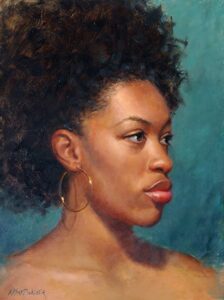 Honorable Mention
Ann Kraft Walker
"Jessica"
This painting is so well drawn and sculptural, it has a solid 3-dimentional feeling. It's a portrait, yet maybe not. I mean I feel like there is more here than just a portrait of someone. It made me want to look beyond the literal.  I also love the way the artist has simplified and changed the hair as it moves away from the face. Wonderful use of opaque vs transparent, not to mention wonderful edges. Great paint handling.