"That's not real art."
"When are you going to change your style?"
"You have a ways to go…"
"I'm not impressed with your understanding of art."
Have you ever been told these things before? I have. And like most artists, I am deeply sensitive to criticism. (Ok, I'm deeply sensitive in general, but that's beside the point). Sometimes one negative comment, even in a sea of positive ones, can send me reeling and make me want to throw in the towel. Or, I allow my own negative thoughts to creep in and get the better of me.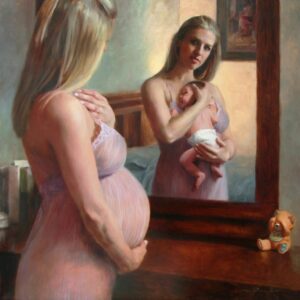 Criticism can be a tough thing to deal with, and with the start of a brand new year, as we artists set out to create our best work yet, I thought it would be helpful to address this topic. Just to clarify, when I talk about criticism, I'm NOT referring to critique. These are two very different things, and I believe that a good critique, from someone you respect and look up to, is extremely important for continued artistic development, even if it hurts to hear. I could write another post on this subject, and I think it's worth writing… but that's for another time. Today I want to focus on how to deal with criticism, i.e., negativity, either from others or from ourselves.
In this day and age, art is subjective. We know that not everyone is going to like what we do, and that's fine. But negativity can put a real wrench in the creative process. How do you move on when someone lambasts you on your Facebook page, or tells you not to quit your day job, or speaks to you condescendingly? I once had someone (a much older person than myself) tell me, "You can't really paint anything interesting or worthwhile until you reach an age where you have lots of real life experience." I wasn't sure how to respond to that. Gee… I guess I should wait until I'm 65 to start painting.
Well, here are a few things I have learned over the years (and some more recently!) on dispelling negativity.
Have a high level of self worth. If you believe in your heart that you'll never be good enough, then negative feedback will get you down. But if you believe that you, as a person and artist, have value, with a life story worth telling, then you won't be crushed when you encounter the occasional bad apple.

"Fledglings" – 20×24″ – oil on linen

Own your style, and use it to tell your story unashamedly. Whether you were self-taught, schooled in a traditional atelier, or a frequent workshop attendee… all of those learning experiences have shaped who you are as an artist. Don't downplay your education, just because it's not the same as someone else's. If you don't like your style or aren't sure what you want to say, spend some time improving your technique, and seek out council or insight from someone you trust. Sometimes an objective viewpoint can help you see yourself more clearly. Just remember that at the end of the day, no one can create your art like you can. No one else puts down a brush stroke in the exact same way you do, and if you think about it, that's really cool.
Try seeing it from the other side. Negative comments often stem from insecurity or envy. It just might be that the person trying to hurt you is actually going through hard times themselves.

"Innocence" – 28″ x 12″ – oil on linen

Learn to cast out negative thoughts before they begin. Phrases like, "you're not good enough," or "your painting sucks today…" are the devil on your shoulder. They are not your thoughts and they are not who you are. Take every thought captive. Don't let negativity, or the pressure to make money or win awards, or someone else's worldview being imposed on you (telling you what kind of art you should be making and for what purpose) affect your productivity or your belief in your art. One technique used by marketing gurus is to speak aloud the word "cancel!" every time a negative thought enters their mind. There is power in the spoken word.
Turn a negative into a positive. Maybe someone criticized you and it stung. But before you write off their comment entirely, ask yourself if there was some truth to that, and if you could use it to improve your work. You may find you come out stronger and better for it!
So, it's a new year, with limitless creative possibilities. My goal for 2015 is stay positive. EVERY DAY. I hope you'll do the same, and I wish you a very happy, artful New Year!