The OPA 24th Annual National Exhibition & Convention will be held in St. Augustine, Florida at Cutter & Cutter Fine Art's Brilliance in Color Gallery April 29 – May 3, 2015. OPA member Eve Albrecht was able to chat with two of our scheduled speakers to give you some background information about them. Joe Gyurcsak is the resident artist at Blick Art Materials and Utrecht Brand. He also participates in educational programs and is the company's technical manager as well. Scott Gellatly is the resident artist and product manager of Gamblin Artists Colors. Both gentlemen have interesting beginnings in their art careers. Read on to learn more.

Q: How did you discover you wanted to study and practice/teach fine art?
Scott Gellatly: Ever since I can remember, I've been driven to make things. This drive to make things has never stopped. It was in middle school and high school, though, that my interest in drawing and painting took hold. I took my first oil painting class during my first year of college, and that was the "where have you been all my life?" moment. The lusciousness of the paint and depth of color in oil painting had a profound effect on me…as it still does. During my college years, I quickly realized there was a difference between instructors who were passionate and skilled in sharing information with students, and there were those whose teaching careers were simply viewed as a means for them to pursue their painting. I had an opportunity to teach art before I finished my degree, and I found that I really loved sharing information with others. Luckily, I'm in position to do this still through teaching painting workshops and through my work with Gamblin.
Joe Gyurcsak: I have loved to draw since I was five or six years old. When I was twelve, my parents brought me to my first formal lessons, and this is when I caught the bug! When I was in high school, I participated in the first Adjunct High School of the Arts Program in NJ. This was the first advanced college level teaching program for a select few high school students. The students that were selected were chosen out of hundreds in a competition. I was able to go to a local college for training three times a week. This led to receiving a few scholarships to the Parsons School of Design and the School of Visual Arts in NY. After my formal studies, I became an illustrator. Then in 1990, I left that career to pursue a career in fine arts.
Q: Many people believe they must have a "talent" already before they can paint or draw. Do you believe this?
Scott: The drive to make art is more important than innate talent. Talent is something that non-artists talk about. Artists should always hone their skills, no matter what stage they are at with their art.
Joe: Talent is a small part of the equation. There are many talented people in this world, but many don't have the burning desire to see their dreams through! Talent for an artist is defined as a vision, a need to express in word, paint, clay, music, et cetera; however, all of these still need to mature, still need to be cultivated and honed in to reach higher levels of expression.
Q: Were you already able to paint before you went to study art?
Scott: I have enough bad drawings and paintings from my early years to prove otherwise. There were paintings that I thought were successful then, but then I continued to develop my skills and broaden my knowledge of art techniques.
Joe: I was able and willing to paint before any formal studies, but the road is long and mastery just does not appear. Some days after 40 years of painting I am not able to paint, but oh, I am willing!
Q: What are your thoughts, Joe, on Learning Fine Art with Workshops?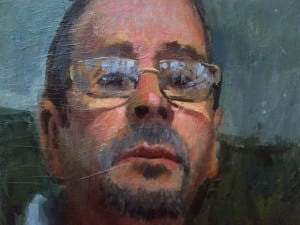 Joe: Artists should go into a workshop like a blank slate, buy completely into the teacher's philosophy. They should work hard, take notes, and ask too many questions. Artists should not have the goal of creating finished works of art. They should go to work things out; that is why it is called a workshop. It is important to absorb the lessons. Take what is of value to you; apply it, and when you are ready for the next level or workshop, you will know. Otherwise, keep on working it out until you are ready to move on to a higher level.
Q: At what point should an artist stop taking classes and workshops and develop one's own style?
Scott: I believe "style" is a culmination of artist's conscious and subconscious actions while painting. Those conscious elements include for example, the choice of subject matter or color palette. An artist's propensity to apply paint in a certain way (the artist's handwriting) is less conscious. An artist can always pick up tips from other artists, through classes, workshops, or simply studies others' work. But, these newfound tips on painting will only affect the conscious actions of painting.
Joe: Never! In his eighties, Cezanne was found in a museum sketching some sculptures. An experienced artist came up to him and asked him what he was doing. Cezanne replied, "I am trying to learn to draw."
Q: Which artists or workshops have influenced your painting style and technique most?
Scott: J.M. W. Turner, Wolf Kahn, and Stuart Shils; specifically, his Irish series in the late 90's.
Joe: Just the living artists: my high school art teachers, C.W. Mundy, Quang Ho, Richard Schmid, John Howard Sanden and many more. All of these people have enlightened me in some way shape or form, and I am ever grateful for their support.
Q: How did you start to earn money with your art?
Scott: I've been fortunate to have had gallery representation since being out of school for only a few years. Since this time, I've made a career out of selling my work, teaching and working in the art material industry.
Joe: At seventeen years old, my brother and I ran an airbrush business for t-shirts and cars. At twenty-three, I received my first illustration job from CBS Records by entering a national competition. I was commissioned to do the "Footloose" single by Kenny Loggins. The rest is history.
Q: How has your painting practice changed since you started working for Gamblin and Dick Blick respectively?
Scott: Working for Gamblin has had a profound impact on my painting. My early exposure to the information that Gamblin provided filled a number of gaps in my education. For instance, Robert Gamblin wrote a terrific newsletter on the differences between the indirect painting techniques of the Classical era and the direct painting techniques of the Impressionists, based on the development of pigments in the 19th century. This made me think differently about how to create a painting structure as well as the optical possibilities of oil painting. As my role with Gamblin has evolved over the years, I've taken on a central role in product development – both with color and with painting mediums. A big part of this work is to paint with these materials in my studio to perfect their performance and working properties.
Joe: My career with Dick Blick started as the resident artist and then as brand manager for the Utrecht brand for the last seventeen years. My painting practice hasn't changed, but my career has allowed me to continue to grow and experience unbelievable opportunities. I have been blessed to travel the world and meet so many great artists all of which has inspired me.
Q: Scott, can you describe what a typical day/week looks like in your artist life?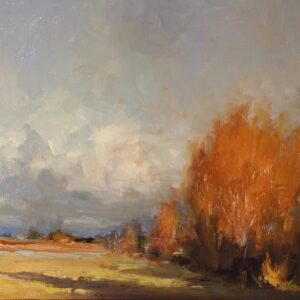 Scott: I put in 40+ hours a week at the Gamblin factory. After work, I spend time with my family (which is a glorified way to say that I run my kids to sport practices and throw dinner together). Only after my kids' bedtime, do I get some time in my studio. Luckily, my family and Gamblin are incredibly supportive of my painting career, so I do get time to paint when I need it.
Q: What are your thoughts on a career in fine art and your work style?
Joe: I spend 30 to 55 hours a week at Dick Blick: Thirty percent with R&D, fifteen percent on Regulatory, fifteen percent with QC, and thirty percent at lectures and painting demos throughout the US. I paint anywhere from one to four hours a day. I work out by doing Kick Boxing three days a week. God & Family first, then everything else falls into place
Q: How do you keep yourself focused between your job, painting and home life?
Scott: It's not easy, but my secret is to book shows. Whether it is for a solo exhibition or a group show, having a deadline to work against is the best motivator. This is my only advice for artists starting out – book a show. It doesn't matter if it is in a gallery or a coffee shop. Having a show on the calendar forces you to produce a body of work, think about the cohesiveness of the work, and most importantly move past that body of work once the show has been completed. This is a terrific way to keep your work moving forward.
Joe: I stay organized by making lists and setting priorities. It is important for artists to do the following: Plan your work and work your plan. Always seek the higher power in life to then activate your dreams and then never stop dreaming. Take care of your mental, spiritual and physical being; then you can do anything and everything. I want people to know that I am not just Utrecht Joe. I am a fully dedicated artist whose life and heart is in this 100 percent, and I want to share and give back for all the blessings bestowed upon me.