Johne P. Richardson
Johne P. Richardson was awarded the Gold Medal, a $4,000 cash award funded by OPA, for "Pushing Strays."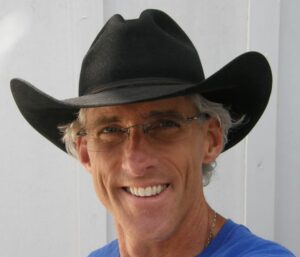 Johne is a native of Kansas, with a love of the prairie, and other wide-open spaces. He has painted for more than thirty-five years, most of that in watercolor. He fell into oil painting comparatively recently, and when he got himself cleaned up (which he discovered was quite a bit more of a job than with watercolor) he realized it was a medium he could be content with, and for quite some time.
Johne lives in Overland Park with his wife Janet. They have three mostly grown children, and any number of cats and dogs.
"As an artist, I have a great passion for the outdoors, and a great affection for cowboys, and the western landscape. I look for interesting stories, and compelling visual drama, and try to speak to what moves me, emotionally, on the surface of my paintings. I don't feel the need, creatively, to add intellectual content in creating a dialog with the viewer- the subject inherently having interest, and substance, all on its own.
My figures tend to be presented large, and up close, to create an inescapable intimacy, and expression of character, or at a distance, to reflect the human scale within the enormity of the wide-open landscape. Occasionally a steer wanders by, and I'll become entranced with the play of light on horns, or a fierce posture, or expression. And the elusive, curving brim of a cowboy hat, as it moves and changes in the light, is perhaps the most captivating and challenging subject I've ever encountered.
I get emotionally involved with my subject, whether it's a figure, or a landscape. When I paint, I try to tell the story of what moved me, and with the same energy and passion with which I absorbed the image initially. It could be the gesture, the color, the surface patina, the light… but mostly, it's the light."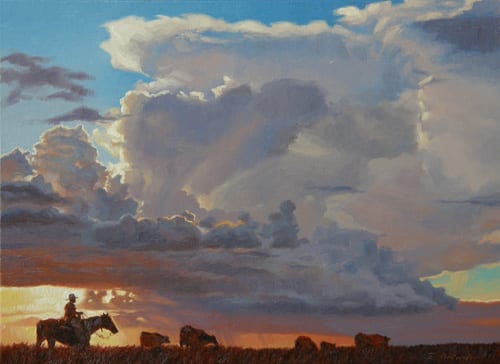 David Dibble
David Dibble was awarded the Silver Medal, Art Focus funded by American Art Collector Magazine for "Monterey Pier."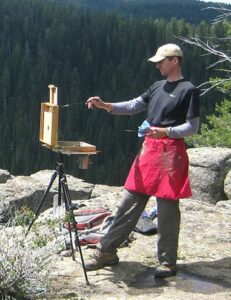 Born in 1977, David Dibble was raised on a farm in Davis County, Utah, where he was influenced by the landscape from an early age. He created art all through his youth, and completed a BFA in Illustration from Brigham Young University.
David began landscape painting in earnest in graduate school at the Academy of Art University, and following the Academy he and his wife Liz moved to New York, where he worked as a color artist for Blue Sky Studios (20th Century Fox), creating Concept Design for such films as Rio, Epic, Ice Age 4, and Peanuts. David and his family now reside in Orem, Utah, where David teaches Illustration at Brigham Young University and paints  often in the surrounding mountains and valleys.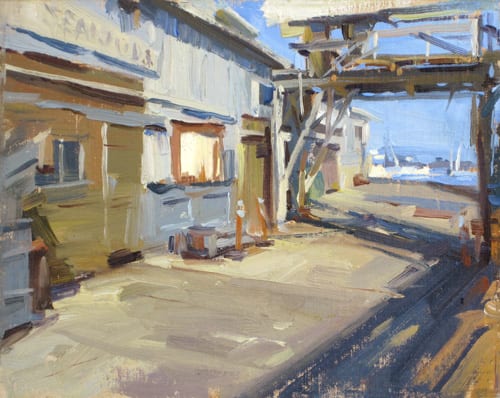 Andrew Lu
Andrew Lu was awarded the Bronze Medal, a Half-page advertisement funded by Fine Art Connoisseur, for "Under the Tibetan Sun."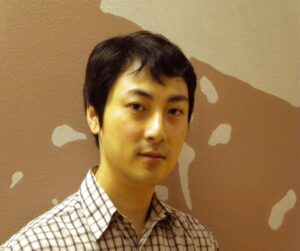 In 1974 Shanghai I was born into one of the biggest urban centers in China.  A well noted artist in the local area introduced me to drawing at the young age of 11 and allowed me to take my first step onto the long road of the study of art.  Upon graduation from the University of Shanghai with a major in Fine Arts, I painted voraciously without rest.  I then met the man who would become my instructor, Xiaofu Yu, a true master in oil painting. Nearly all of my present painting skill derived from my apprenticeship under him.
In searching for ever more difficult challenges and a bigger stage to present my works I immigrated to America in 1998.Free-spirited Americans living in such a diverse and energetic society became a great inspiration. This soon led me to create the most prolific outpouring of all of my works. Vivid reflections of my newest experiences in this land and the raw emotions connected with them were shown on canvas with each paint stroke. I couldn't help but have my emotions evoked every single day by the beauty of color and life that lay around me. I came to live in Southern California where I was lucky enough to have met my wonderful wife and had our son. I currently own an art school in the city of Walnut where I enjoy my time teaching students and continue my painting.