David A Leffel OPAM Bio
David A Leffel OPAM was awarded the Gold Medal, a $3,800 cash award funded by Fine Art Connoisseur Magazine, for "The Great Guardian."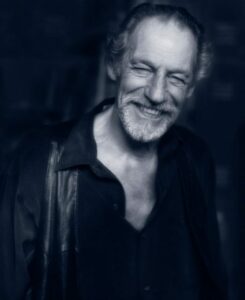 David A Leffel is a modern master recognized by his peers as a painters' painter. His subjects range from figure and portrait to landscape and still life but his real subject matter is light flowing and drifting over surfaces.
He grew up in New York City and studied art and painting at Parsons School of Design, Fordham University and then at the Art Students League of New York. He later returned to the ASL as an instructor until he moved to Taos, NM in 1992.
Leffel has received many honors in his career including Gold and Silver medals at NAWA now called the Prix de West; Allied Artists, NY; and National Academy of Design, NY. He has also participated in many group and one-person shows.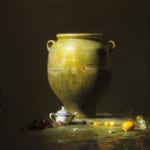 In 2003 a collection of his teachings, An Artist Teaches, Reflections on the Art of Painting was published by Bright Light Publishing to world-wide acclaim for its ability to integrate his philosophical views and humor with an understanding of technique that can be appreciated by artists and collectors alike. In 2009 Bright Light also published his second book, Self-Portraits: A Visual Journey of Insight.
His work can be found in permanent Museum collections throughout this country as well as numerous private collections here and abroad.
MICHELE USIBELLI OPA BIO
MICHELE USIBELLI OPA was awarded the Silver Medal, a $2,000 cash award funded by Jerry's Palette Shop-Fine Art Supplies, NYC, NY, for "Current Events."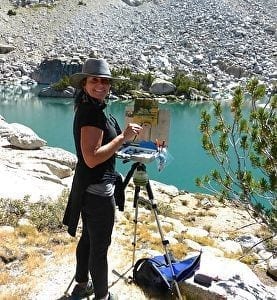 Like all artists, I feel like I was born to create and was drawn to art from as early as I can remember. After earning my degree in architecture from the University of Washington, I combined my professional life with my love of travel, working in locations throughout the world. My extensive travels and life experiences provide the solid platform from which my artwork is created.
My work is created primarily in oils, but I also enjoy working in acrylics and pastels in my representational style. My early training established a strong foundation in the Russian Impressionist tradition of seeing and painting shapes of light and color using relatively loose brushstrokes. I have studied extensively and been influenced by numerous historic artists, most notably Nicholai Fechin, John Singer Sargent and William Merritt Chase. All of these influences have allowed me to establish my own unique artistic style and define me as a truly versatile artist. While I am drawn to many painting genres; still life, landscape, cityscapes and figurative, my individual style and paint application is a constant theme throughout my work, creating a consistent body of art that is uniquely my own. Collectors continuously say they "can spot my work from across the room". Establishing my own, unique, artistic voice is my primary goal and collectors appreciate the fact that I will never paint the same image twice, every piece that I create is truly an original, completed to my highest standards.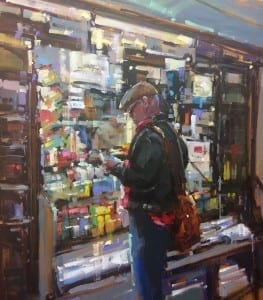 I am thankful to have the opportunity to pursue this passion I call art! Through my art I have had the opportunity to establish many long term friendships with collectors, galleries and other artists. When a collector purchases a piece I do not view it as a one time event, I view it as a new friend for life. I am extremely grateful for those who have supported me and hope you will continue to appreciate and support all artists who are making the world a more beautiful place.
Michele's award-winning artwork has shown in both group and solo gallery exhibitions, in regional, national and international juried exhibitions, and has won numerous awards. Recently, Michele has followed her passion to teach, conducting ongoing workshops and art demonstrations. She has proven to be a popular juror. Her artwork can be found in public and private collections throughout the world.
Albin Veselka OPA Bio
Albin Veselka OPA was awarded the Bronze Medal, a $500 cash award funded by OPA, for "Liver Shot."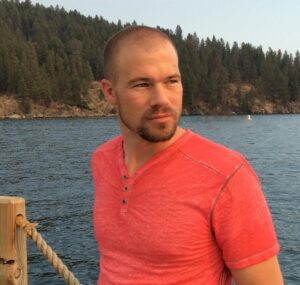 Born in 1979 Albin's interest in art came at an early age. He is very grateful to his parents who were instrumental in promoting his emerging talent.
In 2006 Albin received his BFA from Brigham Young University Idaho. He credits the knowledgeable and student oriented faculty of the BYUI art department for giving him "the tools all representational artist must have to open the door to communicating in the visual arts". Direction was also given to Albin which helped him break into the gallery scene while he was a college student. Since then Albin has continued in developing his career receiving honors from several prestigious organizations and shows.
Albin's career has been a continual learning experience. His growth comes natural as he seeks for excellence through education and hard work. He is constantly finding new things to appreciate in the masters both living and deceased. Some of the influences he credits for his inspiration and development are Nicolai Fechin, John Singer Sargent, Abram Arkhipov, Joaquin Serolla, Ilha Repin, Richard Schmid, Dan Gerhartz, Mike Malm, Carolyn Anderson, Gerald Griffin and Leon Parson.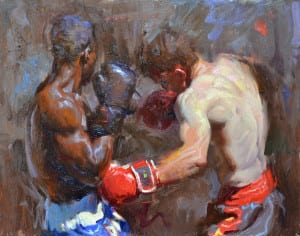 Albin Currently lives in Rexburg Idaho with his wife Jenee and their three children. He also teaches painting part time at BYU Idaho where his art education commenced. "Teaching is another way I can share the beauty of what I have learned and I find opportunities to improve my art through the constant re-evaluation that comes through teaching." 
"If I can enrich the lives of those who view my work in any way, I have accomplished my goal. There is something of the divine that comes through the work of one who has mastered his mode of expression and who has something good to say. Be it simple or profound, intellectual or spiritual, when that message comes through and awakens something within the receiver that improves
his or her life; that, I believe, is the higher purpose of art. That's what I strive for."