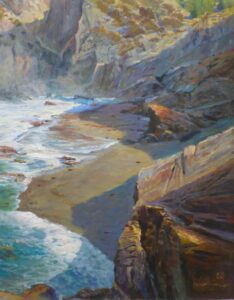 This message is for "art-makers".
In our world today, no justification is needed for cultural activities, performances, museums, books, the enjoyment of children's imaginative play, or the process of the creative act. And for those who "make art", there are a variety of reasons to create. For some, art-making is a past-time, and for others a hobby. Still others consider it to be a vocation. At any level, it may be developed, refined and appreciated.
"All great art is but a vision of creation". Manfred Khyber
But what is Art for, and where does it come from? We have just experienced a season of gift-giving, and are moving toward goal-setting for the new year. As artists, how exactly will art fit in to our own lives and plans?
This message, too, is for"art-makers": your Art is a gift. That's with a capital "A", because I know your art is important to you, just as mine is to me. But it's not precisely your art, or my art: the capacity and ability to create art is not an innate skill. It's a gift, as Edward Yang puts it, for stimulating and "inspiring human flourishing". It's a gift that keeps on giving, as long as we keep practicing and giving it. It is a gift we may give to ourselves, to others, to the future, and to our Creator, who made us and gave the gift to us.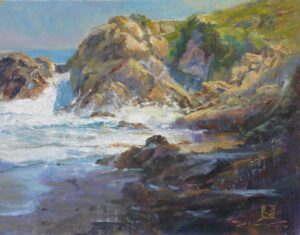 Art-making is a gift to ourselves
Making art reinforces and feeds our naturally-curious and creative nature. Through it, artists liberate the imagination, which itself is a gift: we can go wherever we want, any time we want. We enjoy the mixing and mashing of materials to make something new, something that has never been made before. We find fulfillment and freedom through art-making, as our skills and knowledge grow, along with our personality and level of accomplishment.
͞"The greatest good one can do for another is not just to share one's riches, but to reveal to him his own". Benjamin Disraeli
Art-making is a gift to others
Our art can provide a lens through which others might see the truth. That's the usefulness of both metaphors and poetic license. Art is a window to reality, and we know that reality is not just visual. Poet and author Antoine de Saint-Exupery believed that "What is essential is invisible to the eye". Another philosopher, Aristotle, also believed: "The aim of art is to represent not the outward appearance of things, but their inward significance". Art can better equip people to deal with their trials, issues, and challenges: have you ever seen a movie, or heard a piece of music, that made you feel differently about something; maybe, so differently that you wanted to change your life after having seen or heard it? Artworks can point the way to hope, grace, and love in a world full of tragedy, suffering and death: that's the power of art and the artist. "Art should not duplicate real life as it is—Art can and should reveal the artist's vision of life as it could be", opines Jennifer King, a contemporary artist. As Leland Ryken writes, "In art we find the materials of life simplified, rearranged, and heightened". The artist can shine light into the lives of those who are struggling to find a way out—or a way in.
"Artists create things which last beyond death—they are offering something to future generations". Rollo May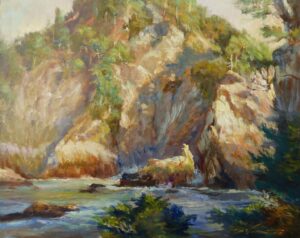 Art-making is a gift to the future
People long to see beauty in the world. Wars slash across the globe like lightning storms, populations everywhere are decimated by drought, hunger and privation, floods claim homes and cities, fires ravage forests and in some places, only ruins tell the tale of what was once a bright architectural vision. In the midst of it all, writes aesthetics philosopher Rollo May, artists "hold up͞that aspect of beauty that transcends death…such as eternity, serenity, and the use of the imagination to project us beyond time and space. The artist leaves a gift for us and the future". Michelangelo's Sistine Chapel ceiling continues to testify of his visions of the origins of man and the universe; Brancusi's "Bird in Space" is both a record and precursor of the wonders of flight; and the spectacular paintings of Thomas Moran and Albert Bierstadt were instrumental in the governmental planning of America's national parks, which millions from around the world enjoy today.
Art-making is a gift to the Giver
As artists, we can be grateful for the gift we have been given, since it is not of ourselves, nor of our own making. And we can be thankful for what author Franky Schaeffer terms "the longing to understand and enjoy what is around us". We can also be appreciative for the opportunity to provide some insight, hope, and pleasure to those who view our work. And we can humbly wear the honor of being able to serve humanity as artists, to make a creative product or perform a needed service for others. As Edward Yang concludes, "The vocation of an artist is not to be valued solely on usefulness, but in sharing with others the gift of the Giver."