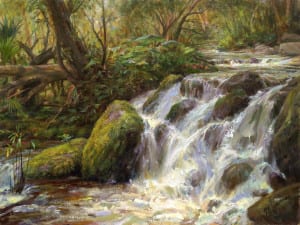 I recently came across a familiar post saying "When I look at all this beautiful art, I just feel like throwing away my brushes!" I have heard this despair in workshops and on countless occasions from fellow accomplished artists. I would like to speak to this sentiment. We live in a digital age of instant answers. If it takes Siri more than 10 seconds to tell us the information we are searching for, we often become restless. Voices in our heads and partners looking over the shoulder (and the checkbook) express concern if paintings seem to go backwards after a workshop. When will we get there?!
I am as guilty as the next of having "Why bother?" moments of misgivings. Okay. Actually, change the word "moments" to "decades". After 40 years of painting for a living, I'd like to share a few insights on how to exorcise our doubt; this haunter of our artistic hearts.
1) First of all, trust in the rhythm and unfolding of your life. No one has lived your life. Time spent caring for parents or children or pushing the broom are the things that have made you who you are. You are shaped by your experiences; nothing is ever wasted. Make peace with this. The life you live gives you unique insights and authentic depth. It helps give you something to say beyond the outward appearance of things. In a positive way, you bring it all to the easel. It takes time. Be patient and gentle with yourself. Enjoy the present moment, and leave the rest to a kind universe. Angst only cripples.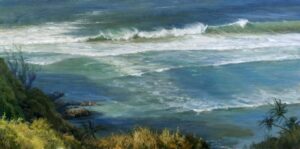 2) Remember that all is relative. No matter where you are on this journey, there will always be artists who are better and artists who are worse than you are. Comparing yourself unfavorably with others is not only a downer- it is a distraction that robs you of your clarity. Why allow a beautiful painting to make you sad or insecure? Try to replace judgment and discouragement with inspiration. Be happy for those better artists who show the way. We are all one big family. In spite of this competitive current culture, do not have beating others as your goal. They are not taking your spot at the table. There is room for you, and… a chair with your name on it. Most of the 'cover artists' that I admire have this humility, awareness, and sense of perspective.
3) Know the reason WHY you are an artist. If you go beyond the simple answer of superficial fame and fortune, I bet you will find something that comes from a deeper place. Re-examine your artistic aims. Know what stirs and fascinates you. What we discover when we go inward is our poetic response to life. What abstract elements make your heart skip a beat? People want to know how YOU see the world.
Spend more time developing a feeling for your subject on the front end. The deeper you contemplate what is before you, the more you will bring to your viewer. One of my favorite quotes from Emerson is this: "The power in a work of art depends on the depth of the artist's insight of that object he contemplates."
4) Keep growing and love the journey.
The legendary cellist Pablo Casals was asked why he continued to practice at age 90. "Because I think I'm making progress," he replied.
Happy Painting!