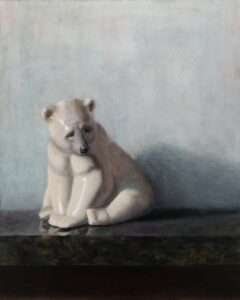 I often hear artists lament "I don't know what to paint". Of all the painting crises I face, I am relieved to say that that is one problem I don't have. I have lists of title ideas, cupboards bursting with objects begging to be picked, and more ideas in my head than I will ever have time to paint. I think the reason I find it easy to be inspired is that I know why I paint, and I believe that knowing why I am painting directly led to creating "Stargazer" and to its winning Best in Show at OPA's Eastern Regional Exhibition last fall.
My life as a painter started in an adult education class I took on a whim. I painted a flower from a photo and had a teacher who literally guided my hand. The result was awful, but I was hooked. For awhile I painted flowers, then figures, working from photos. I tried my hand at landscapes and portraits.After a while I stumbled on an online class for still lifes. Still life? Um, boring?? But I took that class, and it turned out that painting still lifes opened up a huge world for me. I like to tell stories. I began experimenting with how objects could talk to one another. I started with just a few objects – what's the story behind an orchid paired with a cactus? Is it a botanical ugly duckling? A story of privilege, or personality? Could I use the teacup I just shattered to talk about possessions, or inheritance? Much of my work began to use animal figurines: a pig with a package of bacon, a polar bear anxious about where he will live. I found my voice as a painter – I am a storyteller.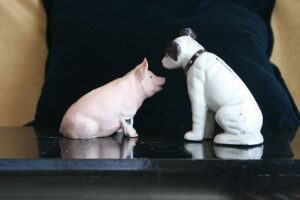 As a storyteller I use figurines to explore how we, as humans, relate to the rest of existence as well as to each other. Sometimes I start with a specific idea, and sometimes the story develops as I play with the objects. Much of it is very personal, 'Stargazers' in particular. I had painted this pig and dog several times, and had them both out, trying different compositions.Unsuccessful, I set them aside to put away.Next time I looked at them there it was: the two of them side by side, pig leaning ever so slightly into dog. Such a harmony of souls. So, I had my characters. Next was to decide on the background. Dark seemed best for the pink and white of the figures. A navy blue pillow was at hand: a perfect color that made me think of night skies.
The final element came when Willie Nelson's version of Stardust Memories came on a song I had listened to endlessly while on a sailboat crossing the Pacific with my husband. I brought together the figures, the night sky, and the stars, and there it was: Inspiration. This is how it usually happens; stories rarely come fully formed, but one idea can lead to the next and build into something perfect.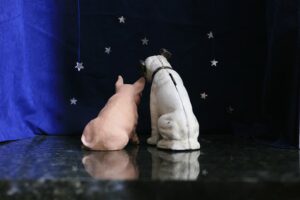 The process was next: Using tape and foam core I built a three-sided stage and draped navy blue fabric around it. To create the night sky I stuck silver stars from the drugstore on the fabric background, but I felt it could go further. I used tape and sewing thread to crisscross the top of the stage and then added threads hanging down with stars on the end. I placed the pig and dog into the three-dimensional set and started to work on the lighting. I wanted to create the sense of nothing but the world and sky and the figures existing. Setting the light low and to the side felt right and brought in the magic of the night sky: starlight so grand that you are wrapped in it.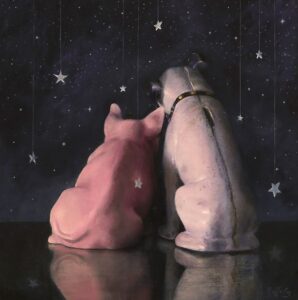 With both the idea and the set-up fully developed, painting this image was pretty straightforward. I did have difficulty with a section on the dog and decided to wet-sand it back, something I had never done before. That was an amazing revelation – it opened up bits of underlying layers that were so interesting! To retain the effect, I continued working in thin transparent glazes. At the end, to get the sky to be atmospheric, I scumbled in some nebulae.
Not every idea works out so completely, and certainly not every painting comes out as well as I envisioned it. But I believe that if you start with an understanding of why you want to paint (in my case to tell stories, but it could be to record beauty or light or…) and then take the seed of an idea and develop it until it's a clear concept, you will successfully find your own voice as a painter and discover a never-ending source of inspiration for your works. So find your story, get out your brushes, and let' s paint!