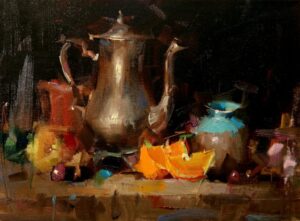 Describe your path as an artist?
When I was in elementary school, I watched my uncle paint. I took art classes in high school. While I worked in engineering, I started painting and taking workshops around 1999. In 2005, I joined the OPA. I started my painting blog and started selling art in 2007. I started to teach workshops in 2008. I decided to become a full time artist, leaving my engineering job in 2011.
How would you describe your work to someone who's never seen it?
Representational, Impressionistic.

What ideas do you explore in your work?
In my paintings, I like to explore design and the light effects which excite me in everyday life.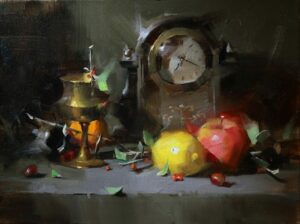 What do you want people to know about your work?
You can achieve extraordinary from the ordinary.
Where do you find inspiration?
I find inspiration from everyday observation, and looking at other artists' work.
What artists inspire you?
Richard Schmid, David Leffel, Quang Ho.
What does a typical work day/week look like when you are working on your art?
If it is possible, I will paint in the morning and deal with art business issues and other things in the afternoon.
How do you prepare for a new project (process)?
I set my objectives first. Then I start painting. I document my process and ideas. I share my painting images and my thoughts through social media.

What is your next project?
I am working on my plein air painting skills.
What challenges do you face as an artist?
To get enough time to paint and learn.
What are your artistic goals?
To create better art.
Tell us something surprising about your creative process or your working style.
I consider my painting process as a type of scientific research.