I know I would not be the artist I am today without my teaching experience. Teaching art has enriched my life in many ways. Ironically, teaching is something I thought I'd be really dreadful at. As a teen I was a stubborn introvert. Public speaking caused me great anxiety. Although I wanted to improve my art, I remember hating most of my art teacher's comments. You could even say I was a teacher's worst nightmare… an unreachable student.
I never had aspirations to teach art, but fate intervened in the form of several women who saw my artwork on exhibit. They approached me and said they needed a person to 'present a project for the day as an excuse to get together and chat' (their words not mine) as their current teacher was leaving town. They pestered me until I said 'yes.' Thus began my teaching journey about 20 years ago. I was shocked to find I could actually enjoy teaching a class, moreover the students had fun too.
If I can overcome my early obstacles, it is possible for anyone. I currently see about 60 students per week for local classes and conduct travel workshops (US and abroad). Watching students of mine learn and progress into first-rate artists has been a uniquely rewarding experience.

BENEFITS OF TEACHING
Clarification
Concepts get clarified in your mind as you teach them to others.
Reliability
Predictable income versus art sales that fluctuate.
Disciplined time to paint.
No more procrastination. The practice of consistently producing a demo for students (regardless of inspiration or light conditions) has helped me to focus in the studio, and perform faster outdoors for plein air work.
Travel
As a teacher all travel expenses get paid for workshops.
A chance to give back.
Art is a wonderful thing to share. Artists through the centuries have passed along knowledge student-to-teacher, and many painters feel this is fulfilling part of what it means to be an artist.
STRATEGIES FOR THE BEGINNING TEACHER:
Volunteering
Volunteer to teach a class, give a demo or assist (school, senior center, etc.).
Prepare
Prepare well to gain confidence. When I first started I would pre-do every demo. I had handouts to get my thoughts organized. I didn't make much per hour in these early days, as I spent a huge amount of time pre-preparing.
Start Small
Teach a friend or relative. Ask for feedback on how the process was for them.
Remember
Remember what it felt like to be a student and think about who was a good teacher and who was not. Would you rather "copy from that stack of National Geographics" (as one teacher told me) or would you rather draw from life; and be taught line, shape, and color with varied media? In hindsight, I am grateful I had talented teachers and ones who disappointed me. I learned from both.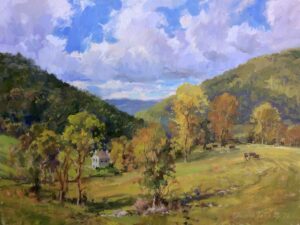 CLASS NUTS AND BOLTS – AND WHERE TO GET STUDENTS
Have a good website.
List your classes, show examples of your work, and have a bio of accomplishments. Provide a supply list and links to resources.
Maintain a mailing list.
Send an email newsletter about upcoming workshops, classes, and exhibits.
Make Friends
Affiliate with an art school or art store. Staff will handle enrollment, advertise classes, and have a pre-existing student base. Have a contract so expectations are clear. Schools take a percentage of the tuition.
Try Something New
Try a "Sip and Paint" (the instructor shows a final painting, and students follow steps to completion while sipping wine.) I have not done this, but they are popular and it could be a good way to break into teaching. Which brings me to my next point:
Know your strengths and weaknesses.
I dislike step-by-step teaching where everyone paints the same image and with the same colors. Instead, I love to paint on-location and to show students how to see and organize what is in front of them.
What to charge.
Fees vary widely. Tuition will depend on your experience, your resume, geographical location, travel costs, the current economy, and demand. One way to figure your rate is hourly. A per-head fee is another way to structure tuition. Research fees at local art schools.
Get your business in order.
Seek advice from professionals (insurance agent, accountant, etc.). In addition to a business license, an EIN tax number and a business checking account, you should also have a business insurance policy for liability. Make sure your insurance policy covers you overseas if needed. Look into becoming an LLC. Check for any county/residential restrictions or permits. Workshop students should have travel insurance.
APPRECIATE THE ARTISTIC PROCESS
Embrace mistakes in student art.
Most students (especially beginners) think they need a lot of one-on-one attention because they are afraid to make a mistake. Mistakes are part of the learning process. Encourage independent painting. Don't hover near the student with instant corrections. Tailor advice to each student based on individual needs.
Encourage individuality.
Not all students will want to paint the same thing, or even do your lesson for the day.
Give your students permission to play.
Unfortunately, getting 'a perfect trophy painting' is often a student's main goal. Instead, encourage exploration.
The bottom line.
Easel-side personalized assistance at intervals in the painting process is more important overall than telling students 'how to do' something. Individual advice (artists to look at, ideas to explore, answers to questions) is the best way to have students move forward on their journey in art.

PITFALLS TO AVOID
Don't overload students with too much information.
Break things down into manageable steps. Offer focused 'tasks for the day' (i.e., negative shapes, aerial perspective, mixing fall tree colors, etc.). Consider how one lesson might flow into the next to build skills such as: a portrait of a tree (shapes), then aerial perspective for the next lesson (atmospheric color), and a mountain scene for the final lesson putting prior concepts together.
Have patience.
As the instructor it is your job to fully understand the concept. Students may be hearing it for the first time. You may have to repeat yourself many times and reinforce the concept with varied examples.
Don't do a demo that is too long or too perfect
(one hour maximum, half hour is better). Show enough to demonstrate a concept, but get students working as soon as possible to reinforce the learning process. Showing how to do a larger painting, or as a 'long demo' is OK on occasion.
Allow proper time
Students need time to clean up and chit chat as people exit the class.
Have a cancellation policy.
If you don't you may find that you are wasting your time preparing for lessons that do not happen.
Expect the unexpected.
I am astonished at the new ways the universe likes to surprise me in class. Try to handle issues such as illness, personality clashes, and equipment snafus with grace. Understand that many students just want to do well in a workshop or class, and strong feelings of anxiety or insecurity can pop up.
The customer is (almost) always right.
Don't forget you are a hired person offering a service. Students have paid for your time and they have a choice with whom to study. Go the extra mile for your students. There are times when you can't please everyone. Solicit feedback, and listen.
Ask before touching or correcting a student's painting.
Personally, I think we are in a visual line of work, thus a visual correction is a better, faster way of showing a student what to do versus just talking about it. I often paint on student's paintings. Most students will be fine with it, but a few are not. Respect preferences.
GETTING BETTER
Continue to learn.
Rediscover what it's like to be a student again and take a workshop with an instructor you admire, or try something new. Try to expand your skill set. This will help you teach a wide variety of students. Immerse yourself in the joy of learning. It's lovely to watch someone else do a demo, critique, lecture, or handle a class problem. Read all you can about art, try out new ideas, visit exhibits.
Connect with other artists.
Plein air events, art conventions, and lectures, are great places to share ideas and meet other artists. Take a trip with a few art friends to a museum, or an art-rich environment such as New York City.
Co-teach a workshop with a friend.
Share ideas and have fun with only half the responsibility of the teaching load.
Learn from your students.
Keep an open mind and you will see that in the end you learn as much from your students as hopefully they learn from you.
I used to think that if I got enough experience I would become 'a good teacher' but I realize now that the journey is more important than achieving the goal. We are ALL learning, if we stop there is stagnation and repeating the same thing. The curious brain is one-and-the-same as the artistic brain. This in the end, is how to keep growing as a teacher, to let students see you are still learning and that is the best teaching tool of all.