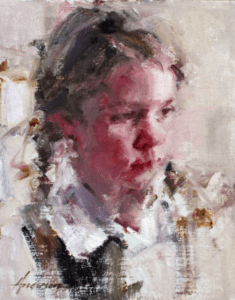 Carolyn Anderson is a nationally recognized artist. Her work hangs in the collections of many well-known artists as well as private collectors across the globe. Her interpretive style of painting has made her a highly sought after workshop instructor.
Here's why I needed to see Carolyn: Stat!
Earlier in the summer, I was excited to join a new group of artists who paint portraits from models every week. Since we met so often, I thought that all this great practice would lead to a freer, more interpretive style in my paintings. Sadly, I was mistaken.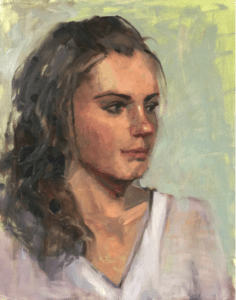 Instead of evolving into a looser style, my portrait studies became more academic, with lots of attention paid to the form of the head and the likeness of my model. But I wanted to evolve! I wanted my portraits to stand alone as pieces of art, rather than something only the model's family would love.
I knew that I needed to see Carolyn Anderson, and fast. I had gone to one of her workshops a few years ago, and I wanted "Michelle" painted by Ann Feldman before Carolyn's workshop to reinforce the concepts she taught me about "how to see" and how to integrate the model into a dynamic composition.
Fechin Art Workshops in Taos, New Mexico had an opening in Carolyn's next workshop. Little did I know how lucky I was to land this spot! The workshop included a room at the beautiful and rustic Hotel St Bernard, nestled in the Taos ski valley, and every day for five days, we painted well into the evenings, with breaks for yoga and meals provided by Jean Mayer, who has hosted visitors to his hotel for over 50 years. Our workshop organizer, Elise Waters Olonia made sure that we could focus all of our attention on our art. I was in heaven!
Here's what I learned from Carolyn:
The following is a description of a series of demonstrations done by Carolyn for our workshop, condensed into one example. In addition to these demonstrations, Carolyn presented very comprehensive lectures on color theory, edges, temperature, and the art of interpretation, among other topics. To cover all of this information, this article would become the size of a book, so I will focus on what I learned from her demonstrations.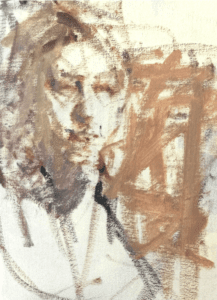 Approach the Composition as a Whole
Carolyn doesn't paint a model's head as a separate entity. She looks for the extreme values in the entire setup and makes marks for the darkest darks and the lightest lights and uses these marks to guide the more nuanced values in the rest of the painting.
Find Direction, Movement, and Shapes in the Composition
From her initial value marks, she finds interesting shapes and pathways through the composition to make the painting dynamic. This is not the time to define shapes, but to make visual connections that are interesting. She explained that since our eyes pick up value and movement first, we need to use this information throughout the painting process, but most importantly in the very beginning.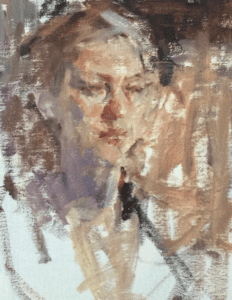 Look for Color and Nuance
As she makes her value notes and begins to find directional movement, she also notices color nuance beginning to emerge, and makes color notes throughout the composition. She loads her brush with a color that she sees, then uses it all over the composition wherever it appears to create color harmony in her painting. She tells us that this also keeps her from painting "things", and dwelling too long on small parts of the composition. She continually builds the painting as a whole.
Build the Painting
She abbreviates steps instead of overdeveloping any areas of the painting and lets areas with similar value intermingle. She avoids solid outlines, especially around the head. She suggests shapes and allows them to meld into the background or other shapes whenever possible. She looks for visual connections everywhere, and tells us that in paintings, objects are not separate from space; everything is connected. As she paints, her eyes continually jump from one area to the next, making marks of whatever catches her eye. This allows the painting to work as a whole. She reminds us that if we look at any one thing too long, it will lose its context. She tells us that "A successful painting happens when the whole is greater than the sum of its parts".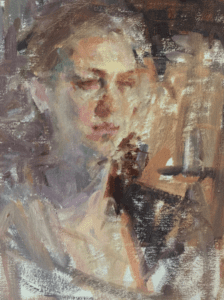 My Turn to Try: Applying the Lessons Learned
During the workshop, I began to understand that I needed to paint the entire composition rather than focusing on just the model and adding in the background as an afterthought. I tried to find my values and movement from the beginning of my process.
I also tried my hand at finding color harmony and bouncing it around the painting. I made a conscious effort not to paint the model as a separate entity from the background, but to make her part of the whole of the painting and allow values and edges to meld together.
Push Your Boundaries
"If you want to create a painting which exceeds your previous expectations, you have to be willing to fail. Make mistakes and experiment; it's the only way to push past your boundaries."
-Carolyn Anderson
For me, this last point is the most important of all. I'll go back to my portrait group armed with a new attitude instead of playing it safe and painting as I've always done, I'll push my limits and be comfortable with some failures. This is the only way I'll make new discoveries.
After all, what have I got to lose?