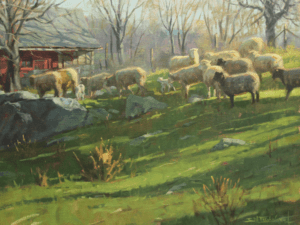 Failure;
This is a word that makes people cringe and we all try to avoid the dreaded act. Our society is built on those who succeed and those who fell short and failed. Yet failure is part of the journey to becoming a better artist. Be kind to yourself in knowing that you succeeded at the first step. TRYING.
There's an old golf saying that goes something like this, "You miss 100% of shots you never take". Many people who would like to take a painting class or workshop never do for fear of looking foolish. To all those who feel this way, stop it! Take a chance, get your feet wet, and throw caution to the wind. Did I miss any other old trite sayings?
Everyone starts at the beginning and there are no short cuts to getting better as an artist. We can be taught the principals of painting and it may not come out of your brush for a while. You need the time of practice, which will yield failure after failure until the pile of bad paintings shrinks and the pile of good paintings grows.
Let me be clear, THERE ARE NO SHORT CUTS.
All your failed paintings were valuable learning experiences. If you have a painting that is not going well, wipe it out and start again. You will find that your next start will be much better because you learned something. My students that progress the fastest have an attitude that their painting is an exercise and not a precious master piece. I watched Bill Anton paint a demo that was a beauty and at the end he wiped it out, to the groan of 600 people. He said this was just an exercise. As it sunk in, the audience gave him a standing ovation.
Your painting journey will have many failures until the jewel comes to the surface and will erase 100 bad paintings.
The Power of believing;
The most incredible achievements known to man would not have been possible without the dedication of having faith they would prevail. A career in art is a hard climb with many road blocks that often lead most to taking another path. It is not a career you can successfully do without very hard work and sacrifice. There are many artists that are starting late in life these days and are finding it tough. Even the artists who have been in the business for years still are working very hard.
I know this doesn't sound like a good intro to motivational speaking, but the good part is coming. There is no other way than total dedication to achieve success in any endeavor.
Orville and Wilbur Wright had this idea of manned flight. They faced enormous odds with trying to break the code of lift and drag. No one thought it was possible and even the Wright's themselves had doubts. Through countless trials that risked their lives every time they took to the air, the Wright Brothers finally achieved sustained flight.
John Singer Sargent was commissioned to paint a Parisian socialite that he had hoped would have catapulted his career in Paris. He painted his client with a fallen strap and the critics were brutal. His client who had loved the painting was now attacking him. Most artists would have been ruined, but Sargent had faith in his abilities and left Paris for London with his painting "Madame X" to further his career. We all know how that turned out.
There is a gleaming common thread with successful artists and it's not talent. It is the unrelenting faith they have deep in their gut. Where does this come from? We all should believe in something, whether it is Jesus, Allah, Buddha, the moon, sun, or even just a rock. But the most important is believing in yourself.
Nothing of substance comes easy, and your failures are the steps you must climb and your belief is the vehicle.