Fear of how to fly with art supplies, especially internationally, can prevent artists from enjoying the joy of plein air painting in wonderful places. Concerns of TSA confrontations, paint confiscation, or hefty fees for overweight luggage can deter the most dedicated artist. Good travel strategies are required.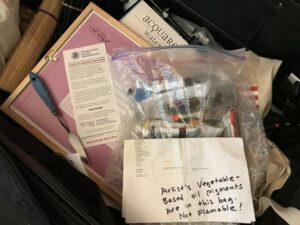 I have traveled a lot with art supplies: to to plein air events, and to teach international plein air workshops. Yes, you can travel easily with your oil paints! The trick to packing is to pare everything down to the smallest ounce based on essentials.
The first step in deciding what to pack is thinking about your needs.
Purpose of your trip. Will you be teaching a workshop, or attending one;
traveling for fun, etc.
Preferences while painting. Sit vs. stand; are you a quick painter vs. slow etc.
Special issues. For example someone who needs maximum sun protection would make having an umbrella a priority, otherwise an umbrella can be left at home.
Know TSA Regulations and What to Expect
It's pretty simple. The word 'paint' is not a nice word for TSA agents. They think of flammable and caustic items which are prohibited. A tube of color does not contain the word 'paint.' Use the term 'artist's oil pigment' or even better 'artist's vegetable-based oil pigment,' if asked about your materials. Print out the Materials Data Sheet for your tubes to prove they are airplane-safe. Each paint manufacturer has this data online. A flash point at or above the 61°C mark is 'safe' for travel. (The flash point is the temperature at which a product will flame; therefore a higher flash point is better.) For example, Winsor & Newton paints all are easily within the 'safe' range at 100-250°C flash points according to their website. Winsor & Newton states: "We caution against travel with Liquin products. Although the flashpoints are in most cases greater than 61° Celsius, airline officials may still disallow their carriage… all solvents and thinners are banned regardless of flashpoint." I have never had any paint confiscated in more than 15 years of travel with my materials. There is always the small chance that you will encounter an agent that is hyper-focused on finding 'bad' things in bags. It won't help matters to get upset or angry. Remember that they are just trying to keep the skies safe. By knowing your materials and regulations no doubt the materials will be allowed.
Paints In Checked Bags
In general don't treat your paints as something precious and fragile in your checked luggage. Keep your paints with your clothes to show TSA they are not dangerous items. If you wrap each tube in bubble wrap it may look suspicious and it will possibly annoy an agent that has to unwrap each one. Just toss your tubes in a Ziploc (double bag it if you are too nervous) along with the data sheet. There is the small chance that a tube will burst or get crushed, but a tube should still be useable upon arrival. Pack a few empty sandwich Ziploc bags in case a leak happens. A loose sheet of bubble wrap around the whole Ziploc package usually protects everything in transit just fine. I travel with partly-used tubes (especially in colors I don't use as much) knowing that the weight of my bags is decreased. Do check weight restrictions on each airline you are using and weigh your bag with a luggage scale prior to departure. Overseas bags have strict weight and size restrictions and it may vary depending on your airline. Palette knives must be checked.
Paints in Carry On Luggage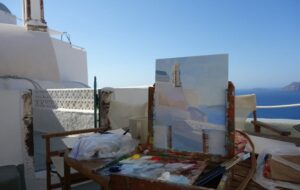 It's possible to travel light and not check a bag, even when traveling overseas (Rick Steve's backpack is great for this). Artist's color in tubes is considered a 'wet' or 'liquid' item, (for watercolor or oil) and subject to the liquid requirements of TSA, so you will need to put any tubes you take with you in your 1 quart Ziploc allowed onboard. For oil you can only realistically get by with a limited palette of partly-used tubes and a full small white. Don't have a large white tube half-used (the tube must have only ever contained less than 3 oz). Buy things like toothpaste or shampoo after you pass security. Watercolor puddles in a pre-filled palette must be dry (pre-fill your palette and leave it open for at least a week to dry out) to not be subject to the 'wet' rules. Take only the small or tiny setup listed below if one bag is your travel goal.
Three Basic Art Travel Setups – From Medium to Tiny
Please note that I do not use solvent when painting. As stated above this is NOT allowed on the plane in either checked bags or carry on. You can use water-mixable oils (read my prior OPA blog post on using these paints), or look for solvent when you arrive. Sometimes conventions, or workshops/schools provide solvent upon arrival.
Medium Oil Setup: easel or paintbox and tripod (EasyL lite, Strada Mini or Micro, EnPleinAirPro Travel), brushes, oil paint (warm and cool of each primary color plus white), 8×10" drybox (will hold 6×8 and 8×10 panels), featherweight panels from RayMar or WindRiver (AC14), cut pre-primed canvas sheets cut to be a little larger than an 6×8 panel (you can mount these on 6×8 panels when you get home) tape these scraps to an 8×10 panel with artist's tape, wax paper to place between semi-dried panels or use frame bumpers to separate and tape the bundle together when ready to go home. Fresh wet paintings can go in your drybox. Solvent free gel (Gamblin), increases paint spread-ability and hastens dry time. Masters Brush Cleaner. Small plastic snap-top cup for water (or solvent that is acquired upon arrival). Paper towels (good to travel with a few folded, buy more upon arrival if needed). Palette knife. Brush tray and holder. About 8-15 lbs., fits in a large tote or backpack.
Small Oil Setup: Tabletop mini box with no tripod legs such as Thumbox Pochade (Utrecht) or Strada Micro. One color of each primary (Permanent Red Light, French Ultramarine, Cad Yellow Light, White) if you are going to a tropical location add one tube of mostly used Thalo Blue. Most of the other supplies above (edit as desired). Use half-handle brushes such as Rosemary's Ivory Pochade Set. Plastic credit card cut in half instead of a palette knife. About 3-7 lbs. fits in a small tote.
Tiny/Sketchbook Setup: Some artists choose to just work in a small sketchbook of oil on paper when traveling. Use primed paper or primed canvas pad. Use a disposable paper palette to avoid a box and easel, or try an empty Altoid tin or two. Watercolor or gouache presents a terrific compact option for sketchbook studies. A problem for some artists is the weight of carrying water for the watercolor paints. Tiny watercolor paint set kits (Winsor & Newton half-pan Field Set) and a water-pen solve this problem (Aqua Stroke or Koi Waterbrush). Pencil (mechanical), pen and sketchbook (Holbien Multimedia; Stillman & Birn Alpha – Red label; or Moleskine). 5oz -1.5 lbs. can fit in a tiny tote or purse.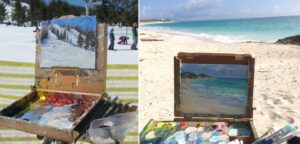 Plan Ahead
Get your supplies in order early and try everything out, so you don't have disappointment on your trip. Sometimes items are out of stock and there is a wait. Plan on setting all your supplies out and just looking at them. Pre-pack them to see how heavy or light they will be. Try them out in your yard or at a cafe before you go to make sure all works fine.
Plein Air Competitions
Competitions require the greatest amount of materials. If you are doing a plein air event you need to create a certain number of paintings for the jury, and to hopefully sell artworks to pay for your trip. I ship my frames ahead along with heavy items such as a drill or point driver. I order from an online art company a basic set of duplicate paints – just in case mine burst or don't make it. I check in my bag another set of paints, some partly used to save space. You must arrive for a plein air competition with enough materials to get started right away. I travel with items that are critical to use immediately upon arrival and would be costly to ship overnight if lost/damaged in my carry on bag (Redwing 50 backpack) which can perform double duty to carry all my art stuff during the competition: paintbox (EasyL lite), brushes, Revelite light component 12" wrapped in bubblewrap (if you have a Revelite battery it must be in checked luggage as it is a lithium ion battery and not allowed in carry on luggage), a few panels, watercolor mini set for sketching. In a checked bag I put: clothes, oil paints (a warm and cool of each color plus white, solvent-free gel), tripod, drybox/PanelPak(s), panels, umbrella (Best Brella) Revelite battery and cords, brush tray, misc. small items such as bungee cord, paper towels, tape, pen, etc.
Shipping Considerations
Overseas shipping will incur heavy fees and customs red-tape so this is not advised. Shipping is a good option domestically, especially for plein air events. However, there are a few problems to consider. 1) You must pickup your package(s) when you arrive (rarely can it be delivered to your host home directly). 2) Often framers or art suppliers over-pack items (they don't want things to get damaged) and the package will not fit in your rental car! Try to talk to your supplier that is shipping items ahead (such as frames) and ask for reusable boxes or smaller packaging. Do not have the UPS Store pack items for you as they often use huge boxes filled with peanuts (a nightmare to deal with). 3) If you pack a box yourself (versus ordering direct) you pay twice for shipping to your event… once to your home/studio and then to your event, so this can add up.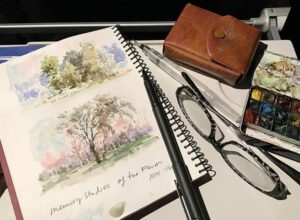 Final Advice
Most people still over-pack and bring too much, I'm still working on the perfect list myself! Figure 2-3 paintings a day when calculating the number of panels to bring, less if you are with non-painters. You can usually buy what you need if you really had to, or if you are with a group someone will gladly give you a blob of paint. Check your expiration date on your passport; it must be valid for at least an additional 6 months from when your ticket departs.