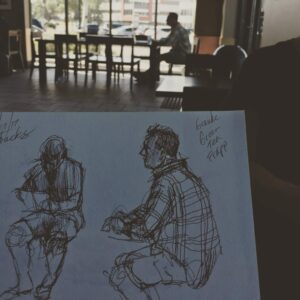 Drawing under a little bit of pressure is one of my favorite things. Get the gesture fast because that person is going to leave or move! It is a skill that enhances studio work greatly! However, here is something I've noticed over years of drawing in airports, coffee shops, restaurants, etc. People have stopped paying attention. I have been busted drawing someone many times in the past and it usually results in the end of that sketch because the person gets uncomfortable or leaves. This doesn't happen much anymore because people have stopped looking around. The average person has stopped being an observer. They immediately look at their phone, iPad, computer, book, and the almost obsolete newspaper as soon as they sit down. They rarely notice me anymore so I get long drawing times on many of them. Excellent practice!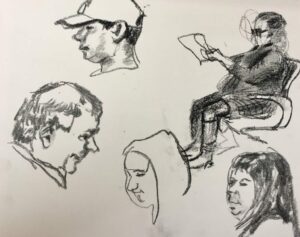 I have a recommendation for artists even if they are not drawing. Avoid burying yourself in a distraction. Open your eyes. Sit and observe! People are wonderful and you will see the most beautiful gestures and facial expressions that you will never see if you are staring at your phone.
And besides, staring down at your phone gives you a double chin. Remember that because even if you don't notice it, I'm drawing your double chin while you sit in the airport!