From birth to his final days, William Whitaker lived and breathed art. His art and his imprint in the art world will live on for generations into the future. The OPA Master painter was born into a family of artists and musicians. His life could have gone in a very different direction because his father repeatedly told him to "get out of art,' but thankfully it's advice he didn't heed. As a result, Whitaker became the modern-day master who continues to inspire multitudes of artists and collectors world-wide.

The articulate and humorous artist got his start as a child. He learned to draw from his uncle who was one of the top cartoonists at Disney. In an OPA interview with Whitaker in 2016, he said his uncle "was very talented, but he didn't love what he was doing and eventually quit creating art." During that interview Whitaker gave great advice that will continue his art legacy. "Follow your feelings," he added. "You need to really like to do this. You have to have something to say." Whitaker said we should think of 'art talent' as 'art talentS'. "We all have strengths and weaknesses. Of course painting abilities are all well and good and are expected, but there are other very useful talents. Some of us are good at self-promotion. Some have writing skills. Some are good at public speaking and might have useful musical skills that can get them noticed. Some are excellent teachers with communication skills. Some can run a business and know how to get a good discount on art supplies, he chuckled. Some are organized and can make a good business plan and follow it. There is a talent for managing works of art and recording and filing. Being able to type fast and accurately is very useful. Some are good at research. Some are good at making things, including frames or shipping crates." Whitaker graduated from the University of Utah, where he studied with portrait artist,
Alvin Gittins
. In the mid-60's he lived in Los Angeles where he was art director for Capitol Records until he was recruited to create the now prestigious Illustration Department at Brigham Young University. In recent years he had retired to paint in his private studio.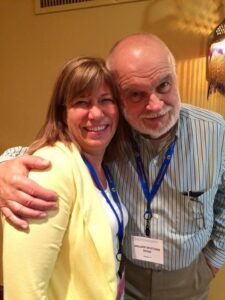 Whitaker always emphasized the work involved in a successful art career. "What I think takes us all by surprise is how much time it takes each day to manage an art career. Such seemingly little things such as recording, photographing, framing and varnishing take a surprising amount of time." Putting a painting in a show or gallery before it is time is one of the biggest mistakes artists can make, Whitaker asserted. "It is not a good thing to have a flawed painting hanging in a show. Ideally it would be best to keep everything for a least a year before showing it. That would allow the scales to fall from your eyes so you could see your own work clearly and get rid of the bad ones. Also, it would mean that a work could thoroughly cure before it was varnished. Nobody gets up in the morning and says, "I think I'll do a mediocre painting today." They just happen. As our eyes and brains become tired, we lose the ability to judge our own works, but put the painting away for a couple of weeks or a month and when we see it again it's like it was done by somebody else and we can see it clearly for what it is." A related problem, he added, is not saving your best work for the best shows or exhibits. "Nothing is as bad as selling your very best work and having nobody but the buyer see it."