I am fascinated by group dynamics and how being a part of a group can lead you to accomplish more, feel more connected, and be more successful. Why do groups of ordinary people create a performance far beyond the sum of their individual skills? How can we as artists create collaborative groups to help us further our skill level and improve our mental outlook? How do we build art communities?
What is a collaborative circle? In Michael Farrell's book Collaborative Circles, he states that collaborative circles usually begin as a casual association among acquaintances working in the same discipline. Members of a social network meet and find they enjoy one another's company. Most circles consist of a core group that meet frequently, and a peripheral extended group who vary in their degree of involvement. Some examples of these successful groups are: Kandisky and the Bleu Rider Group, Freud and his early collaborators, John Steinbeck and his Pacific Grove circle and C.S. Lewis, J. R.R Tolkien and the Inklings.
One of the collaborative groups that strikes me is the group of impressionists that included Monet, Renoir, Bazille & Sisley. Monet was the leader of this group. This core group interacted more frequently, and they began to piece together the insights that crystalized a new vision of what art should be. Peripheral members of this group were Degas, Cezzane, Manet, and Pissarro. Berthe Morisot was considered part of this group, but was not allowed to attend meetings due to her gender. Each member of the group had their strengths and all were willing to share their expertise with each other. One of the incredible benefits of this collaborative group was the start of plein air painting.
In 1894, Monet's working studio was closed and he persuaded the group to paint plein air. Outdoor painting was not approved by the academy members, and Monet, the most rebellious member, encouraged the group to try this forbidden activity. This core group went through many trials and many rejections from the Salons and the Academy, but stayed together to share an artistic vision. Farrell explains that "towards the end of their group's life together, Monet and Renoir ended up painting alongside each other the most. They painted boats and swimmers and began to experiment with using sharply contrasting, unmixed color to give the effect of shimmering life on the water that no one else had achieved before. It enabled them to portray the transitory effects of light and atmosphere–goals they had been pursuing for years. These men arrived at their artistic vision by commenting on each other's work, experimenting, making mistakes –it is unlikely that they would have discovered this new style alone."
How incredible would it be to be part of a group like this?! What are the characteristics that make a great group? In Daniel Coyle's book "The Culture Code," he talks about three primary attributes that make strong groups:
1. Building safety–exploring how signals of connection generate bonds of belonging and identity
2. Sharing vulnerability–how mutual risk drives trusting cooperation
3. Establishing purpose–creating shared goals and values.
Monet, Renoir, Bazille and Silsey had all three of these attributes working in their group.
Successful groups also view themselves as a family, and have distinct patterns of interactions. These interactions include a profuse amount of eye contact, physical touch (handshakes, hugs), high level mixing–everyone talks to everyone–lots of questions, humor & laughter, and intensive active listening, in essence, chemistry. Where can we find these types of groups in our own communities?
I just finished teaching a 3 day workshop in Mendocino at the Mendocino Art Center, and as I reflect back on this experience I can see that my group shared these three attributes for our short time together–we had chemistry. My class had 12 students, all coming from vastly different backgrounds, ages, and skill levels. The first day we did introductions and talked about our background and art experience. My focus was on building common knowledge to start creating the groundwork for a sense of safety. I also showed many examples of my Mendocino sketches and paintings to the class. I was very open and showed them not only my successful sketches and paintings, but also my unsuccessful work. In an attempt to build vulnerability, I tried to explain why one sketch/painting turned out more successfully than another. Lastly, I stressed to the group what our three goals in the workshop were: drawing a thumbnail sketch before each painting, connecting the lights and darks in the composition, and concentrating on their focal point. Focusing on these three goals helped to establish the group's purpose. I sensed my group of students felt safe, were willing to be vulnerable with each other, and strive for these mutual goals. It was amazing to me how much laughter and comradery we shared in such a short amount of time. When I look at the list of attributes of successful groups I can see my group scored high on mixing, asking lots of questions, and enjoying humor and laughter. I believe that because of these things, each of my students painted better, and felt like a member of a connected group. It is my hope that this class may cause some 'spin off' collaborative circles, much as a pebble creates multiple rings in water.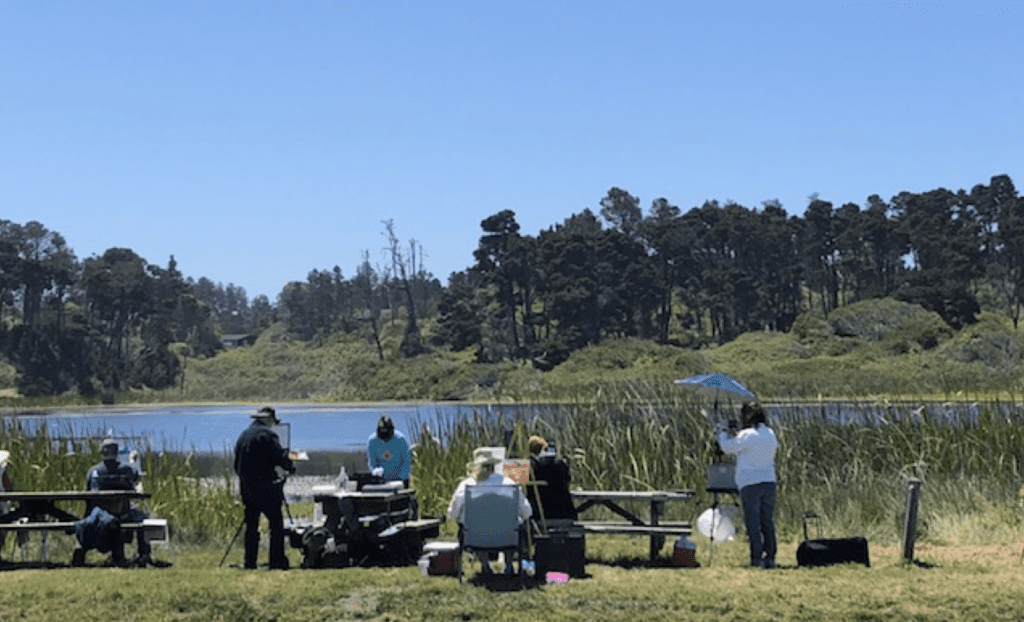 Another way to be a part of a collaborative circle is through an art organization. I am very lucky to be part of a collaborative team with the California Art Club (CAC). Paul Kratter and I are the co-chairs for the San Francisco Chapter of CAC, but the Club, its Executive Team, the other Chapter Chairs, and large number of Artist members make up this wonderful group. Like many other art organizations, CAC promotes exhibition opportunities, paint outs, demos, and workshops where artists can come together and share their knowledge. I could see the benefits of our collaborative circle at our last two SF Chapter paint outs. We had very senior artists and brand new artists both in attendance. I could see the excitement of the new artists as they met some of the more established artists they admired, and I could also see the pleasure and new energy the seasoned artists felt. The energy and chemistry in a good group is tangible, and can lead you to develop new ideas and techniques in your work, and most importantly, can help establish new friendships.
For the last 14 years Paul Kratter and Bill Cone have organized a pack trip to the Sierras. This group has its core group of artists, but has extended invitations to many other artists over the years. For a week you belong to the Sierra pack group. You share the same backpacking and painting experience, and are able to work alongside your fellow artists and exchange ideas and insights. It is a collaborative group!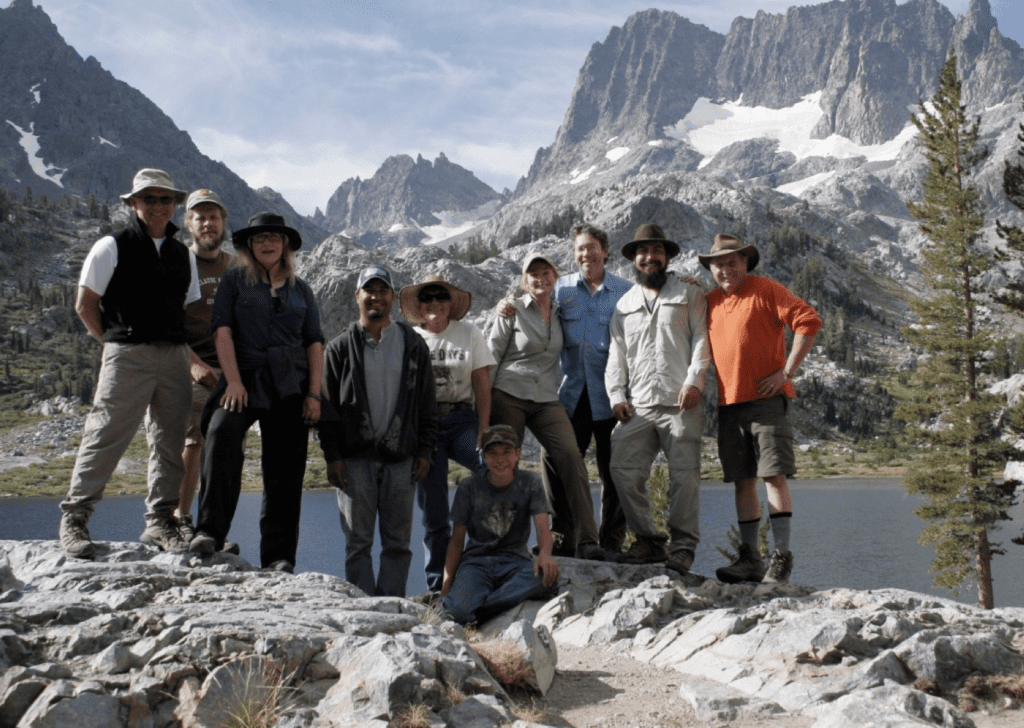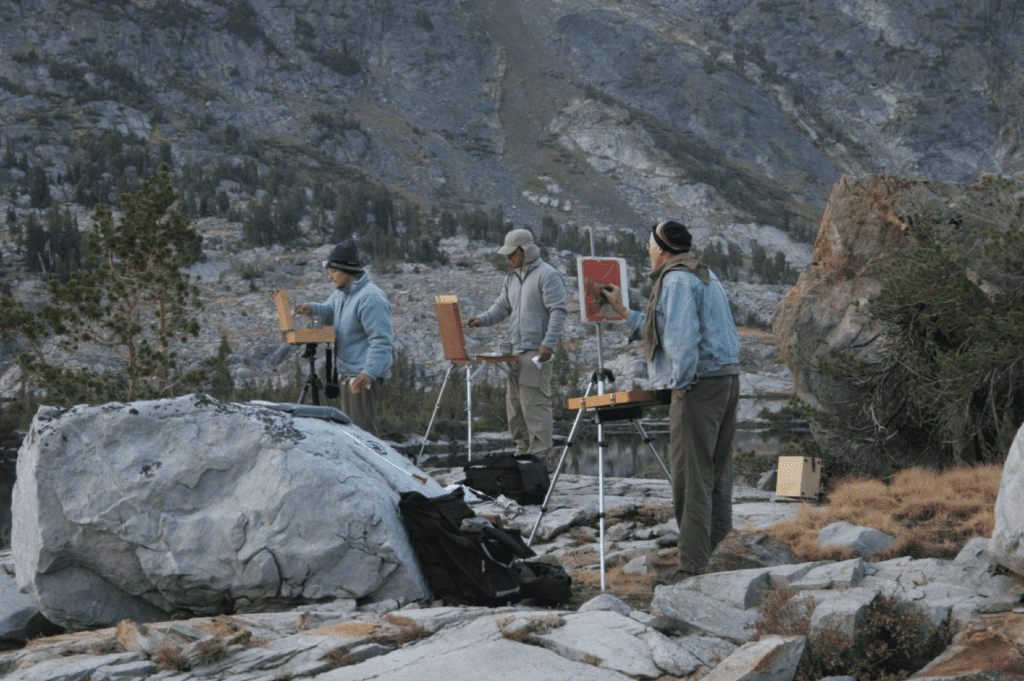 Another benefit of being in a group is helping to maintain a healthy social life, which is essential to our well-being. This has been documented in countless sociological studies. People need to feel a sense of bonding – like belonging and connectedness. People frequently bond through common experiences and interests. According to Harvard T. H. Chan School of Public Health, "socializing over creative acts promotes more than happiness; studies indicate it promotes health, too." The study reports that socially active elders experience a slower rate of memory loss than those who aren't; "in fact, memory decline among the most integrated was less than half the rate among the least integrated."
Art has significant psychological and social benefits, which can contribute to quality of life. So in addition to sharing your art expertise and experiencing a higher skill level, you gain a broader sense of well-being by being in a creative group.
You don't have to teach a workshop, help lead an art organization, or participate in a backpacking trip to be in a collaborative group — you can begin with just one other artist who shares a common goal with you. When starting out, try and pick someone with similar goals who compliments your strengths and weaknesses. Borrowing from JFK, "always ask yourself what you can bring to a group instead of asking what the group can do for you." Try to establish a set meeting time – like once a month – and stick to it. Your group could start out as a small plein air painting group with a focus on enjoying the outdoors and improving your ability to see colors more correctly outdoors. Be patient, have fun, be open to new ideas, and be flexible! You never know if history will write about your group like Monet's.