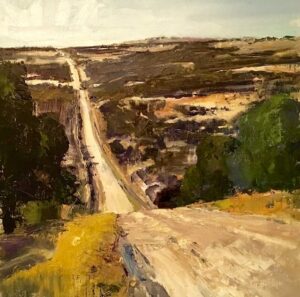 I have a deep love for painting, as I'm sure most of you do as well. It is that passion and sense of discovery that pushes me forward to paint for paintings sake. However, I have gone through struggles of self doubt. I find truth to this quote, "I don't think there's any artist of any value who doesn't doubt what they are doing" -Francis Ford Coppola. This self doubt often occurs when my known or sub-conscious intentions are headed in the wrong direction. What do I mean? Well, for the most part, my paintings are not as successful when created to please others. They may not ring true to my authentic voice. I'm coming to understand that this may be a universal condition for artists, no matter what stage of mastery they fall.
For me this "self doubt" and inclination to paint to appeal to others seems to have the potential to increase during plein air competitions. Don't get me wrong, I believe I have painted some of my best work at these events! For many reason I enjoy these events, and hope to continue to paint in them. I love to overcome obstacles and challenges, and find avoidance is not the answer. These events require much preparation behind the scenes by the artists attending. Ordering frames, organizing flights, shipping etc…and once on location, it can be a time of pushing one's abilities and endurance. It becomes not optional to paint in less than ideal weather, or if you are lagging physically or mentally. But I still choose to take part. As an artist, it's awesome to paint in new locations and meet some wonderful people! Yes, plein air events may seem at odds with an artists philosophy… to make it a competition, yet I think the competition has the potential to be a good thing. It can bring recognition to a previously less known artist. Artists push their abilities and collectors may get some of the artist's best work this way. In addition, the organizers of the event are able to connect collectors with artists and at the same time generate funding for their particular cause.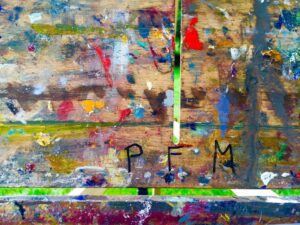 During one plein air event this year, I once again found myself trying to achieve work that would fit the mold that I thought might be expected of me as a "returning artist". My work had recently been evolving, and I worried that perhaps collectors would not respond positively to my direction. I was open with the other artists about my doubts and struggles. I had a few scrapers, and felt at odds with what I was producing. Stepping back, I realized I wasn't painting for "me", I had lost the spark of passion for the process. I was trying to fill a canvas with a painting that might please others, fit a norm, or would be more likely to sell. In the process I lost the "why" of why I was painting. I began to dive back into my work, painting exclusively for myself. By the end of the event, I had produced pieces I was quite pleased with, not knowing if anyone else would be. Because I was painting with my original passion, unencumbered by other's expectations, I was able to produce paintings that pleased me, and in turn, pleased the collectors and judges. The work I produced did not perhaps fit the pre-conceived notion of what I would paint, perhaps not fitting the mold, but painting for myself without being fearful.

It really is a very simple concept, but one that I seem to need to come back to during each plein air event I participate in. Three words. Paint For Myself. PFM. It's now written with a Sharpie on the inside of my pochade box, so as to give me a little nudge back on the road, my road. It's not that I don't have concern for other's response to my work. I do! My ultimate hope is that other's find joy and meaning in what I am producing. My work will be that much more authentic, and bear my true emotions for the scene I am working to describe, if I PFM. Another event is just around the corner, and I will aim to put my full effort into creating solid work. I am aware that doubt and temporarily misguided intentions will cause me to refer back to PFM. In the end I hope to create something that has an emotional impact.
I encourage others to push forward and paint with passion and conviction, whether in a competition or not. Paint for yourself, paint with your soul, paint with fearlessness, paint for the love of it.