What makes portraits of kids so delightful? Besides the fact that children are active and endearing, there are differences an artist needs to consider when painting a child's face. Proportion is especially important.
My early paintings depicted birds, flowers and animals, particularly my pets. More recently I find myself attracted to painting people's faces, including some of my favorite little people's. These portraits of my grandniece and grandnephew are meant to show unposed, happy moments. Capturing their innocence is as difficult as capturing a soft, cuddly puppy.
Some of my favorite artists who are known for portraits of children include John Singer Sargent, Nicholai Fechin and Mary Cassatt. Sargent's child portraits feel like a moment dominated by a person. Fechin has a remarkable ability to capture the essence of a child's personality in paint, along with an intensity of feeling. Cassatt often created images of the social and private lives of women, with particular emphasis on the intimate bonds between mothers and children. My portraits are the children by themselves.
"I Feel Pretty," an oil painting based on my photo taken at Thanksgiving, is a poignant reminder of my grandniece's visit. Nora is a precocious performer. She loves to dress-up while at the same time perform her own creative songs and dances. This painting captures when it began several years ago at age 2.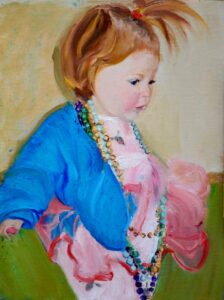 The scene is her standing on the bench by the kitchen table with a small toy in hand. The light is streaming in from the nearby window. The gauzy tutu encircles her waste with the iconic beads streaming down from her neck. It was Coco Channel who once stated "A woman needs ropes and ropes of pearls." Royalty won't leave the palace without a string of beads. Who ever thought that this two-year-old girl understood how to transform herself into a princess?
For a painting that transcends time and place, I kept things fairly simple. The toddler is unselfconscious, standing in a casual pose. The way she carries her head is a major statement in body language. The 3/4 view of her face gives sufficient information of her gaze away eliciting a visceral response from the viewer. Her skin is unblemished, her cheeks are rosy and her blue eyes are large. I love her placid expression with her slightly opened mouth as if she is about to act out something playful. I used a pink color harmony with shades of green as a complement. Her bling and tutu offer visual stimuli with color and shapes. The beads help to illuminate her face.
For whatever reason, little girls are more often the subject of paintings. Perhaps little boys are too busy running around as pirates, as is the case with Nicky, my grandnephew in my next painting, "I Scream."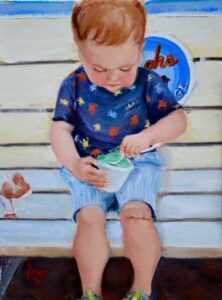 Last summer while on vacation on North Fork of Long Island we took the children for several rides on the Greenport Carousel and afterwards treated them to ice cream. The day was quite hot. Nicky's total focus on his long-awaited ice cream treat captured my attention.
The store was on Main St. but because it was relatively quiet that afternoon, he could relax on the bench in front of the store. His frog t-shirt and seersucker shorts embody the summer season. Melting ice cream; melting hearts. Again my cellphone captured the moment.
The slight tilt of his head suggests his intense focus. The chubby cheeks are uneven on purpose to show the tilt. His gaze downward accentuates the size of a child's forehead. His hands are deftly skilled for the task at hand. The BandAid on his knee suggests some previous activity typical of an active two-year-old. Like children all over, Nicky instantly felt healed once a Band-Aid was applied to his scraped knee. It serves as a symbol transforming his hurt into a time of well-being. Meanwhile his ice cream is quickly melting. I can't stop thinking of the power ice cream has over children and, for that matter, adults too. His no-tie sneakers are ready to take him back in action once the ice cream is consumed.
In these two paintings, I chose to implement large images of each child at eye level on 12" x 16" linen boards. Each child dominates the moment for an impressionistic painting style known to Sargent. I use slow-drying oils with a bright palette of colors in both paintings. The blending and the brushstrokes are deliberate. I like to work slowly and softly building up various aspects of the painting. After building up the basic shapes, I go back to work more and more details. Learning to be an artist is a never-ending experience for me.
Having started painting after a successful career in computer engineering, I like to quote Steve Jobs (1955 – 2011) "The heaviness of being successful was replaced by the lightness of being a beginner again, less sure about everything. It freed me to enter one of the most creative periods of my life."
My journey continues but these two paintings are recent examples of more to come. I am totally loving being creative. Thank you for your interest.
To learn more, please visit sharonrege.com