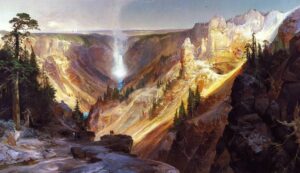 Growing up I was always outside exploring the woods and loving the changing light but never thought about painting it. It wasn't until after a career as an illustrator that I began taking my easel outside to paint. When I paint outside and spend two hours capturing the light it is a spiritual experience. During that time, you get to see, hear, and feel the changing world around you.
I created a natural setting in my own backyard where I started planting trees and bushes. One of the great joys of my life is watching the plants grow. You buy a $2 plant and it turns into a $20 one.
It's my oasis where I've taught painting workshops and gathered with family and friends. It is literally a living room. Everyone loves to be in this environment whether it's my backyard or in their own.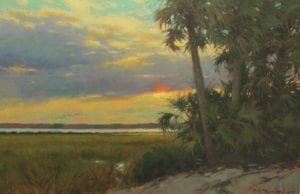 Artists throughout history have documented the outdoors and through this empathy for the landscape, they became conservationists.
Thomas Moran created a stunning painting of what is now Yellowstone Park. Congress was able to see the beauty and the National Parks were born. J. Alden Weir turned his estate into a park and Ding Darling left a preserve in Sanibel.
My artist friend Mary Erickson has preserved 30 acres for a bird sanctuary in North Carolina. This past summer I painted on the property of the famous Indiana artist TC Steele. It is now a park for all to enjoy.
Every time an artist paints on location they are preserving our world. It will never look the same.
Hurricane Michael hit the Forgotten Coast and leveled the area of Mexico Beach where Mom and Pop shops and restaurants once stood. Quaint family beach cottages gone forever.
Over $117K was raised by Operation Fund Storm started by artist friend Larry Moore. Artists donated paintings for the auction and some pieces were of this devastated area.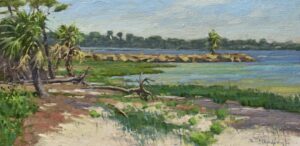 We have painted the area for many years and those paintings have preserved what has vanished faster than we ever thought possible.
About two years ago I was approached by Greg Vine, who had this idea of turning 50 acres of prime real-estate in Venice Fl. into an Urban Forest under the umbrella of VABI. Venice Area Beautification.
He needed an artist to create a forest with paint and canvas to show Sarasota County what could be done with a raw piece of land along the intercoastal that borders an industrial area.
I first photographed the area and began painting directly over the photographs to eliminate scrub and add trees of various shapes and sizes with smaller bushes underneath.
When we approached the Sarasota County commissioners with our proposal and my paintings as a visual guide, they finally approved the Urban Forest.
But this had taken almost two years from the time Greg asked me to come on board. There is an enormous amount of red tape that an organization must go through in order the achieve any endeavor when dealing with City, County, and State officials. As volunteers, we had countless meetings to set up promotion, funding and planning committees. Once the word got out about our plan's, volunteers came to help clear brush and plant new trees. Without volunteers, a project like this cannot happen. This a totally funded by donations.
Venice was designed by architect John Nolan back in the '20s. Nolan was inspired by the amount of green space in cities and introduced that in Venice and Mariemont Ohio.
Our Urban Forest catch line is; "In the spirit of the John Nolan Plan, VABI resolves to create the Urban Forest, an oasis for all generations to enjoy".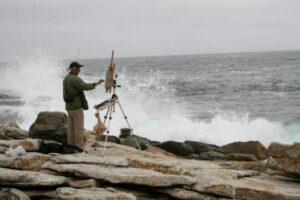 As this project finishes phase 1, we are having artists come out to document what has been done and create sort of a "Baby Album" of this young project.
Many people can see what a derelict piece of land looks like now, but an artist can see what it could be in the future through a small rendering.
Beyond the initial decoration, a painting may have had a big role in how people feel and their empathy toward the world we live in.