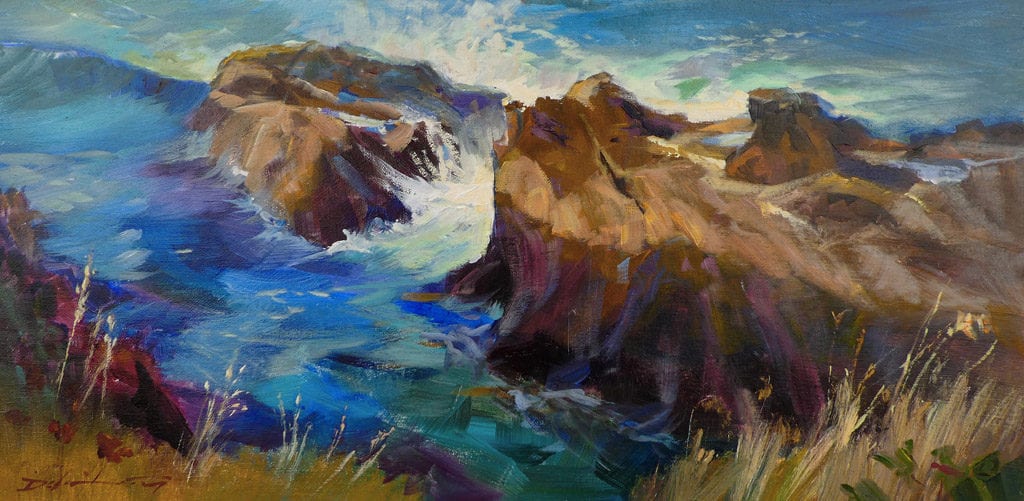 –all images here have been painted or begun en plein air–
When Bob retired after 42 years in the aerospace industry, one of his buddies whose wife was an artist suggested that he take up plein air painting. "I know you don't like sailing, tennis, or shuffleboard, Bob," he advised, "but you could paint outdoors—I've heard it referred to as the new golf. You can learn it in your spare time—I'm sure if you had the right gear, you could do it."
Across the nation, there is a revival of and renewed interest in plein air painting. Folks whose kids have moved out of the house, who downsized and moved across the country, and have finally decided to act on those creative impulses that inspired them in college are taking art classes, making reservations at the Plein Air Convention, and buying art supplies. Motivation is high, as are hopes and expectation of some degree of success. Painting could be a fun pastime!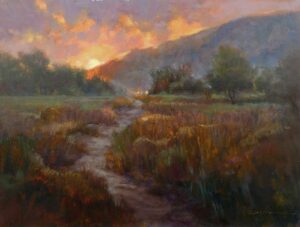 I've heard this myself, both from artists and art aficionados, that plein air is like a sport, like the "new golf." But like anything, how much one can learn about anything is conditioned by one's motivation and mindset. If it is a sport, one would approach it as "an activity involving physical exertion and skill in which an individual or a team competes against another or others for entertainment" (Oxford Dictionary). Football, basketball, baseball, tennis, wrestling, volleyball and golf are all widely recognized as sports. But does plein air painting fit into this list?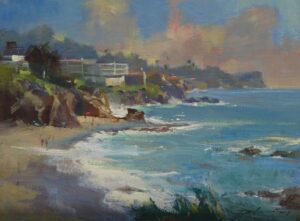 I love to paint, and I love sports. I have had the privilege to complete 65 marathons, several long-distance ocean swims, ran cross-country and track in high school and college, competed as a triathlete between '78 and '94, and twice crossed the finish line of the Hawaiian International Ironman Triathlon. In recalling all of that fortunate time I spent outdoors, and during my current daily workouts, I have rarely called upon my artistic abilities when competing athletically (except for an elevated awareness of my response to the immediate environment), or my athletic training while painting (except for hiking with my plein air kit to remote locations, or running to scout new painting sites)– but I believe there are some crossovers between athletics and artistic creation.
Similarities
It's helpful to have the right equipment, as that in itself will assist successful achievement. Extensive training in both is essential to performing well. And coaches and mentors can shortcut the learning curve and inspire progress. One may participate in both sport and painting as a student, amateur or professional, and that participation may result in significant income (or not). Instinct, self-trust and confidence play key roles in a successful performance. Sports and painting both require hand-eye coordination and superior depth perception. The true quality of an athletic performance is best understood by a fellow athlete, just as an artist best understands the work of a fellow artist. Finally, the goal of both the athlete and artist is to continually improve one's skill set.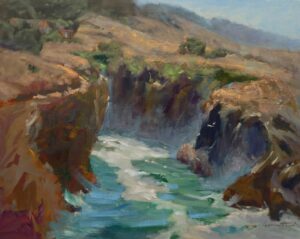 Differences
In plein air painting, there is no finish line, no "final minutes," no game buzzer (except in an organized "Quick Draw" event). Risk of injury is less (but it is still real). Judges and jurors never wear striped costumes while performing their duties. There is no governing body of rules that constrain painting sessions– but there are fundamentals to be observed nonetheless (as in sport). Few plein air painters find themselves in a position to buy a mansion for their mother, and agents representing professional plein air artists are next to non-existent. Quiet time for reflection and self-evaluation during painting is essential, whereas in sport the action is moment-to-moment, demanding the athlete's constant and physically-intense involvement. And at plein air events, there's no betting on the outcome—it wouldn't change the result anyway, one way or the other. And here is perhaps the greatest difference of all: think of how an athlete tries to control all the factors in a game as he/she does everything in their power to succeed, to win. Contrast that with Dean Taylor Drewyer's observation about painting: "The best paintings, it seems to me, are the ones in which the painter suspends any drive to control or order the world, and commits to simply struggling to grab hold of a small part of the chaos."
Painting is None of The Following. Leigh Steinberg (sports agent): "One of the keys to building the popularity of a sporting event is the extent to which fans perceive the activity has athletic qualities which are displayed on an even field with competitors trying as hard as they can to win. This is the key to fantasy leagues and all athletic betting."
Painting can be competitive, but it never has to be engaged in that spirit, even in plein air "competitions." It's entirely possible to enter those contests without the slightest desire to fend off or overcome an opponent, as one concentrates on giving one's very best to the creation of their own art, regardless of the circumstance. In fact, most of the professional painters I know participate in these events with a heart open to their fellow painters and are just as satisfied to see awards given to their comrades-in-art.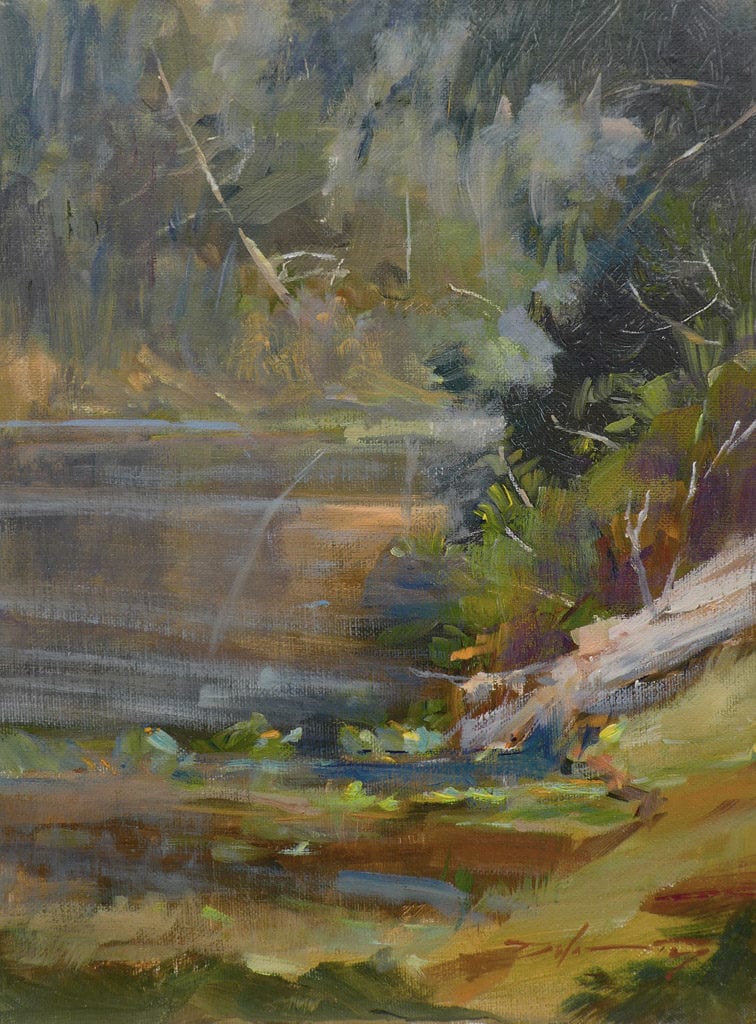 So if plein air painting is not a sport, what is a more effective way of considering it as we seek to learn more about it, to maximize both our performance and enjoyment?
No Rules, Quang Ho: "For me, there is no one way of painting…It's about gathering as much information and ability as possible and then allowing myself to follow visual impulses and ideas, allowing each one to tell me how they might be coaxed out of the canvas."

Goals Without Goalposts, Larry Preston: "I paint for myself and the process, not anyone else…I paint to remind myself of what I find important and beautiful and to experience the process of painting my chosen object. Success, for me, is found in the studio—in the drive to continue growing as an artist and create honest work."

A Fight With No Opponent, Winston Churchill: "Painting a picture is like trying to fight a battle."

Courage, But Without Threat of Physical Engagement, Charles Philip Brooks: "Painting requires the bravery of solitude. Painting requires disciplined labor. To be a painter is to search the world with a benevolent eye for every subtle beauty the infinite world offers."

A Lifestyle, Not A Pastime, Betty DeMaree: "To me, painting is life, a part of God, something sacred and uplifting. If I as a painter were denied my tools and my expression, I think I would become ill."

Like Poetry, James Elkins: "Painting is a fine art: not merely because it gives us trees and faces and lovely things to see, but because paint is a finely-tuned antenna, reacting to every un-noticed movement of the painter's hand, fixing the faintest shadow of a thought in color and texture."

Like Music, Brian Eno: "At the beginning of the 20th century, the ambition of the great painters was to make paintings that were like music, which was then considered as the noblest art."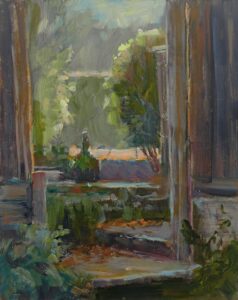 Everybody Wins
I would suggest that in plein air painting, there is no "winning"—in the sense of domination– only the satisfaction of having connected with nature in an honest and appreciative way. Primarily, plein air painting should be enjoyable. It can be, for the beginning painter as well as the advanced and professional. As master pastelist Kim Lordier advises, "Paint what you love." Love is the answer, above winning, awards, and world records. Plein air painting is an expression of love; for one's self, the process, one's capacity to learn, for our surroundings, for all those with whom it may be shared. Plein air painting has no "rules of the game," but it does have its own vocabulary: the language of the spirit.