As the world seems to spin out of control outside of our studios, this may be a good time to revisit the ONE thing that truly enables you to stay engaged as a life-long artist: satisfaction from, and a love for, the PROCESS.
Wanting to become a 'great' artist is the norm for someone new to art, but with experience, what compels you to STAY an Artist? I have been an artist at my core since I was a little kid, spread out on the living room floor sketching on scrap paper, and with the global turmoil and its likely sobering effect on the Art Market, this is a good time to refocus on the one thing that will help you stay on track.
I'll start with an excerpt from an early oil, "Self-Thoughtrait," where I incorporated an essay of my thoughts on 'Art'. Though written about 20 years ago, it still offers a glimpse into what excites me: 
"The blank canvas offers absolute creative freedom. Within its two-dimensional surface, it provides the same opportunity afforded past artists, from Leonardo to Picasso, Memling to Warhol, and beyond.  Each new surface sparkles with wonderful opportunity and incredible challenge.  

Today, alone in my studio, I choose to reflect upon this opportunity.

My dual relationship with each canvas begins with an emotional and physical exploration…the current culmination of my thoughts, feelings, experience, practice, and desire. I'm free to create an intimate painting of quiet beauty, or a bold and involved expression of spirit and persuasion.  The quality and depth of this personal and passionate process is infinitely variable, and I derive satisfaction and–when lucky–intense joy through the creative dance and budding conversation that takes place between canvas, paint, brush and artist. 

Once complete, the piece becomes an individual, left to stand alone…and the second half of the artistic process requires a viewer to complete the connection."
Too often, we correlate the 'success' of our work with the 'second half', where others are in control, and though there is usually plenty of healthy feedback, we also find silly ways to be disappointed. Let me share a recent experience where the 'process' was joyful and rewarding, while the 'sharing' could have been just another source of discouragement:
A couple of years ago, upon our arrival for an extended stay in Santa Fe, my wife and I came upon a beautiful concert being held in the City's famous plaza. The atmosphere and the music were fabulous, and watching the performance over the crowd left an impression powerful enough that I knew I would explore it in a painting.
About a year later, with the memory still strong in my soul, I created a portrait of that evening. I placed the canvas on my easel above eye level to recreate that sense of looking over the crowd and as I painted I could feel the atmosphere, hear the music, and alone in my studio I was able to sense and celebrate that wonderful experience.
Once the painting was complete, I felt it had lasting strength, so I decided to enter it into an important National show. To my delight, it was accepted and I shipped it off, knowing I would happen to be in the city where the show was taking place and I'd be able to attend the opening.
On the night of the opening, I entered the beautiful venue and as is often the case, the show was hung salon-style in order to exhibit as many pieces as possible on the available wall space. When I finally spotted my piece, I saw it was hung at knee level, which in the case of this particular painting was devastating to me…lost was that above-the-crowd ethereal atmosphere. If the connection and impact were lost for me, I knew the judge would never sense it and potential buyers would drift past. I immediately understood this painting would languish and it was destined to come home. 
Thankfully, the disappointment was short-lived because I still treasured the experience of my personal artistic process. My time in the studio with this piece still fed my soul, and I knew I would have more opportunities to grow and create.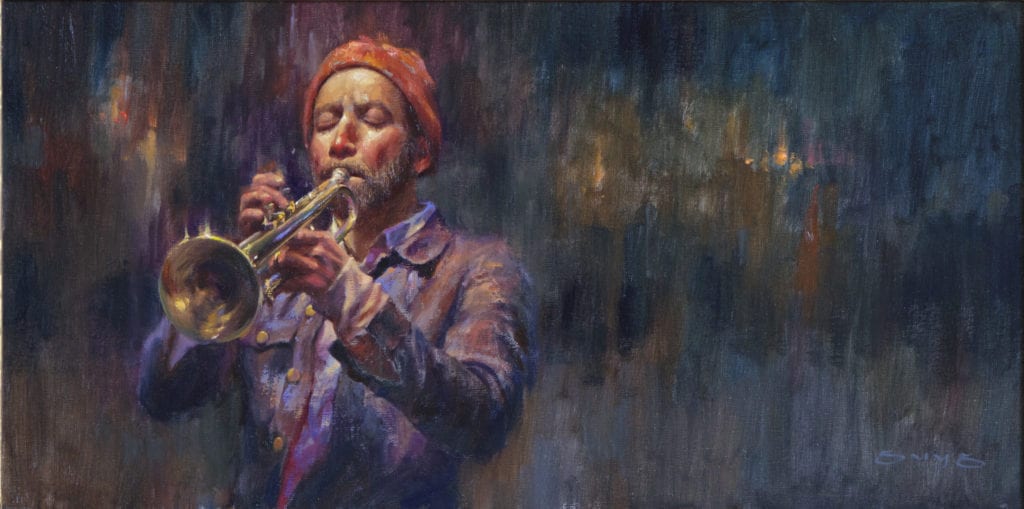 With the impact of our current pandemic on the economy, and knowing the importance of the health of the stock market on the people who are able to purchase art, there will likely be a slowdown in sales (and more mac & cheese) over the next months and years. Rather than allowing this to lead to disappointment, lean into the importance of the Artistic Process and let IT feed your soul. Get in to the studio and get back to the creative dance and conversation that take place between canvas, paint, brush and artist. Your artistic life will be better for it.
For a bit more insight into the creative process, take a look at my earlier blog post, where I talk about the "two keys" to progressing as an artist.
You can follow my work on Instagram @billsuys.
My best to you as we walk this path together — yet socially distanced!