I grew up in Crested Butte, a very small town in Western Colorado. During my childhood, the local coal mines were closing and the world-class ski resort that exists today had not yet been established. Only around 100 people called the town home.
I went to a one-room schoolhouse that at times did not have enough kids to fill all the grades. The lack of people meant I had a lot of time by myself, and I would typically spend it drawing or sketching. My mother, who always encouraged my art, gave me a beginner set of oil paints when I was 14 or so. This astonished me because we had very little money. I knew the gift was a special treasure and treated it that way.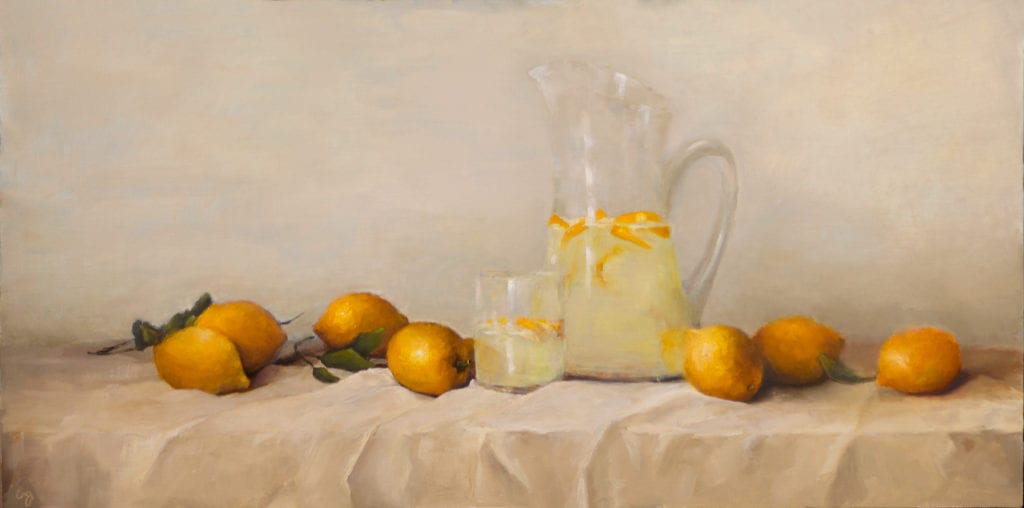 After graduating from high school, I ended up at the University of Colorado at Boulder on an academic scholarship. The university was so large that the student population alone was 200 times the size of my hometown. Being naturally shy to begin with, I felt lost and overwhelmed. I found solace in the quiet art building, where I took fine art classes, pottery and painting. I'd spend hours there every day happily working alone on my art.
There was no doubt: painting was my passion. But after just one year of college, I knew I'd never be able to make a living at it—especially at first. I was too shy to waitress and didn't want to continue cleaning houses, which I'd been doing as a student. Frustrated, I talked to a beloved painting teacher about what I could possibly do to earn a living. That's when I learned about graphic design. Soon, I was enrolled at the Colorado Institute of Art studying design and layout. (I decided against illustration because I was too shy to hustle my work.) 3 years later, I graduated and got my wish—at least the wish I thought I wanted—of a real job with a salary.
As time progressed, I ended up running my own successful design firm with a few employees. I also got married and had a family. At one point, when my son was about nine years old my passion for painting resurfaced and I took a painting class from a local classical art school. I loved it. Standing behind the easel felt like coming home.
At the school, I began a painting of a boy petting a donkey using the grisaille method. But with the demands of work and family, I never finished the painting. Life went on and soon my son was graduating from college. During this period my father passed away and my mother, who always championed my art, became ill. One of the last things she did was make me promise I'd finish the painting I had started at the classical school. I told her I would.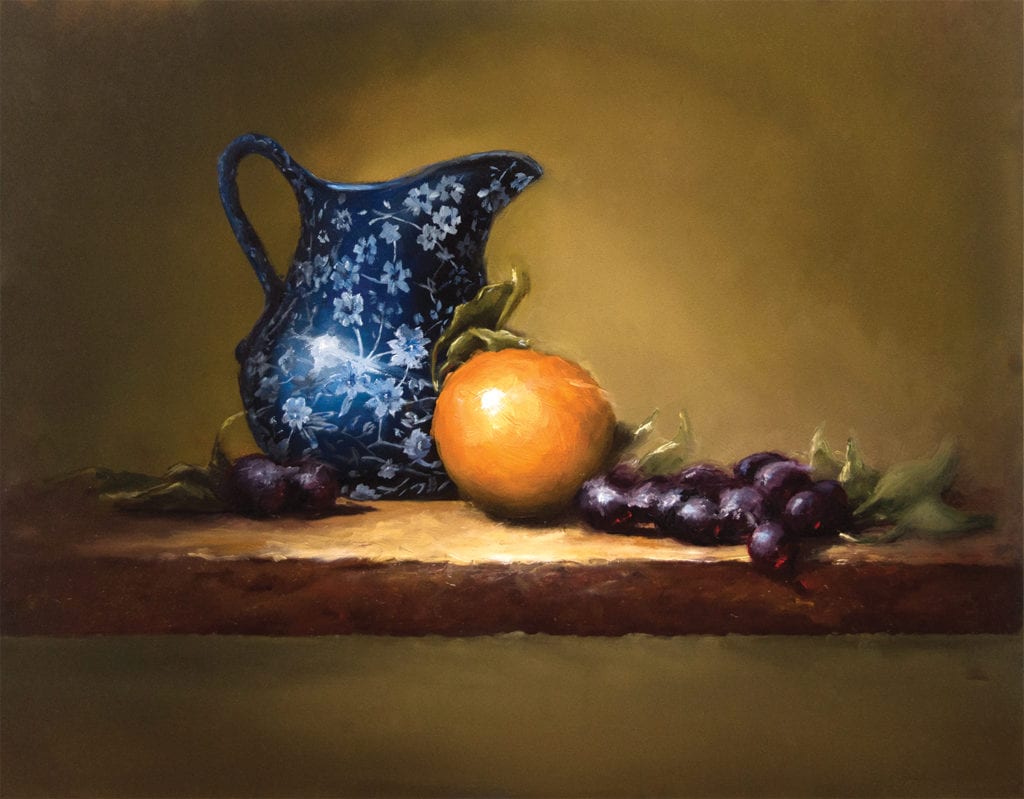 More time passed and I grew tired of making excuses as to why I couldn't paint. I downsized my business to free up some time and focused solely on freelance design work. Maybe now, I thought, I would finally have the time to focus on painting. My one goal was to fulfill my mom's dying request.
Unfortunately, it had been so long since I had taken the classical class—probably 30 years by this point—that I no longer had any idea how to paint. I began taking weekly oil classes with Jake Gaedtke, but my freelance work still consumed too much of my time. I'd miss class after class due to work obligations and after a while decided paying for the class was foolish. So, I stopped attending. My desire to paint, however, didn't cease. If anything, it grew stronger.
Finally, five years ago at age 58, I said, "Enough is enough! It's time to make painting a priority!" I enrolled in classes with Rey Ford, a Colorado-based oil painter, and began in earnest. This time I was not going to give up.
Because I continued to work, still life painting suited me. I could set up a still life in the evenings and paint. I'd work from 9 a.m. to 4:30 p.m. on my freelance business. Then at 4:30, I'd switch my focus to painting. After dinner, I'd paint many evenings until midnight—or later. The time spent painting flew by.
The energy I got from painting fueled itself. I began taking workshops and classes with other teachers, and slowly got the confidence to start showing my work. About three years ago, after two years of painting nearly every night, I exhibited my work in a local show. There, I sold my first small piece, titled "Blue Citrus Wash." I was recovering from minor surgery so I couldn't attend, but my husband was at the show and called to give me the good news.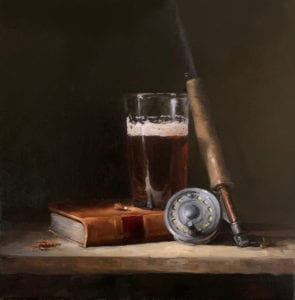 I was ecstatic. That small sale made me believe that maybe I really could do this painting thing. The sale gave me hope. It made me believe all the time spent painting—and maybe even all the years spent waiting—had been worth it. I was ready now. Although I had frequently left painting behind, clearly, it had never left me. It was simply waiting until I was ready.
Not long after that show, the owner of Rembrandt Yard, a gallery in Boulder, Colorado, where I live, visited my home studio during an Open Studios weekend. She liked my work and began exhibiting it at her gallery. During my first show, I was too shy to talk to potential customers. (Apparently, shyness never left me behind either.) I stood huddled by my paintings and let my husband do the talking. My work has now been in three shows at that gallery, and I've probably exhibited at 10 other art shows since then. And yes, I am starting to talk to customers. A bit.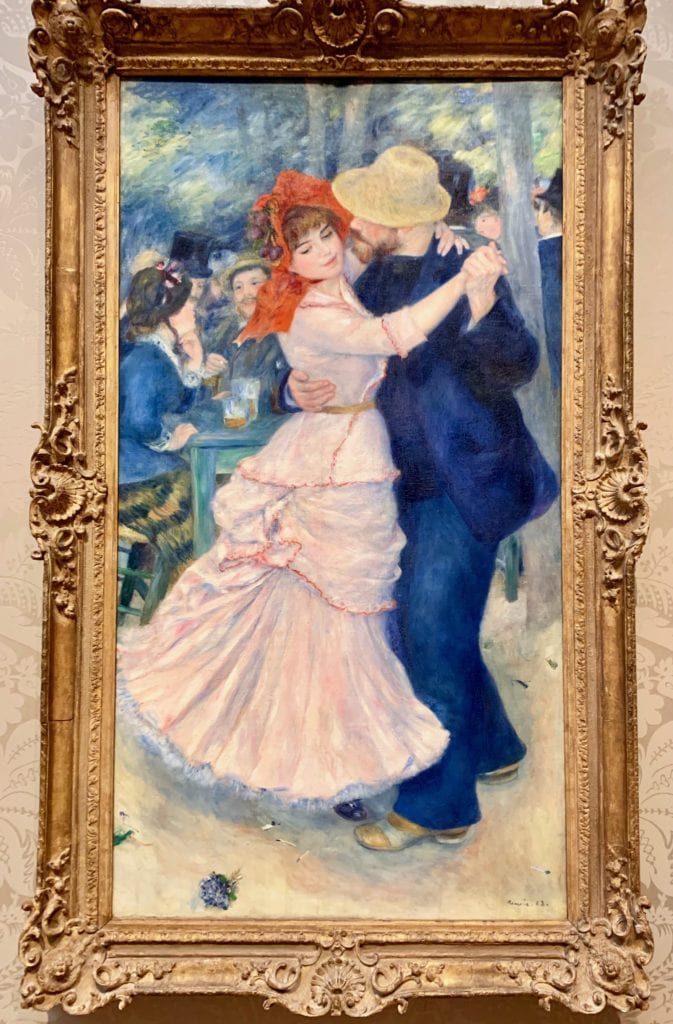 Last year, I was in Boston and—as I always do when in major cities—I visited the fine art museum. Walking in, I saw Dance at Bougival by Pierre-August Renoir. I stood there staring at the magnificent piece with tears streaming down my face. You see, my mother had a print of the painting hanging in our house when I was growing up, and after she passed I brought it home as inspiration. I took it as yet another sign that I should jump full-time into art.
I made the leap to rent a real studio dedicated to art, instead of working from a corner in my home office. I also cut back significantly on my graphic design business and now I only paint till 9:30 or so in the evening—but painting still happily consumes about 50 hours a week.
Now, my focus is on finishing the child-and-donkey painting I promised my mom all those years ago. I haven't painted humans or animals since then, so I'm studying figure drawing (mostly through videos thanks to Covid) and have plans for figure painting. I'm hoping that soon I will have the guts to finish what I started.
Now that I think about it, I guess that's what this whole journey has been about: having the guts. Having the guts to pursue the passion, to take the risks, to say yes to what feels right, to say no to what no longer fits, and to tell myself it's never too late.
Because it's not. I've been reading about artists working into their nineties and know, thanks to the passion, love and energy that has been rekindled in me, that I have a few good years ahead of me.
Which is a good thing. Because I have this painting I need to complete…