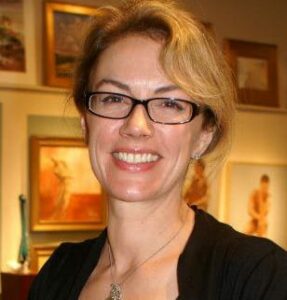 Christine Lashley studied as a teen in Paris at the Parsons Art Institute and the Sorbonne, continuing on to earn her Bachelor of Fine Arts at Washington University in St. Louis. She worked for several years in the fashion industry in Europe, then as a muralist and graphic designer.
After deciding to stay home when her children were born, Christine pursued her fine art at first as a watercolorist and then also in oils. Her work has won awards in national and regional competitions and she has participated in top plein air competitions such as Easton, Easels in Frederick, and Telluride. Christine's paintings have been shown nationally and internationally. With numerous works in private and corporate collections, her work has also been featured in publications such as: American Artist Magazine, The Washington Post, Elan Magazine, and North Light (F&W Media) books. Christine currently lives in the Washington DC area with her husband and two children, and has been an art instructor for over 15 years.
Christine is a juried member of several art groups including: the Potomac Valley Watercolorists (where she served as President), The Baltimore Watercolor Society, the Washington Society of Landscape Painters, OPA (Oil Painters of America), and the Salmagudi Club in New York City.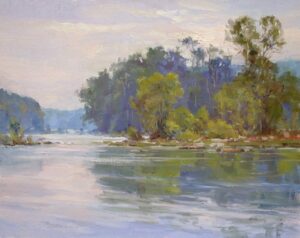 "As a contemporary impressionist painter, I am constantly drawn to nature's unique colors, harmonies and contrasts. I gather most of my ideas by painting outdoors. On location there is no time to second-guess choices, so the resulting brush strokes convey a sense of immediacy and vitality. My studio paintings are a chance to work larger, while retaining the freshness of painting "plein-air". Planning first, with sketches and reference, lets me paint freely in the final artwork. Favorite subjects are portraits, still life and landscapes."
For more information, please visit: lashleystudio.tripod.com
View OPA Blog articles by Christine Lashley