As a sought-after workshop instructor, Albert Handell OPAM is accustomed to answering student's questions. For this week's blog, we share his response to two commonly asked questions:
Question: Do you judge art shows, and if so, how do you select the top winning piece, "Best of Show"?
Yes, I have judged numerous exhibitions.
I have found that some exhibitions have categories and some do not. The exhibitions that have categories are usually divided by either subject matter, (i.e. landscapes, portraits, still lives and abstract etc.) or by paint media (i.e. Oils, Pastels, Water Colors, etc.).
Prize money is usually broken down so that the winner of Best of Show receives the largest amount, for example, $1,500. The First Place winner in each category would then get $1,000, Second Place winners get $500, Third Place winner gets $250 and so on. 
To pick the best of show for the exhibition, I simply take the first place I've selected in each category, move them near each other so I can compare them side-by-side, and decide which one is the strongest. The piece I select becomes Best of Show and the artwork below it in that category moves up one prize (i.e. Second Place becomes First Place, etc.)
Then there is the type of exhibition where artwork of all different mediums and subject matter is mixed together, and not broken down into categories. Selecting the best of show for this type of exhibition is more difficult. I take the first, second and third place artworks and really scrutinize them before selecting one to be Best of Show. That is how I do it.
I have been on both sides of exhibitions in my life, sometimes as the participant and other times as the judge.  This oil painting below, Woods Interior, Point Lobos, was sent to an OPA exhibition where the largest work could not be more than 16" x 20." It received Best of Show with a cash award of $3,500. Jeanine and I celebrated that evening!
I hope this insight into judging is helpful.
QUESTION: Is framing important? What are your thoughts about framing?
Yes, framing is very important.
To keep the answer to this question simple, for myself when I frame my small oils, I like to use a floater frame. It pains me to lose a half inch all-around my small painting because of the inside lip (or "rabbit") of standard frames. It might cost more to frame the oil using a floater frame, but I feel better doing so.
In general, the framing should complement the painting!
You don't want any part of the frame to compete or distract from the painting, (for example, you don't want the light linen mats of the frame to stand out more than the whites of the painting.)
If the frame competes with the painting, it's not a good frame.
Here are some examples of my framing choices: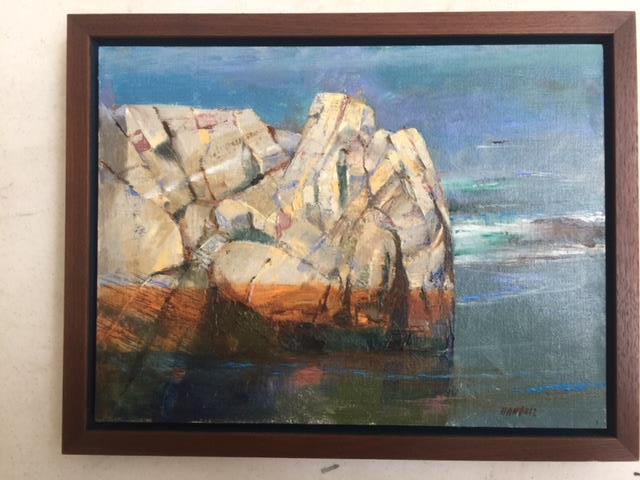 This oil is basically a painting about the weight of rocks.
It started out as a study for a larger oil. I felt it stood on its own merits so I decided to frame it. Since I considered it a "tight" subject matter painting, I decided to float it with a narrow black backing.
The piece Along the Taos Ski Basin Road (below) is a horizontal painting. I felt it needed a wider floater frame.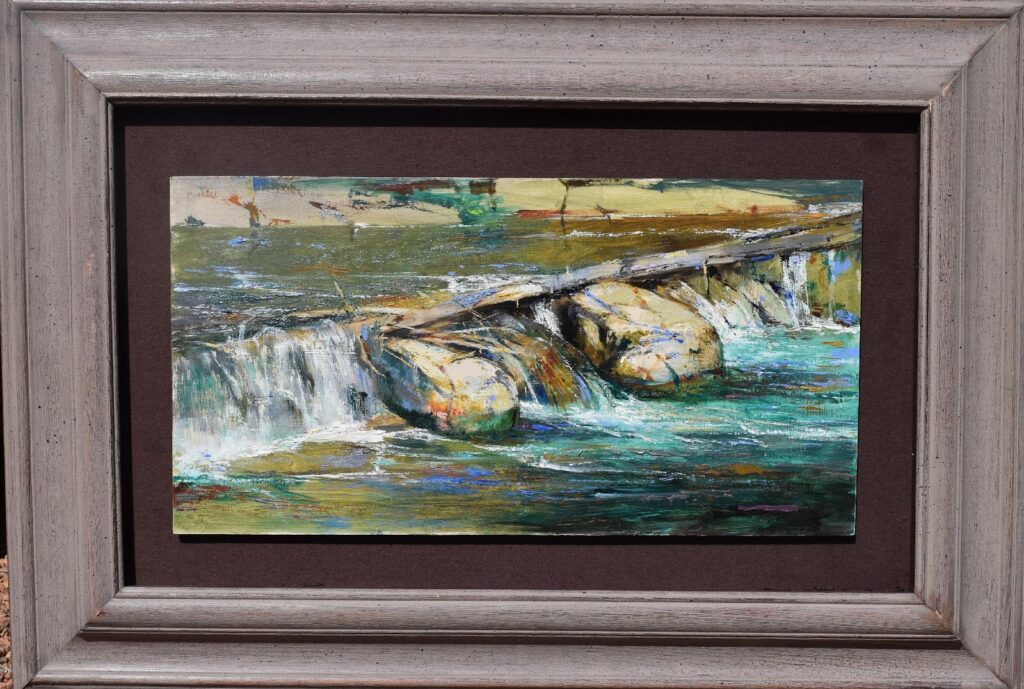 I hope these two examples of framing give you some good food for thought.
Sincerely,
Albert