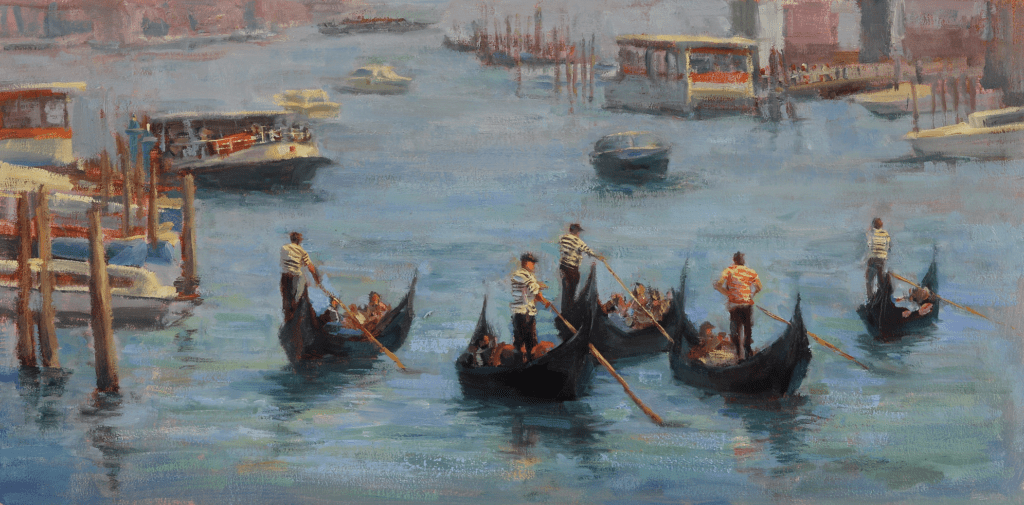 In order to hone our craft as artists, we all know the value of practicing. However it's apparent to me that applying paint "just to apply paint" doesn't cut it. I like to determine the focal area of a painting before getting started and I feel it's equally important to identify the focus of your practice. To that end, I maintain a rolling list of things to focus on so that it is always there as a reference for me. I call each these Projects. They can be small in scope or quite large.
Last year I decided to work on "Project Value Relationships" because I wanted to ensure up front that I would achieve more depth in my paintings. My goal was to improve the aerial perspective in both landscapes and still life by establishing the relationships of foreground, middle ground and background first and then making variations within each plane. John Carlson said: Every angle or plane of an element has within its "flatness" marvelous and subtle variations of both color and value. A mass becomes beautiful only when it partakes of these changes.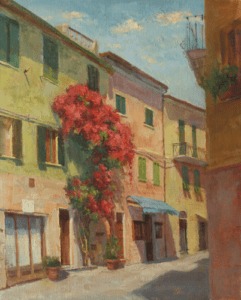 It turned out to be a rather large project because, as often happens, one thing leads to another and I had to change the way I began a painting too. Instead of working on my focal area first, I had to alter my process from beginning. I used Size 12 and larger brushes to place washes of color on 9×12 canvases. This would establish my shapes and result in the flat block-in the local colors and value immediately with no regard for edges or creating anything in focus. I could see immediately if the planes related to one another. From there I could push and pull the color temperature and saturation with more opaque paint while gradually working towards putting something in focus to create my focal area. I am sure that there are thousands of people who work this way all the time but it was a shift for me and it felt foreign at first. (Fast forward to this year and it's my typical way to start).
Note that I started by using only small formats for this project…..nothing larger than 16×20 until this process felt like second nature. This took about 6 months and of course I still tinker with it. A couple of the benefits were that it was freeing for me and it felt like the paintings moved along faster to completion!
More recently I tackled "Project Greens" where I wanted to work on varying my greens within each piece. This was a smaller project and to get started, I simply mixed various puddles of warm and cool greens of different value and different saturation levels. This was done before any marks were made on the canvas. Again it was freeing as I was able to use the various piles of paint where appropriate. It took several weeks of experimentation as I continued varying the saturation levels even more and expanding my options with more and more diverse greens. The benefit of this project was that I felt as if my new pieces were more interesting overall. Also, once I established the design, I didn't feel tied to the actual colors within the scene because I could actually bring more variety and create more interest than the original scene.
I hope you find this helpful and if you're stuck, perhaps start by thinking about where you want to go or what you want to change in your own work. This will prompt a personalized list of focused practice ideas. I'll share a few more of mine here: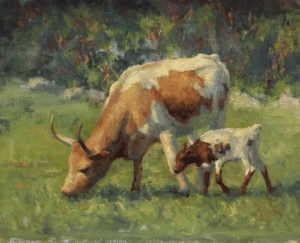 Paint Application
Brushwork
Color Harmony / Using a limited palette
Working larger formats
Edges
Clouds
Paint from Memory
We are fortunate as artists that we can experiment. Personally every time I tackle a new project it expands my repertoire. I truly enjoy the growth even though it can take months or years to perfect and can occasionally be frustrating. However I believe it is how we carve our own personal path to growth and how we will evolve into a better artists. What better way to fully enjoy the journey!