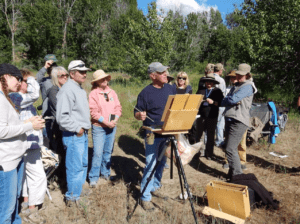 You've taken classes, attended workshops in farflung corners of the world, studied with teachers you admire and you've improved so much! Your work is hanging in galleries, your name is well known, you may have even a few museum shows or solo exhibitions under your belt. National art magazines have featured your work and the awards and invitations are piling up.
You have arrived and are, finally, a successful "working" artist. So who needs another workshop? The expense, the time away from your own studio and deadlines….just to learn something new why bother?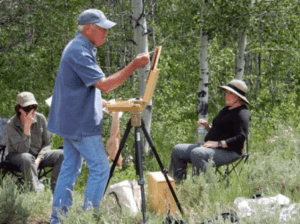 I recently organized a plein air workshop in Sun Valley, Idaho for Michael J. Lynch who is one of best landscape painters in the country. I heard that he is a fantastic instructor, so I and my partners, Tom and Sandy of Wood River Fine Arts, invited Michael to teach this past June. His reputation preceded him and the workshop sold out in no time. What surprised me was the caliber of the students who wanted to take it. They were willing to drive thousands of miles and shell out money for lodging, food and the workshop itself and we're talking pros here, people.
Kathryn Stats: "I seek out artists who can teach me new ways of thinking and looking at a subject matter. I studied from Ray Roberts for three years in order to get the high contrast, minimal values involved in Shapes in order to get stronger shapes in my work.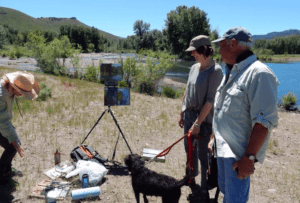 With Michael Lynch, I was studying a different approach in block-in, such as transparent thin paint building up to the more opaque lights. Also, warm and cool temperatures in close value paintings in order to get a proper read on the subject. His brushwork is great. I attend one workshop a year and also look for quality of instructor, timing, location, workshop organizer and ability to join other friends. I also needed a Jill Carver fix."
Jill Carver: " Michael's demos left a deep impression on me. Here was a very fine craftsman, and one well-honed in his practice, but there was a freedom and joy of the unknown present too in his approach to each painting. Michael has a patience, waiting for the painting to evolve on its own terms, and a keen eye happy to claim any accidents that serve his vision. It was like witnessing a dance between control and spontaneity (albeit a highly educated spontaneity). In my own work, I am a planner, and this has improved my work tremendously but, in the last few years, I have also angsted about whether I am overthinking, over planning and becoming too self conscious. I was not expecting this workshop to resolve that issue; indeed I had not even gone there with this angst identified as a specific problem, but on the evening on the third day as I was taking off my shoes in my room, I got choked up and, I confess, a little teary. It came out of nowhere. Trying to grapple with what I was feeling, I realized that what I had seen had just opened up a huge door for me; I felt released from the obstacle of 'fear' and 'self consciousness' that might have held me back for years. This was the unexpected epiphany. Who knows where it will lead and I am sure those demons will continue to visit, but I am just thrilled to feel freedom in my work again, and I am thrilled to say that I am a 'student' once more.
I think as professional artists, we get caught up in the demands of the professions….One is signing up for a lifetime of learning: that's what makes this career so meaningful to me personally, and yes, though I think as we develop we are better attuned at teaching ourselves, there is nothing like being 'present' in a workshop and trying to get inside someone else's head for awhile. That kind of immersion leads to less conscious breakthroughs, and some surprising epiphanies, than when one is trying to teach oneself. I could not wait to get away from being in Jill Carver's brain and escape into someone else's brain for a week how marvelous!"

Jeff Horn: "A painter's goal should be to strive to make a better painting: to strive to communicate what is seen and what is felt for what is seen. I am quite clear that I have not, and perhaps never will, reached a pinnacle. I think I have my moments of "seeing beyond the usual" as Robert Henri put it, but if one is honest; there is always something more to reach for. Other painters have a grasp of parts of the vocabulary of painting that I do not yet have. If I can honestly incorporate something I learned from another painter into my own vocabulary, perhaps I will gain the ability to say more in my paintings.
Michael's work has "spoken" to me for a long time. I suppose we all have certain paintings or painters with whom we feel a shared aesthetic. It is as though we know them and understand what they have to tell us through their work more readily than through others. I think I have a shared interest in, and affinity for, the rhythms in nature that Michael does. But, his paintings exhibit a color knowledge and texture that blow me away. I came to painting from being a draftsman. There is so much yet for me to learn about paint. I have also long felt that my palette was always too cold no matter if I thought I was painting warm or not. That is what I wanted to learn about and change in Michael's workshop."
Becky Joy: "To me creating art is about exploration and problem solving, as I'm sure it is with most artists. I've found that as an artist, I need constant change, exploration, and stimulation, which is possible with every painting that I paint. But, even more so, by taking a workshop. Each workshop gives me something new to expand on and to explore, making life even more interesting and invigorating. I come away from every workshop with inspiration and a sense of renewal. I try to take at least one workshop a year. Many times it will be two workshops. The last workshop that I took was last fall, a figurative workshop with Carolyn Anderson.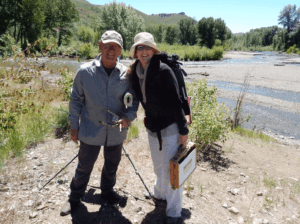 One specific thing I like about Michael's paintings is his ability to take a scene with what looks like chaos in the wild vegetation and simplify it, but still have it look complex. His compositions are strong and simple and this is something in particular that I have been working on. One big lesson for me was helping me in keeping my darks dark. His approach is just a bit different than I have had in the past in the block in stage. This is helping me keep my paintings more cohesive."
Suzie Baker:"I feel so fortunate to have taken this workshop with Michael Lynch; he is a terrific painter, communicator, and an all around good guy.
Painting, regardless or how long I've been doing it, has a way of keeping me humble. I feel like I am better than I was three years ago, but not nearly where I want to be and I also know that when I get to where I want to be, I will have moved my personal bar up a few rungs! I never want to be so stuck in the Suzie Baker way of doing things that I can't learn something new, because, regardless of how accomplished I try to appear on Facebook, boy do I have a lot to learn! I've whacked my brushes against the same problems so many times with unsatisfying results that it was a relief to take a workshop from an artist like Michael and see how he goes about solving those same problems. It was especially gratifying when Jill, or Kathryn or Jeff or… asked the questions before I did. I'm not the only one struggling with that, whew! Thanks, Guys! This workshop had so many ah-haa moments for me. Seeing fresh ways of approaching the block in, paint quality and consistency of paint, brushwork, warming clouds as they approach the horizon it makes them recede, WHAAAT! Ah-haa, Ah-ha, AH-HAA!!

So, if I ever get to a point where I feel like I'm too advanced to take a workshop, please someone remind me, "Suzie, You're not that special," and I'll say, "You're right, thanks!" and I'll sign up for another workshop."
Like doctors, lawyers and teachers, it is important that we, as professional artists continue learning, evolving and seeking improvement our whole lives. And we can't just read about it. Spending days with a teacher and other talented artists in a workshop give us a special opportunity to immerse ourselves, absorb new information and practice. We learn best by watching demonstrations and hearing their words of wisdom, viewpoint and wealth of knowledge. With the solitary nature of our profession, hanging out with artists is good for our souls…and we learn from each other as well as making new friendships.
Discover what you want to improve in your painting, choose the teacher and go! Maybe the next workshop you'll have that epiphany, that AHA moment which moves you forward. What I've learned from Michael's workshop experience, is you never 'arrive' at your artistic goal ….and that's a freeing and wonderful thing. Oh, and how to handle those darn greens.