This week OPA shares the story of mother and daughter, professional artist duo Dot Courson and Susan Patton. We've asked each artist to tell us how the other inspires them, and how their artistic journey is entwined.
First, we'll hear from Susan Patton:
Dot Courson is my mother. If someone did not initially know me, that's all I have to say to make a connection. And it is a connection I am proud of. Not only is Dot Courson an amazing painter of southern landscapes, but she is one of the greatest champions of other people around her, including me.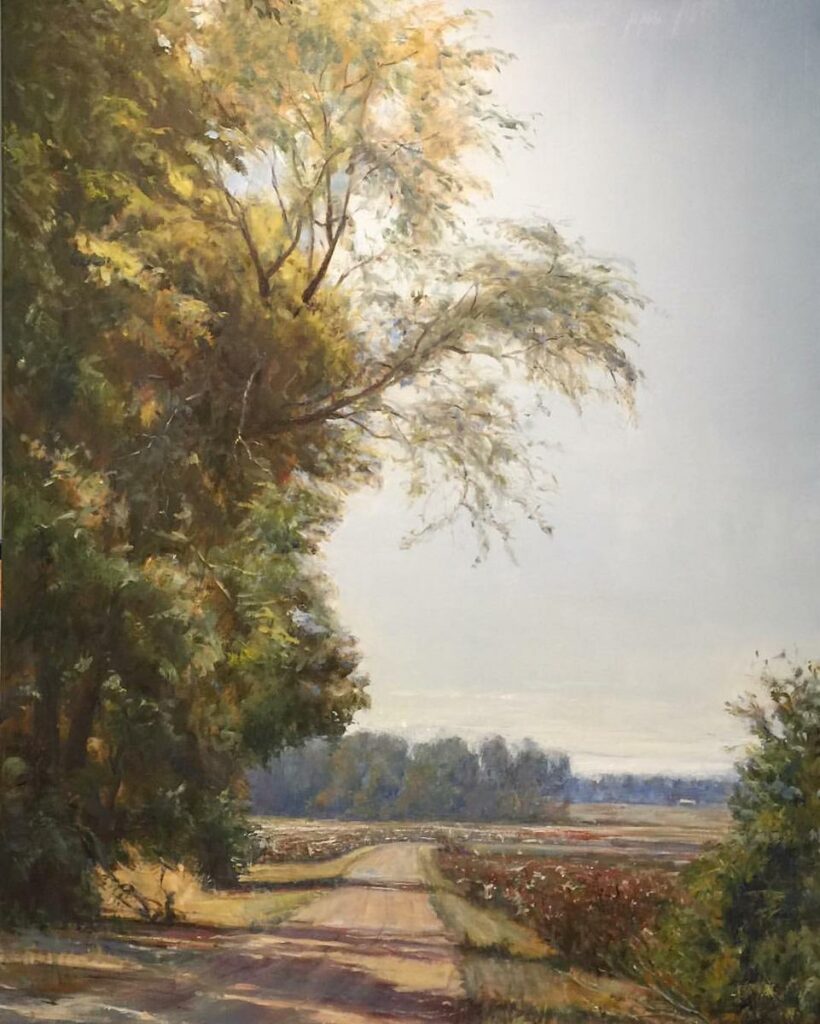 "One day your work may be compared to Faulkner's, in that both you and he capture the feeling of north Mississippi and how it seems to affect human beings."
— Letter from H.B., August, 2018
This is how one collector described my mother's artwork. Her feelings of the land she grew up on speak volumes as you walk through her studio and gallery in north Mississippi.
"I discovered that my own little postage stamp of native soil was worth writing about and that I would never live long enough to exhaust it."
— William Faulkner
One thing many people do not realize is that my mother has not always had the means to help others. She and her siblings grew up in a foster home because her own family was not able to take care of them. She had very few material possessions before going to a foster home, but remembers loving her parents, despite their poverty. Her father, my grandfather, was deaf and had difficulty speaking related to his deafness, but was a very smart, compassionate father who taught her how to draw. She remembers sitting at a table and her father showing her basic drawing skills on the back of a paper sack. Drawing just came naturally to him. She says that she remembers how proud she was when a visitor would walk up and ask her Dad to draw something for them. Most people did not know he was as bright as he was because of his limitations in communication. But my Mom did, and communicated with him in her own unique way. Later, when she became a nurse, Mom never judged a patient at face value, remembering those times with her dad. When I worked as a physical therapist, I naturally carried on that compassion as best I could, seeing what a difference that my mother made in the lives of her patients.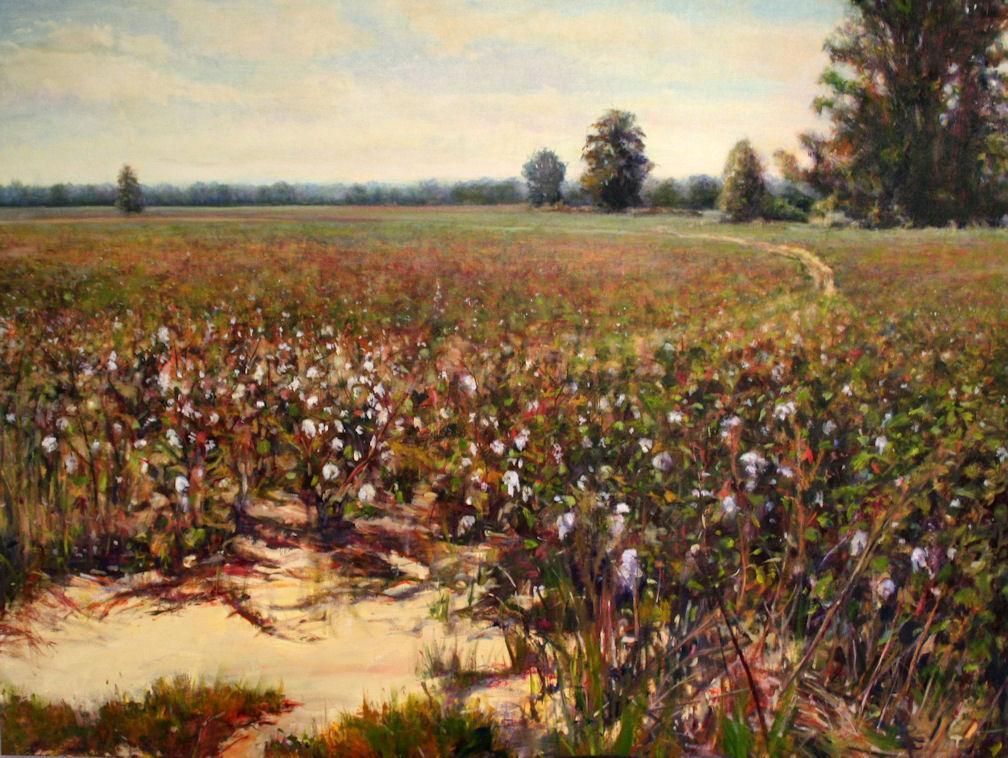 I painted Mom's portrait several years ago. She sat for me in her studio as I painted it and I turned the large TV on behind me for her to watch while I painted.  We still joke about how she kept laughing at the TV show, and was not at all still. It is not my best work, but it is something I treasure. When I finished, someone asked me, "Are you not going to put a paint brush in her hand?" My answer was "No, I did not paint Dot Courson the artist, I painted my Mom."  I titled the picture, My Mother's Eyes," because I feel that I captured the sincerity of love in her eyes as she looked my way.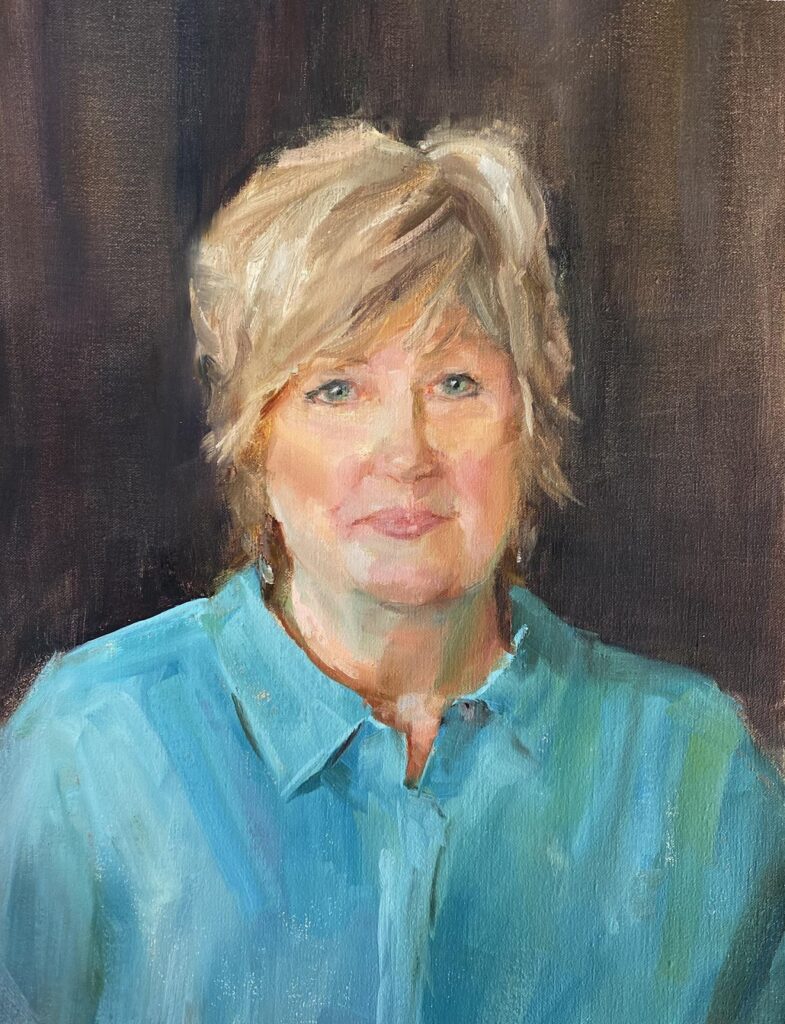 As anyone who knows her will agree, that as an artist, my mother Dot Courson, is going to be highly known and collected for years to come. And that is because there is truthfulness and soul in her paintings of the Mississippi landscape. She, like Faulkner, can expound upon 2 acres of land with such depth and vision that you are drawn in and begin to feel what she feels just for a few minutes, and it is powerful.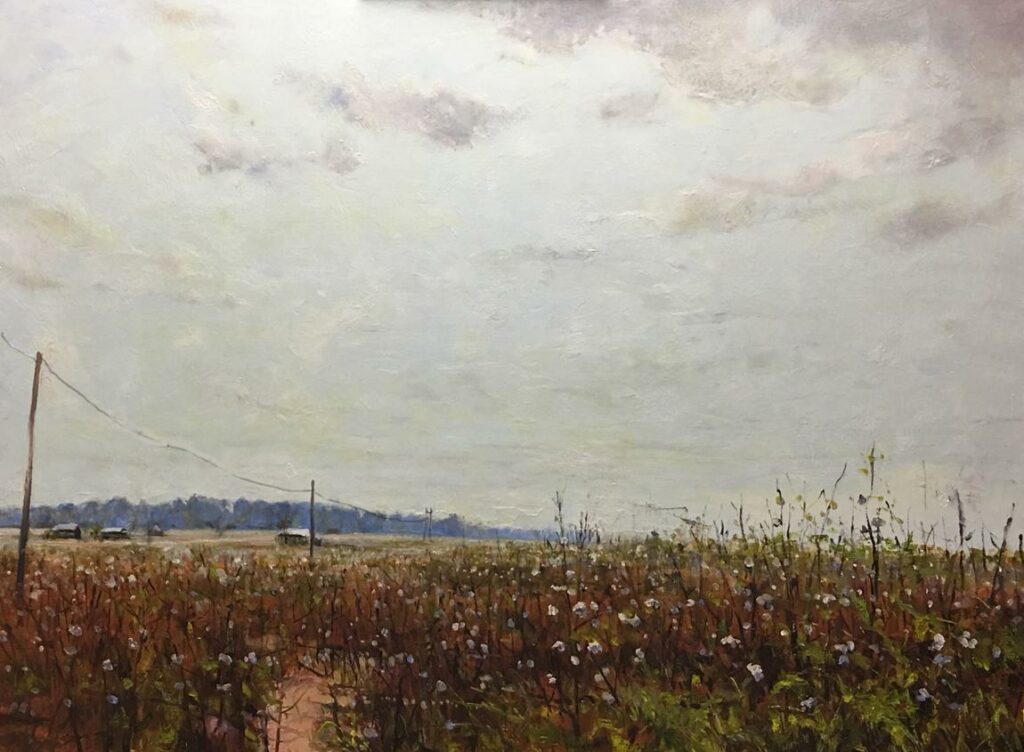 She began to study painting about 25 years ago. Along the way, in order to master her skills, she took workshops with various artists across the country. Eventually, I also began to experiment with painting. Mom decided she would host workshops near her home in Pontotoc, MS, so I could take the workshops as well. That decision not only boosted my work, but also led to hundreds of people in the southeastern United States having the opportunity to study art as well. She and I learned together from various master artists that she invited, and I grew exponentially in my ability to paint.
Then, in 2008, my mother and I were invited to represent Mississippi artists in the presidential debate reception in Oxford, MS. As the years rolled on, numerous publications began to interview us as they heard the story of a mother and daughter who were professional artists in northern Mississippi, and who are as interested in the other's success as they were their own.
During this time, I began to paint full time. I developed a love for color. Mom developed a love for design. We were like a waltz — her doing her thing, me doing mine — in perfect rhythm.
And as I painted, I began to mimic my mother, not in style or subject, but in passion and truth in my work. Like her, I painted things I was familiar with and cared deeply about, such as little moments in time with family, and the natural beauty in the flowers and fresh garden vegetables that I saw. Mom did the same with landscapes and skies. Our style was different, but we would champion, critique and coach each other when we would visit each other's studios.
In 2018, I called my mother to let her know that my painting of my grandmother in the kitchen, Still Stirring (at 93), was accepted into the OPA Eastern Show. She said, "I was too!! Pieces of the Sun got in!" We were the only mother/daughter artists represented in the show. Needless to say, we were full of joy and celebrated together – not just because we got in the show, but because we were holding hands and walking the road to success together.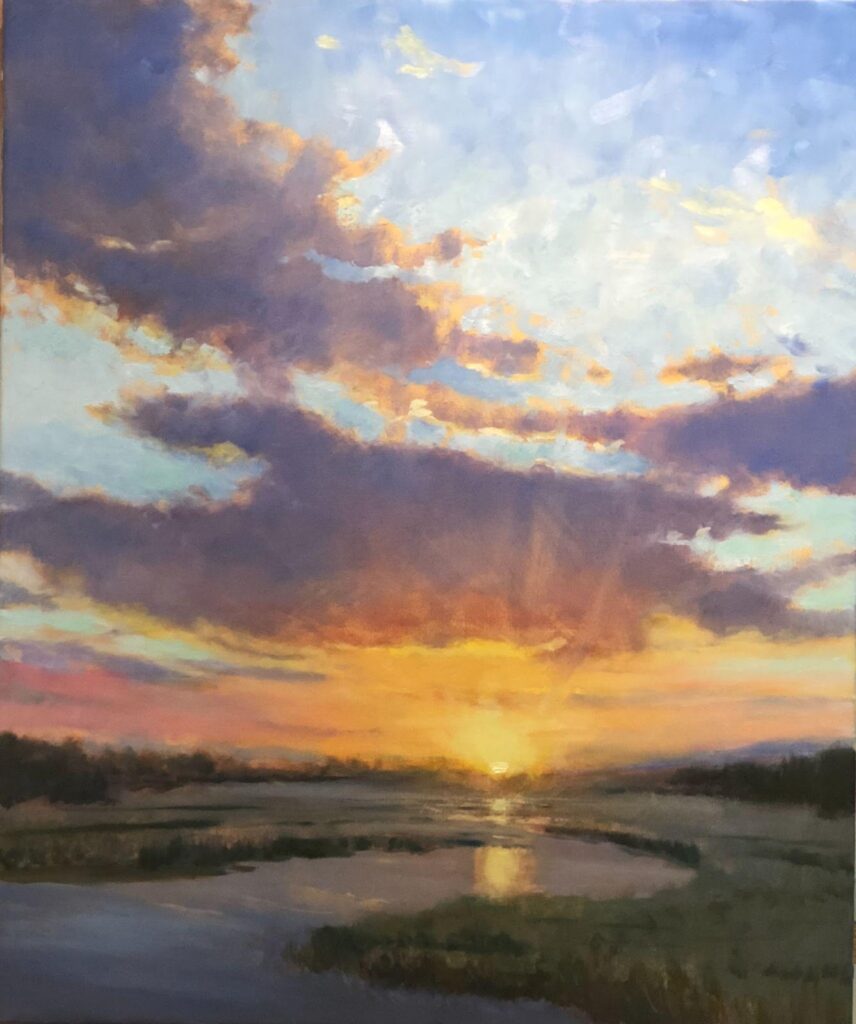 "Did you learn to paint from your mother?" people ask me. I answer: "I learned more than how to paint — I learned how to see."
— Susan Patton
Here is what Dot Courson writes about her artist daughter, Susan Patton:
My daughter, artist Susan Patton, does not try to stand out; she just focuses on growing and improving. She looks for what is solid and good in life, and in people, and is a woman of great spiritual faith. Her art, like her life, is deliberate. She thinks about what is beautiful and meaningful and puts that in her work.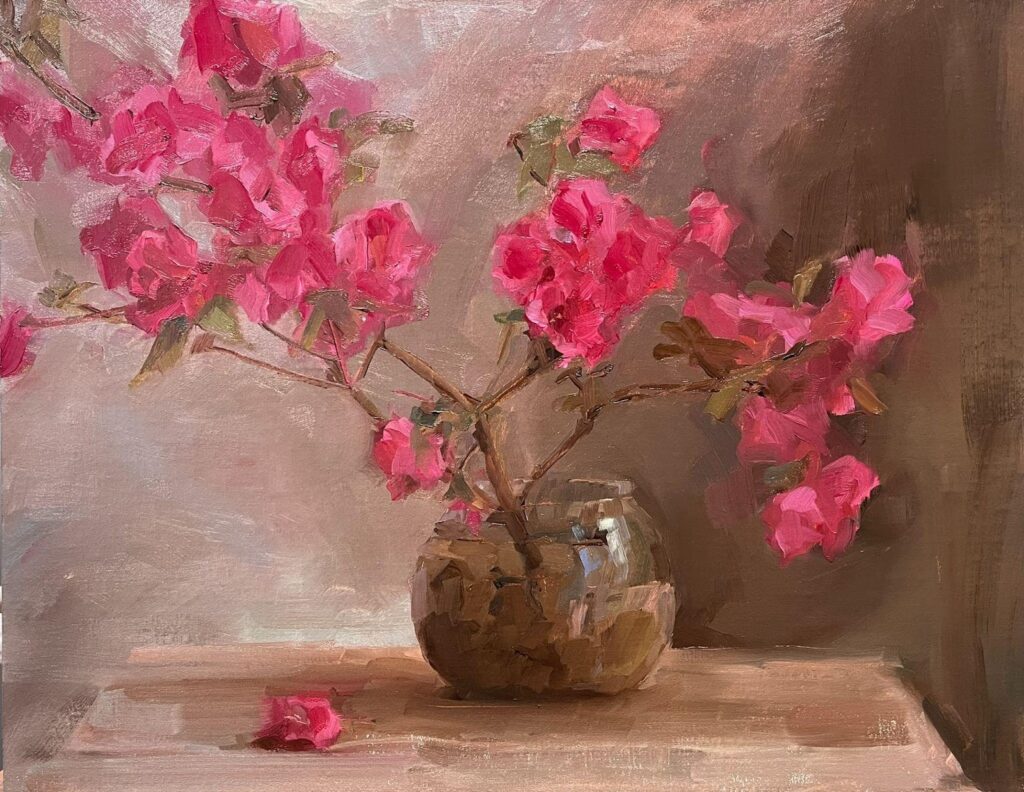 Susan and I are both full time, professional artists, but we paint different subject matter.  I paint landscapes, but Susan likes to paint what she calls, "memories to hold onto," which are based on her past experiences. For her, this means the people she grew up around. She spent a lot of her childhood on the cherished family farm near her grandparent's home in rural Mississippi. 
Her grandmother, the subject of her painting Still Stirring at 93, and her grandfather, not only farmed, but raised farm animals, had honey bees, and grew vegetables.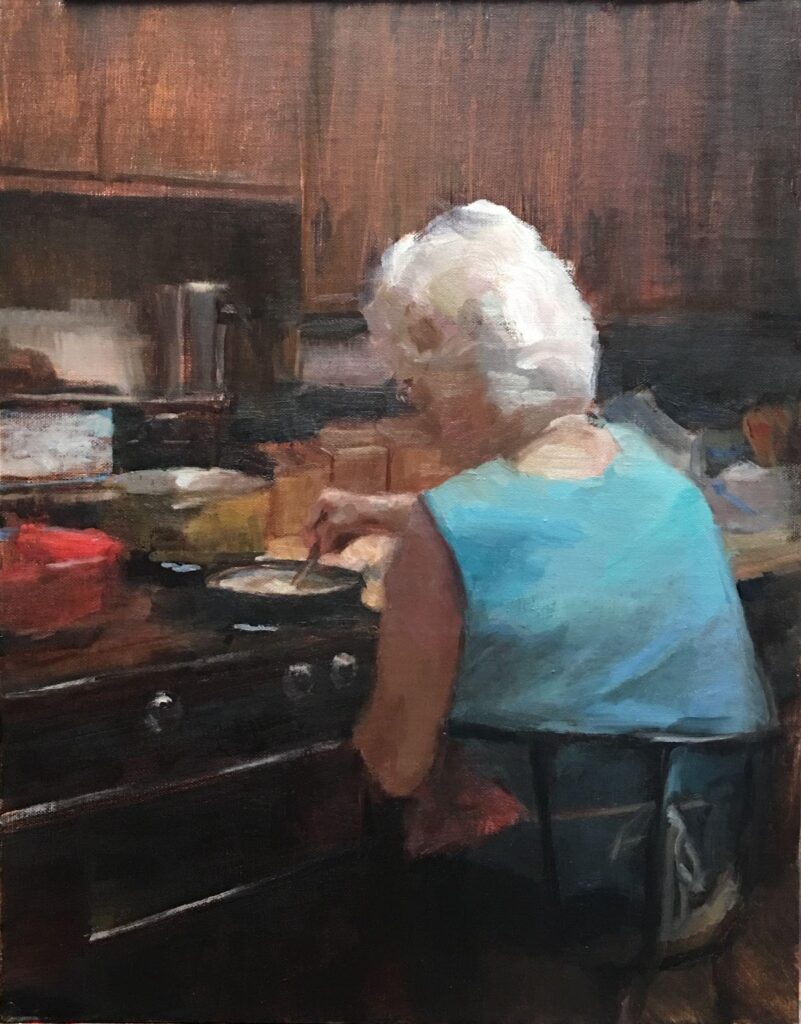 Her uncle planted the turnips for Arrayed in Beauty – a painting that sold in a national show in Utah. He also recently brought her old-fashioned irises dug from the "old home place" where her grandfather lived as a child. Susan painted them the same day. She loves that way of life. Susan's loving bonds and cherished memories inspire her when she paints.

I remember when she first showed an interest in art. I had been painting a good many years before Susan decided to try it. It was about 17 years ago. When she did, she emailed pictures to me asking for my opinion.  I thought they were photographs she was considering for subject matter and was surprised they were paintings. She had never painted before.  From that first experience, she was consumed with the love of creating art and has studied and read tirelessly to learn and grow in her new profession.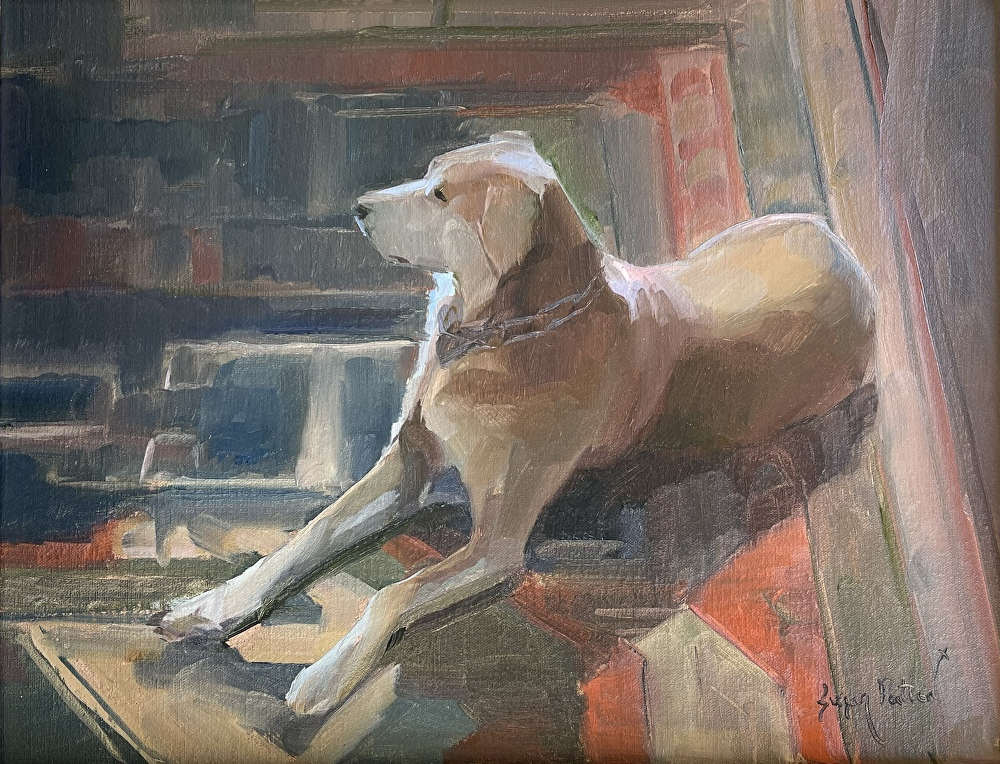 As far as materials, there is a line of "Susan Patton" oil painting brushes by Rosemary & Co. that her students and I use, along with various other brushes and palette knives. We use a variety of paints, and like to suggest new colors to one another. Once I told Susan that "flesh" paint was good for dirt. She said, "That makes sense," (referencing Genesis 1.) Then she said that "leaf green" was good for portraits! It's the kind of conversations that a mother and daughter artist duo can really cherish.
Three things I admire about Susan are that she is a deliberate and constant learner, and a natural at seeing both value and color. Shapes and "form" come easily to her. Her best works are the rural people and scenes close to her heart. Not only does she see color well, her use and understanding of color properties led to her "Color Circle Mixing" which has been so popular in workshops and demos in plein air events across the south.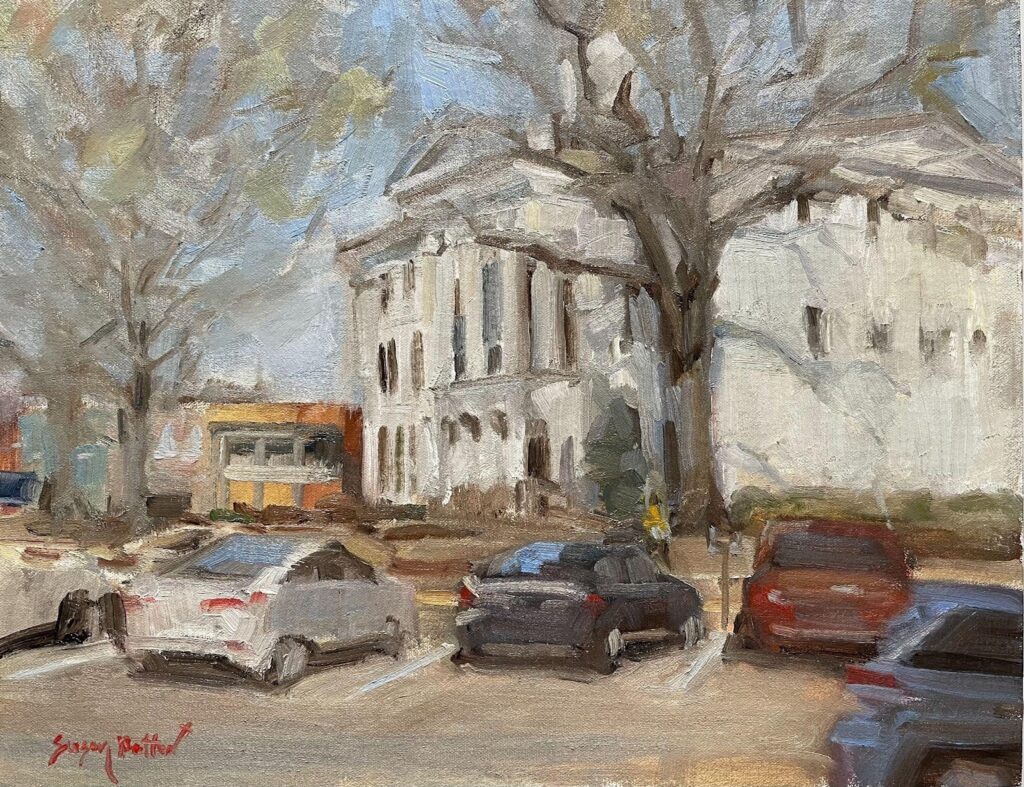 Even though we are mother and daughter, we paint in completely different ways, and think about our paintings so differently that we sometimes wreck the other person's work when we try to give advice to one another. It's now a running joke because we usually say after suggesting changes to each other's works, "well that didn't work, just go back to what you had…." But at times we do help. Recently in my studio, I struggled with a background color through the trees and she suggested a darker blue. She said that to our eyes the darker blue she mixed up for me would seem too dark, but that cool colors read lighter even at the same value. She took a photo and converted it to grayscale to show me. She rarely forgets anything she studies and sometimes she says, "Know who I learned that from? …YOU! "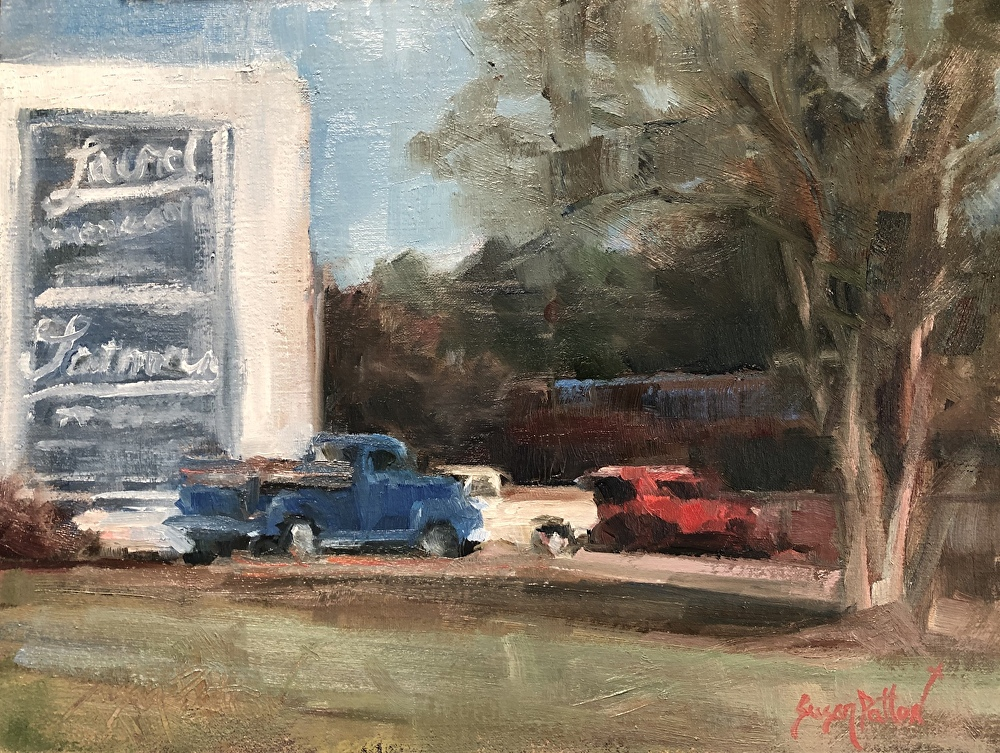 I may have taught her several pointers, but I do not take credit for teaching her everything. Because I was the first in our family to come to art, everyone naturally assumes I'm the artist who helped make Susan an artist. No. She had other things going on as a child. It came at the right time and season in her life.
For my grandchildren who ask about art, they all get the standard class: Paper, paint and pencils and a license to create some art and then must "tell me about it". That's it. I was a nurse and taught nursing, and now teach adult oil painting workshops, but I would not know where to begin to "teach" art to young children!
The best art is internal and it takes desire. But if one does not intentionally seek it, they will drift. Drifting takes you away from most all good; working with intention takes you toward your goal, whether it is a career, a nurturing home life, faith, or becoming a good artist. I may have influenced and taught Susan a few things, but Susan's love and desire to be better at what she does sets her apart.
— Dot Courson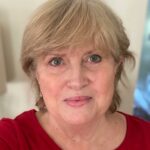 Dot Courson
Dot has been an artist at heart all her life. A former nurse and healthcare administrator, she has been a professional fine artist for 18 years. Now, she paints from the fullness of the loving memories of her heart as a full-time artist from North Mississippi in her private art school and studio/gallery. Painting her delta memories and cotton are favorite subject matter. Click here to read her full biography. Visit Author Website.